Student Experiential Learning Education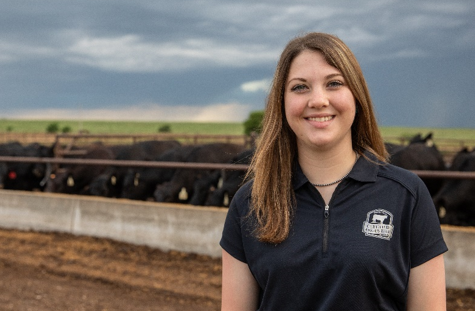 Internship in the Department of Agricultural Sciences
Paige Holbrooks, JR. Agricultural Media and Communication student, is interning with Certified Angus Beef (CAB).
"I work in the Producer Communications department here at CAB. I have written news releases, social media copy and email promotions for our upcoming events. I am currently working on a feature story from a ranch in Kansas that I visited in May. I've had a hand in several video and photography projects as well. I pick up anything that is on low priority for others on the team that needs to get done, but I don't ever feel like "the intern."
"Not only have I gained production knowledge, but I have met so many people in the industry. This internship is cultivating my passion even more for the beef industry and sharpening my communication skills designed for beef producers." 
Internship in the Department of Environmental Sciences
Dasia Brown, M.S. Environmental Science, speaks on her internship experience with XCEL and Center for the Study of the American West.
"During my internship, I worked on the XCEL Energy Project. XCEL Energy Company provided the Center with historical documents that covered how the Texas panhandle has changed their primary source of energy from gas to electricity. During this time I looked through hundreds of papers and archived them according to type and date.
I learned about carbon plants and Panhandle community pride. Currently, I am working the Curriculum project. I am creating lesson plans and modules for high school teachers. It will allow their students to learn about the Panhandle while not deviating from Texas TEKS (Texas Essential Knowledge and Skills)."
Dasia shared, "My internship has helped me prepare for graduation by giving me time management tips on how to organize my classwork, social life, and graduation preparation without stressing myself out. It also has taught me life skills on ways to work together with others, public speaking skills, and computer skills that I can use in my future career."


Internship with Texas Parks and Wildlife in the Department of Life, Earth, and Environmental Sciences
Lucas Castro, M.S. Biology student gains experience with wildlife through an internship with the Texas Parks and Wildlife Department in Paducah, TX.
"This internship will allow me to learn many different wildlife techniques that are used by professional wildlife biologists in my field. There are three main areas that make wildlife students stand out in the job world: GIS (Geographic Information System), plant identification, and statistical methods. I will be using all three of these during my summer position to better prepare me for post-graduation plans. I plan on graduating with my Master's in Biology and work towards getting employed by Texas Parks and Wildlife Department as a Wildlife Management Area Biologist. By participating in this internship, I am getting my name out there in this agency and will gain valuable experience."
WTAMU's unique internship opportunities add valuable education through hands-on experiences as well as providing networking opportunities with professionals working in the field.