Bachelor of Science in Equine Industry and Business
The Equine Industry and Business degree option in Agribusiness provides students a balance of business and scientific subject matter integrated with technical and practical skills as they pertain to the horse and related industries. All facets of the industry are addressed including production, race, recreation, show and equine-related service industries. Student training is built around a solid foundation of course work in communication, science and business. These courses, combined with supplemental activities, are designed to develop a fundamental base of scientific and business knowledge plus strong critical thinking, problem solving, interpersonal communication and leadership skills. Instruction is provided by internationally renowned and respected faculty members equipped with the latest information and technology.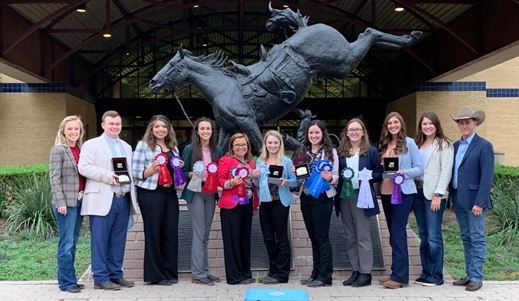 Program Requirements & Resources
Career Opportunities
The Equine Industry and Business degree is a highly versatile degree with a wide variety of potential careers. This is only a partial list:
Horse Training
Equestrian Instruction
Breeding and foaling management
Facility management
Feed industry management
Animal Health industry
Breed and Event Associations and Organizations
Tack and equipment
Ready to Apply?
Now that you know this program is right for you, take the next step! Apply to WT, then search and apply for scholarships.