Paul Engler: the Man, the Legacy
The Man. "Paul Engler has been a driver of economic development in the Texas Panhandle for 50 years," Dr. Ty Lawrence, professor of animal science, said. "First with Hereford Feedyard, then IBP in Amarillo, followed by the cattle empire of Cactus Feeders. Paul is now leaving his mark on West Texas A&M University with an unparalleled legacy."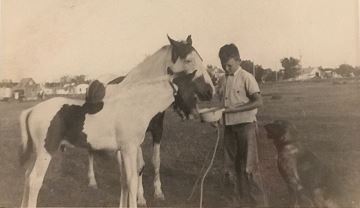 Mr. Engler, as he's so lovingly known, is a gift himself to West Texas A&M University and the Panhandle community.  His humble beginnings started as a young man of 13, when he bought his first 100 cows with no money. As he grew, Mr. Engler utilized good mentors, his university education, his entrepreneurial instincts and hard work to become the successful businessman he is today. His life is full of adventurous tales of hard work, sleepless nights and challenging business decisions. Mr. Engler's executive-in-residence position offers unique educational opportunities to WTAMU students and faculty to learn from an experienced, successful businessman.
The Legacy. The Paul F. and Virginia J. Engler Foundation evolved from the family's desire to make a difference in their community. Generous support, by the Engler Family, continues to enhance student educational opportunities at WTAMU.  The Foundation's leadership and generous gifts to the university have inspired and challenged others to come alongside WTAMU through providing matching funds. The Foundation's legendary generosity and leadership toward WTAMU and the community is an inspiring example of the valuable impact of vision and determination. A wave that will continue through future generations.
Thank you, Mr. Engler, for your continued kindness and love for the students in the Paul Engler College of Agriculture and Natural sciences. You truly are an inspiration and we are honored to carry your name and legacy to future generations. 
WTAMU Announces Engler Gift as Largest in University History
The Legacy of a Legend: The Story of Paul Engler
Paul Engler Presents $1 Million 2020 Legacy Gift Giving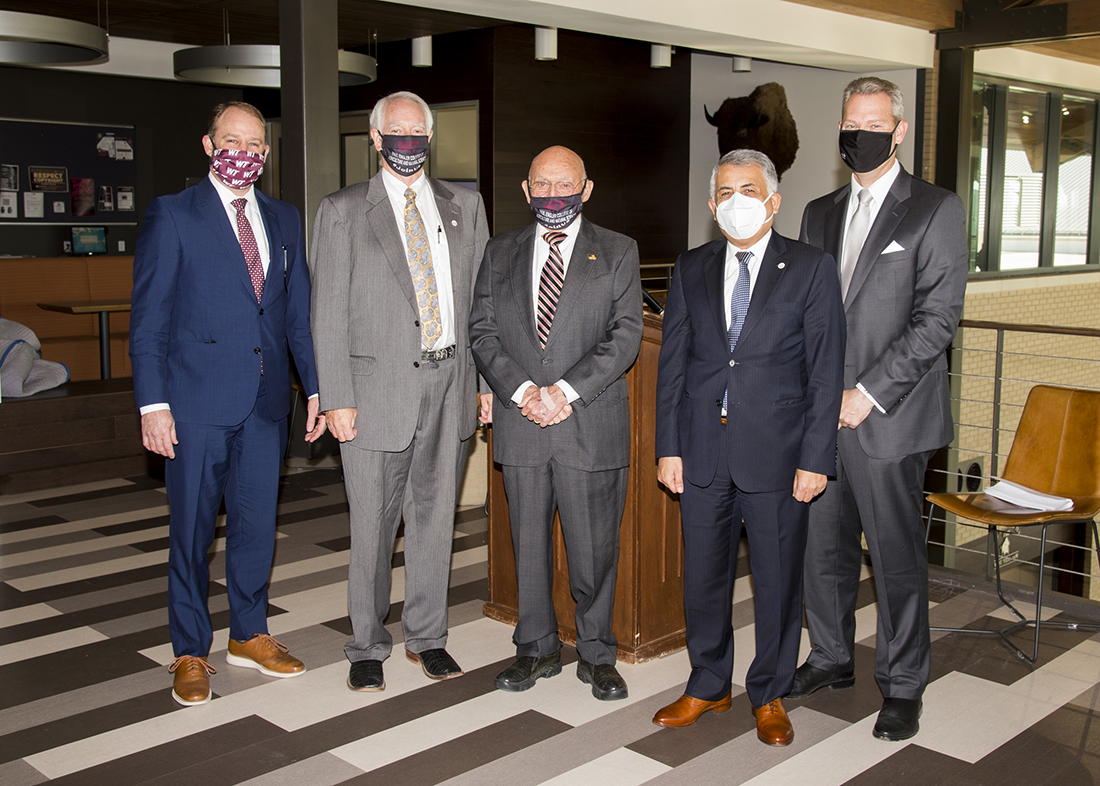 On November 6, 2020, Mr. Paul Engler presented $1 million to WT for the third year as part of his $80 million gift commitment to the University. His legacy of service and generosity continues to be a cornerstone to growth at WTAMU.
In 2017, Engler and the Paul F. and Virginia J. Engler Foundation agreed to donate at least $1 million a year for at least 80 years to the University's Paul Engler College of Agriculture and Natural Sciences and the Paul and Virginia Engler College of Business. The donation in 2020 marks the third year of the generous financial support.
"The unprecedented gift benefits students and faculty through scholarships and professorships. And it sets an example to encourage others to invest in both colleges via a strategy of offering matching funds to donors establishing new scholarship, professorship and program innovation endowments," said Dr. Todd Rasberry, vice president of philanthropy and external relations and executive director of the WTAMU Foundation.
Attending the presentation were Mr. David Terry, VP & CEO of the Engler Foundation; Dr. Kevin Pond, dean of the Paul Engler College of Agriculture and Natural Sciences; Mr. Paul Engler; Dr. Amjad Abdullat, dean of the Paul and Virginia Engler College of Business; and Dr. Neil Terry, provost and executive vice president of academic affairs.