The Legacy of a Legend: The Story of Paul Engler
Paul Engler grew up in a small town of only 450 people in rural Nebraska. His father owned a gas station, but Paul learned early on that he favored the cattle industry over the family business. At the age of seven, Paul was given the responsibility of raising a cow on four acres of land. Within two years, his father purchased a little more land and Paul grew the stock under his charge to seven cows. By the age of thirteen, Paul had purchased over 100 cattle to work in partnership with his father. Paul remembers his father simply stating, "Son, I am proud of you," as he continued to successfully learn both the animal care and business components of the cattle industry throughout his youth.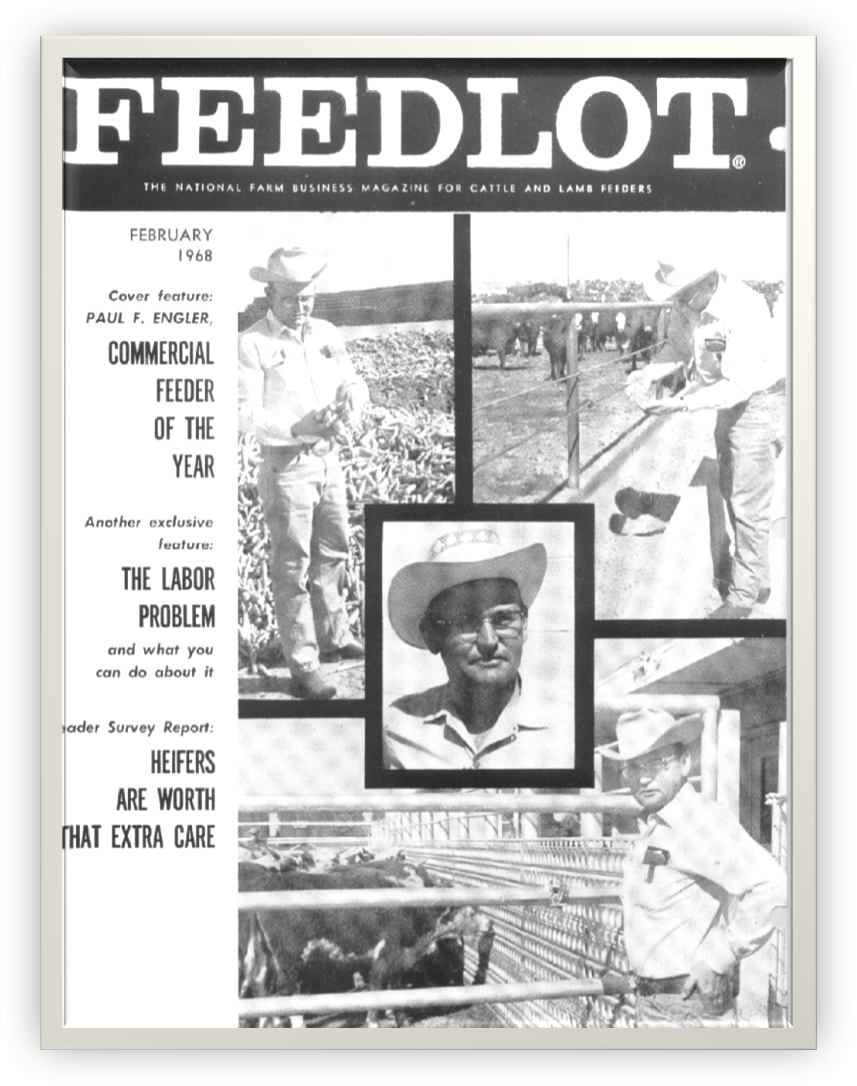 After completing high school, Paul left the family farm for college at the University of Nebraska. During his college years, Paul's father left the cattle business and focused his efforts back on the gas station. Upon graduation, Paul worked for a cattle trading company buying feeder cattle before taking a government job working with regional farmers on ways to improve crop yields. Dissatisfied with the predictability of a government job, Paul went to work for several prominent ranchers in Nebraska. Louis Dinklage, one of the leading ranchers at the time, noticed that Paul was very talented with respect to buying and managing feeder cattle. After a few years of working for Dinklage, Paul observed that West Texas was a prime location where cattle and grain could come together to be shipped to other locations such as California. Paul realized that the supply chain efficiency combined with the mild climate made cities in the Texas Panhandle, such as Hereford, ideal for large-scale cattle feeding operations.
After establishing the first cattle feed operation in Texas, Paul was offered a lucrative management position with Iowa Beef Processors (IBP). Paul enjoyed his time with IBP and made very good money. At the same time, the processing side of the cattle business was not his passion and after three years, he went back to West Texas in order to make a formal effort at establishing a cattle feeding operation. With a partner, Tom Dittmer, Paul co-founded Cactus Feeders in 1975. Paul's vision to start feeding cattle on a large scale in the Texas Panhandle was a reversal of the then current practice of shipping raw materials, namely grain and homegrown beef, out of the state. Under his leadership, Cactus Feeders became the largest cattle-feeding company in the world. Today, at least 1 of 25 cattle around the nation is Cactus beef coming from Cactus cattle.  A pioneer of the Texas cattle-feeding industry, Engler has received numerous honors and recognition throughout his career, which include induction into the Meat Industry Hall of Fame and the Cattle Feeders Hall of Fame.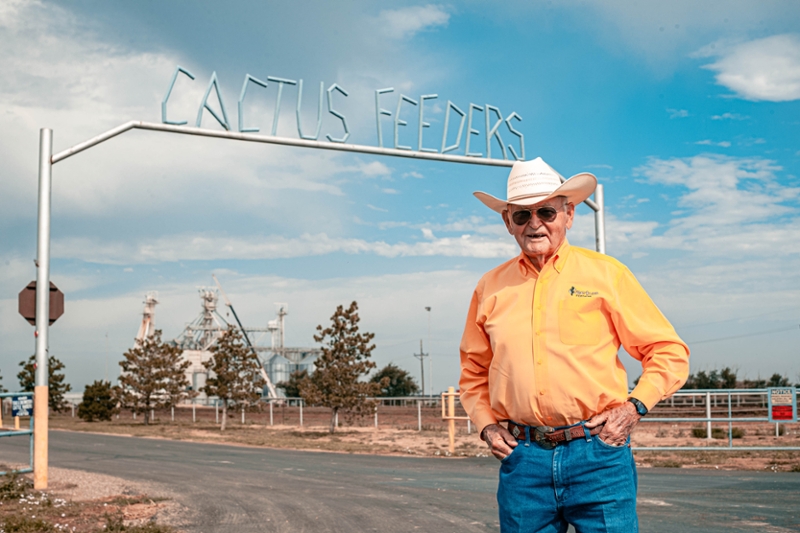 In 2017, Paul Engler and the Paul F. and Virginia J. Engler Foundation agreed to donate no less than $1 million per year for no fewer than 80 years to West Texas A&M University.  In response, The Texas A&M University System Board of Regents granted naming rights to the Paul Engler College of Agriculture and Natural Sciences and the Paul and Virginia Engler College of Business.
The generous gift represents at least $500,000 a year into the foreseeable future for the Paul and Virginia Engler College of Business.  Each year the college dean works with the Engler Foundation to distribute contributions for endowments to benefit five different areas—scholarships, professorships, named spaces, community outreach, and strategic planning/improvement. In particular, since 2017, the Paul and Virginia Engler College of Business has added close to $2 million to scholarship, professorship, and related student support endowments and assets.
"We are extremely grateful to Paul Engler and the Paul F. and Virginia J. Engler Foundation for their generosity and willingness to invest in the future of the College of Business. Paul Engler is the greatest business leader I have ever had the pleasure to befriend. He exemplifies a combination of work ethic, business acumen and resolve that captures the entrepreneurial spirit of the West Texas regional community. A truly inspirational philanthropist dedicated to empowering individuals through education, the Paul and Virginia Engler College of Business will forever recognize a legacy of transformative support."
– Dr. Neil Terry, Provost of West Texas A&M University and Former Dean of the Paul and Virginia Engler College of Business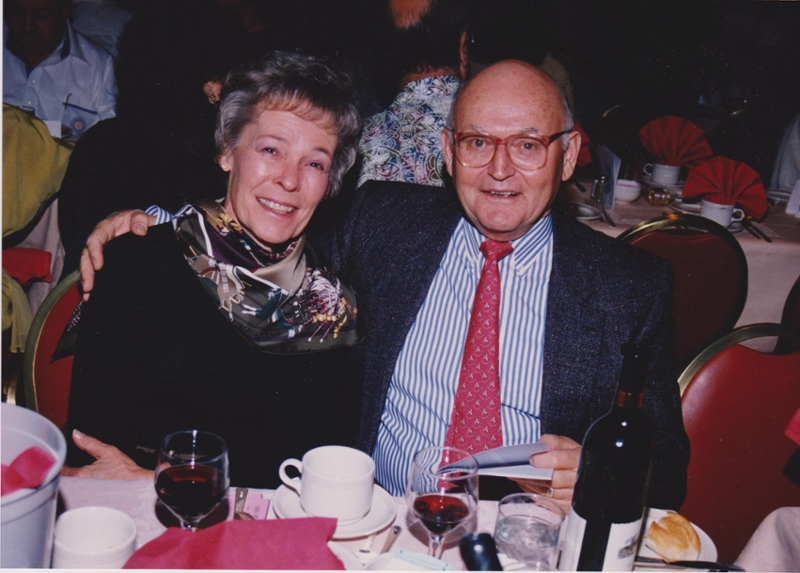 The Paul F. And Virginia J. Engler Foundation is a family endeavor and reflects the love of family and the communities Paul and Virginia serve, including the Texas Panhandle. The late Virginia 'Jinx' Joan Kreycik Engler was a dedicated philanthropist throughout her life. She loved helping people and shared her kindness and generosity with everyone she met. That generosity and kindness provided the groundwork in helping the community through their foundation.  Commitment to higher education in the region is not new for the Engler Foundation, as generations of emerging business leaders at West Texas A&M University have benefited from the long-established Virginia Engler Scholarship.
The West Texas A&M University association with Paul Engler and Paul F. and Virginia J. Engler Foundation not only enhances educational opportunities for students, but also elevates the reputation and prestige of the University. Consistent with the mission of WTAMU, the spirit of the Paul and Virginia Engler Foundation exemplifies the impact one can have on a community through hard work, a willingness to lead, a commitment to generosity and a determination to succeed.
From his early days as a boy raising cattle to his current business operations in the energy industry, Paul has always worked. One of Paul's mentors, Louis Dinklage, was considered the country's largest cattle feeder by the late 1960's. Following in the shoes of his mentor, under Paul's leadership, Cactus Feeders became the largest cattle feeding company in the world in 1985.

Extremely active and healthy, Paul Engler reached the age of 92 on August 23, 2021. When Dr. Terry asked Paul about his goals for the future, Paul expressed plans to keep working until he reaches 100 – after he hits 100, he might consider retiring or at least take an extended vacation.