WT Academic Affairs Feature Biology Student, Carlos Guerrero
WT Students Make Important Progress in Becoming Researchers
Study into Extreme Heat at Palo Duro Canyon Being Conducted by WT Students
WT Graduate, Undergraduate Student Scholars Honored at Student Research Conference
WT Student Groups to Host Earth Day Event for Regional Schools
WT Grad Student's Research Helps Understanding of Precipitation in Texas Panhandle
Xcel Energy Archives Now Preserved at PPHM Through WT's Center for the Study of the American West
WT Professor Part of Major Study on Tortoise DNA Published in Science Magazine
LEES Faculty and His Research Group Received the 2019 University & College Intellectual Contributions Excellence Award
WT's Hiranuma is Awarded by the National Science Foundation
Dr. Carolyn Bouma, Associate Professor of Biology, is the recipient of the 2018 University & College Professional Service Award
University Receives NSF Grant to Support Low-Income STEM Students
West Texas A&M University is the recipient of a federal grant totaling almost $1 million through the National Science Foundation (NSF) to support the recruitment, retention and graduation of low-income students interested in careers in science, technology, engineering and mathematics (STEM).

"Our world's increasing reliance on technology and data means strong STEM-focused minds will continue to be in high demand, and we should give students in these fields every advantage to succeed," John Cornyn, U.S. senator from Texas, said. "I applaud area leaders for their work to obtain this grant, and I'm grateful to the Trump administration for supporting students at West Texas A&M."
WTAMU Professor Receives DOE Early Career Award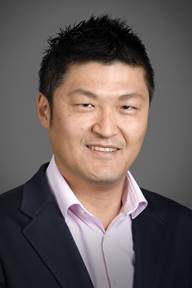 Dr. Naruki Hiranuma, assistant professor of environmental sciences at West Texas A&M University, is one of 84 scientists selected from across the nation to receive significant funding for research as a 2018 Early Career Award recipient through the DOE Office of Science. The Early Career Research Program, now in its ninth year, is designed to bolster the nation's scientific workforce by providing support to exceptional researchers during the crucial early career years, when many scientists do their most formative work. The recipients include 30 scientists from DOE's national laboratories and 54 from universities across the United States.
WTAMU prepares grads for fast-changing energy industry
At the epicenter of the oil industry, Texas is the leading state for opportunities in oil and gas exploration. For decades, a sure way to begin a career in fossil fuels included a degree in geology, but as the industry advances, so must the college curriculum. Fortunately, West Texas A&M University has restructured to fit this need with an environmental science and geology program.
Earth Day at Amarillo Zoo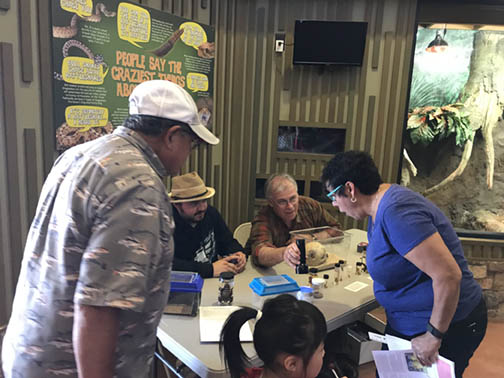 Three faculty members and students from the Department of Life, Earth and Environmental Sciences at West Texas A&M University provided hands-on activities and demonstrations to local students in celebration of Earth Day at the Amarillo Zoo.
Earth Day at Don Harrington Discovery Center
West Texas A&M University faculty members Dr. Nick Flynn and Dr. Naruki Hiranuma provided hands-on activities and demonstrations to area elementary students at the Discovery Center on April 20 th to celebrate Earth Day. The theme for this year's annual event was Marine Chemistry and was selected by the American Chemical Society.
WTAMU Senior Achieves Record-Setting MCAT Score
Senior Amanda Bell, double-majoring in biochemistry and biology, has achieved one of the top two Medical College Admission Test (MCAT) scores ever earned at West Texas A&M University. "I hadn't taken biochemistry yet when I took the MCAT," Bell said. "I studied for about two months, but my adviser, Dr. Carolyn Bouma, was one of the biggest reasons I got into med school. She reviewed parts of my application and gave me tips as an expert. She and Dr. Donna Byers really helped me with cell biology, too."Bell, who is from Midland, received invitations to interview at eight of the 10 medical schools in Texas, and she is the first traditional WTAMU student to receive an interview at the only private medical school at Baylor College of Medicine. She received early acceptance from Texas Tech University (TTU) and University of Texas at Houston McGovern. Ultimately, she decided on TTU.
WTAMU Grad Student is Poster Winner at AMS Conference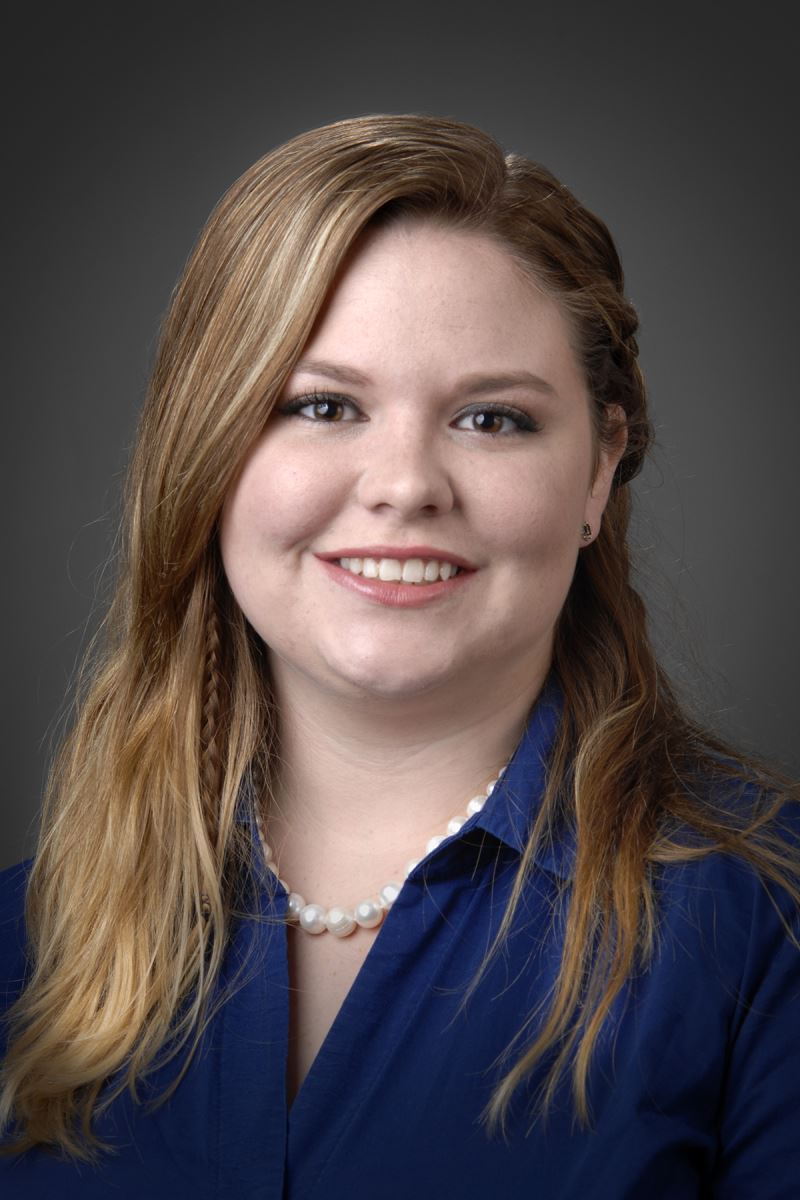 Kimberly Cory, a graduate student in biology at West Texas A&M University, is the  winner of the student presentation competition at the 98th annual conference of the American  Meteorological Society in January in Austin. Her winning poster was titled "Laboratory Investigation on  the Immersion Freezing Behavior of Arctic Aerosols Collected in Ny-Alesund, Svalbard."
WTAMU Professor Collects Aerosol Samples for Cloud Formation Research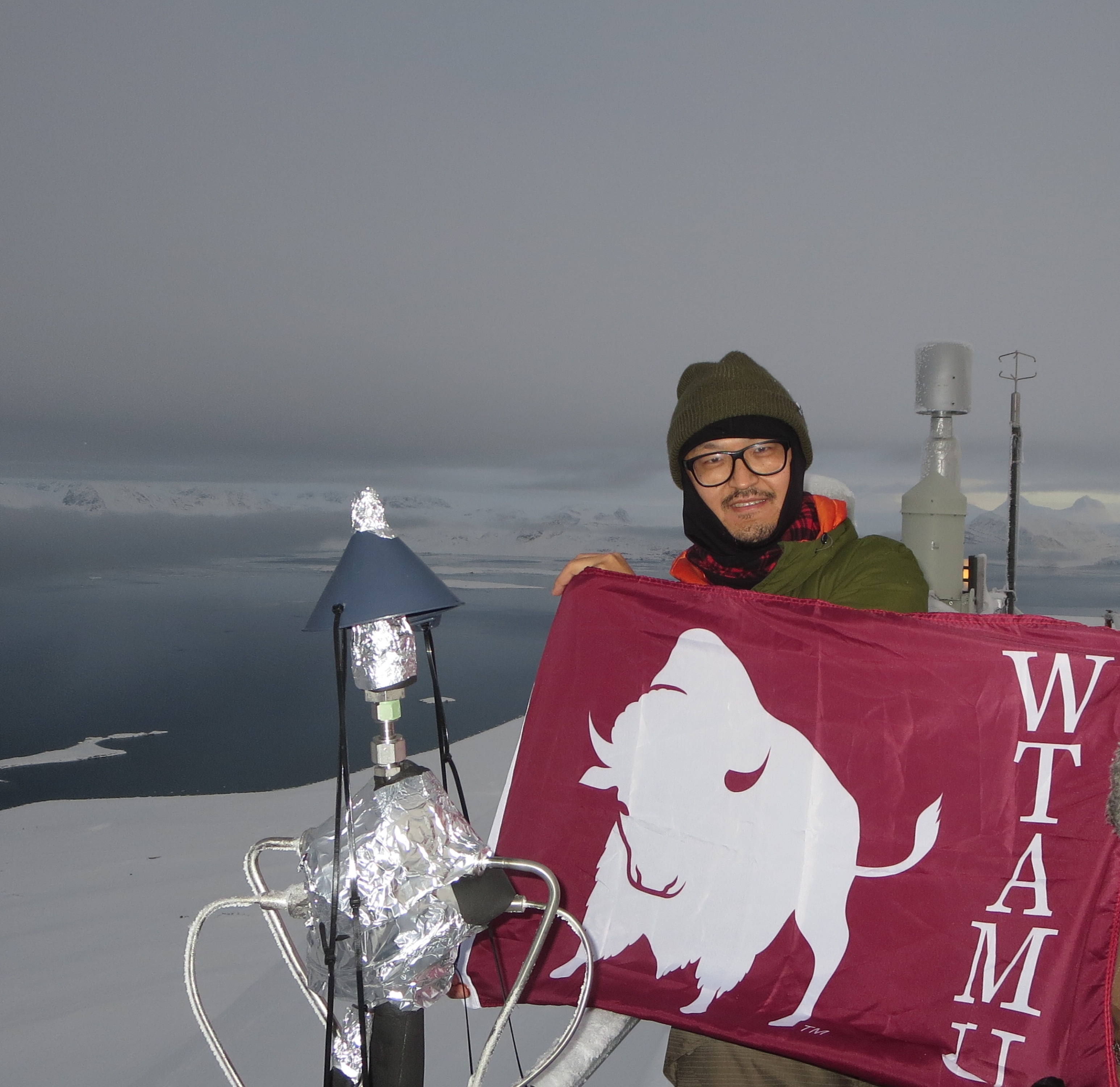 It could easily be said that Dr. Naruki Hiranuma has his head in the  clouds. Literally. It's a good thing, too, because the West Texas A&M University professor has traveled as far as the Arctic to gather aerosol samples—fine solid or liquid particles suspended in the air— for extensive research on cloud formation and composition in his Atmospheric and Aerosol Measurement Lab at the University's Killgore Research Center.