Proud of our WTAMU Chemistry Alumni
Alumnus Max Shaw pursues passion in Dentistry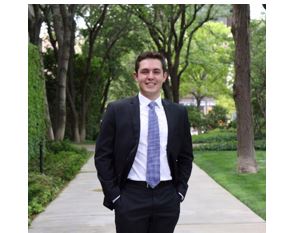 Max Shaw,
'19
B.S. Biochemistry and Biology Alumni, is currently attending University of Texas Health San Antonio School of Dentistry to become a dentist.
Mr. Shaw says, "I chose dentistry because of the special relationships we are able to build with our patients, the love for science, and the chance to use my hands on a daily basis to help change people's smiles. The profession of a dentist is very unique in the aspect that we get to build long term relationships with our patients through regular exams. This also allows us to act as the first line in complete preventative care by allowing us to notice health changes and issues a patient may be experiencing and are unaware of; therefore, allowing us to refer patients to primary care physicians for further evaluation."
Congratulations and thank you to Mr. Shaw for sharing an update with us as he continues his professional education.
Best wishes WT Buff!

We are interested ...
There is great diversity in career possibilities stemming from a degree in chemistry, and we would appreciate hearing which path you chose. Please take the time to fill out this survey. Or, take a few minutes and contact Dr. Khan at dkhan@wtamu.edu and share your career journey and milestones with WTAMU.