Why Choose WT Nursing?
Student Feature
Meet Amarillo native, Anthony Olmos. Growing up in a family of nurses and having a servant heart naturally led him to WT Nursing. Anthony shared his story and his advice for other students with us.
According to our students, the top 3 reasons are: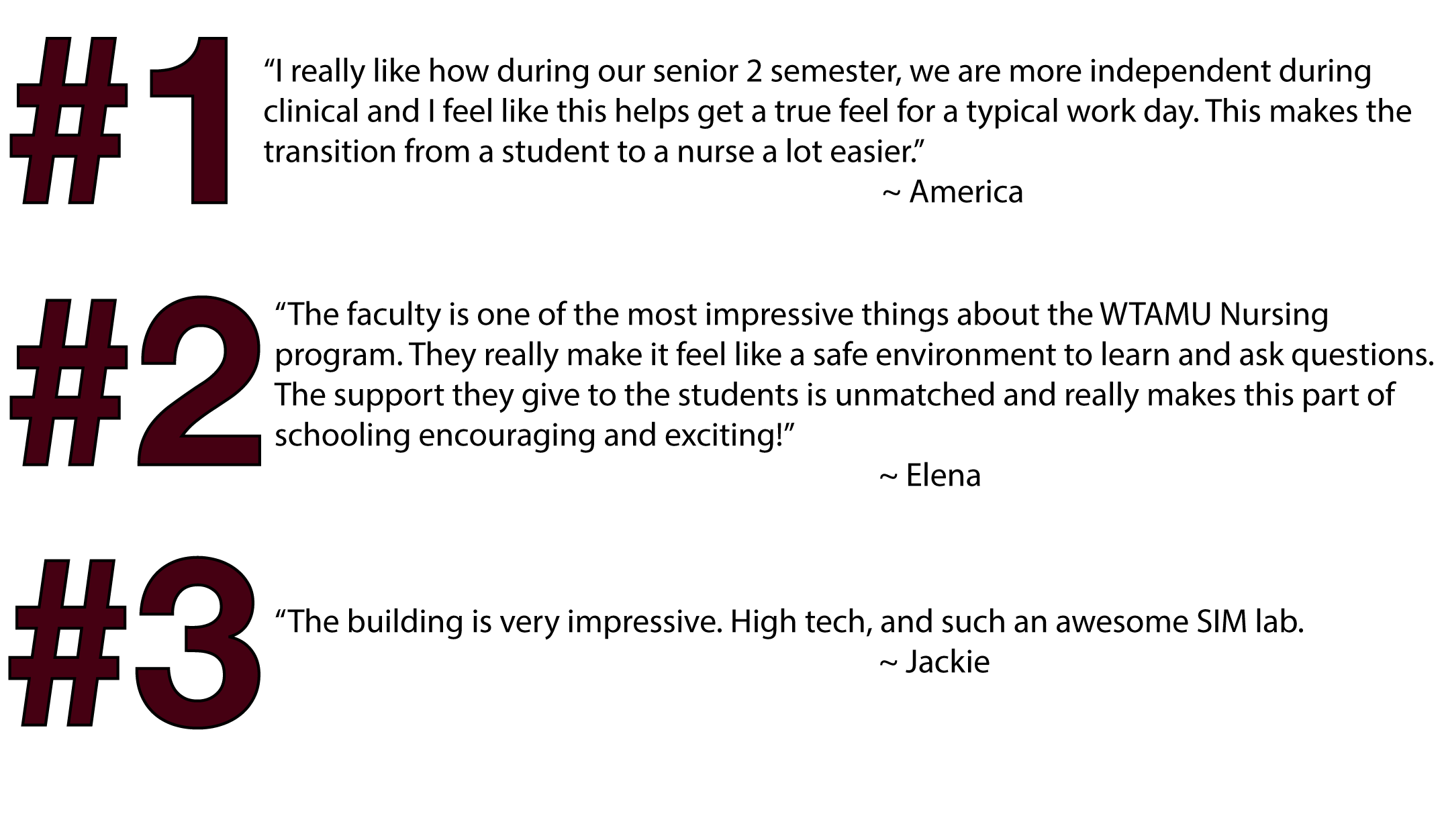 Student Feature
Meet nursing student and future medical mission nurse, Suzy Buck. After living in Uganda and seeing the lack of health care for the general population, she knew she wanted to become a nurse. Suzy talked about her story with us, and why the nursing program's accreditation and U.S. News & World Report rankings were important in choosing WT
Your Path to a Bachelor of Science in Nursing (BSN) Degree
1. Pre-Nursing—(Major Code: 700)
A basic or transfer student who is not admitted to the WTAMU BSN program is considered to be a Pre-Nursing major.
2. Major in Nursing—Basic and Transfer Students (Major Code: 701)
When a student applies and is admitted to the WTAMU BSN program and begins Junior I nursing courses, the major code is changed to Code 701, unless the student is a registered LVN, in which case the major code is changed to 713 (see below).
Transfer Nursing Students (who were previously enrolled in an ADN or BSN Program) must:

Be in good academic standing and eligible for readmission at the last nursing program attended.
Provide documentation from the dean or appropriate department head of the last nursing program attended that states readmission eligibility and academic standing.
Submit copies of official transcripts from each institution attended to the Department of Nursing.

Senior or Community College

Students transferring from a senior college or community college nursing program into the basic nursing program must submit copies of nursing course syllabi. If the transferring courses are less than five years old, courses will be evaluated for transfer on an individual basis. If courses are more than five years old, see "Returning Basic WTAMU Students and Transferring Basic Students" in this section.

Returning Basic WTAMU Students and Transferring Basic Students

Any basic/traditional student, WTAMU or transferring, who has not been enrolled in clinical nursing courses in the past five years, must demonstrate competency by examination prior to being rescheduled into the nursing curriculum. A course-specific exam, which will be a standardized test, will be given. The exam may be taken one time. A fee is charged for each exam. If the student is unsuccessful, the student will be scheduled into that/those clinical course(s) as space is available. For further information, refer to "Advanced Placement and Credit by Examination" in your catalog.
3. Major in Nursing—LVN to Pre-licensure RN (Major Code: 713)
For students who are licensed vocational nurses. WTAMU Department of Nursing does not currently offer an online LVN to BSN program. LVN prepared students to pursue traditional Pre-Licensure BSN program offered at WTAMU which is offered on campus only. 
Degree Requirements & Resources
BSN degree: 120-121 Total Hours
see University Core Curriculum Requirements below for Pre-Nursing course list
Program Resources
How to Apply to the WTAMU B.S.N. Program
BSN Career Close-Up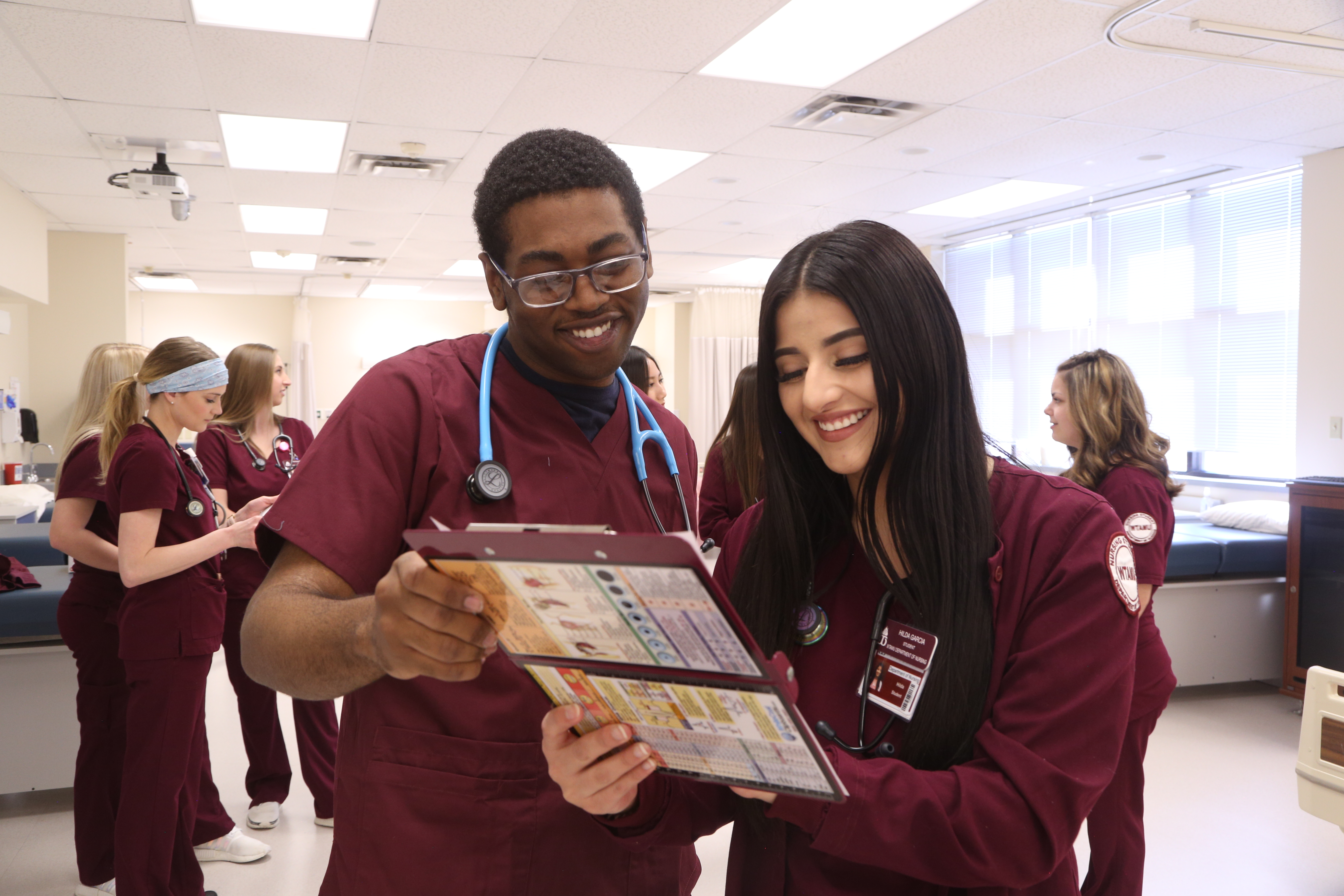 Nursing career benefits of a nurse who holds a B.S.N. include:
Advancement into management and other healthcare leadership positions
Opportunities for higher wages and higher level nursing positions
Opportunities in more diverse fields, such as risk management and quality assurance
Greater potential for employment across the state and nationally
Preparation for a Master of Science in Nursing (M.S.N.) educational program
Average WT Nursing program graduates salary is $63,808.
Average National salary is $50,771.
Visit the Bureau of Labor Statistics Health Care Industry page for more industry information. 
Scholarships & Program Cost
There are numerous scholarships and financial aid programs available to BSN degree students.