We've Gone Virtual!
We're still here to help keep you involved.  Check out the the list of virtual, enrichment experiences below that you can participate in from the comfort of your home. 
Be sure to follow us @wtamuosel to stay up to date on new opportunities to explore.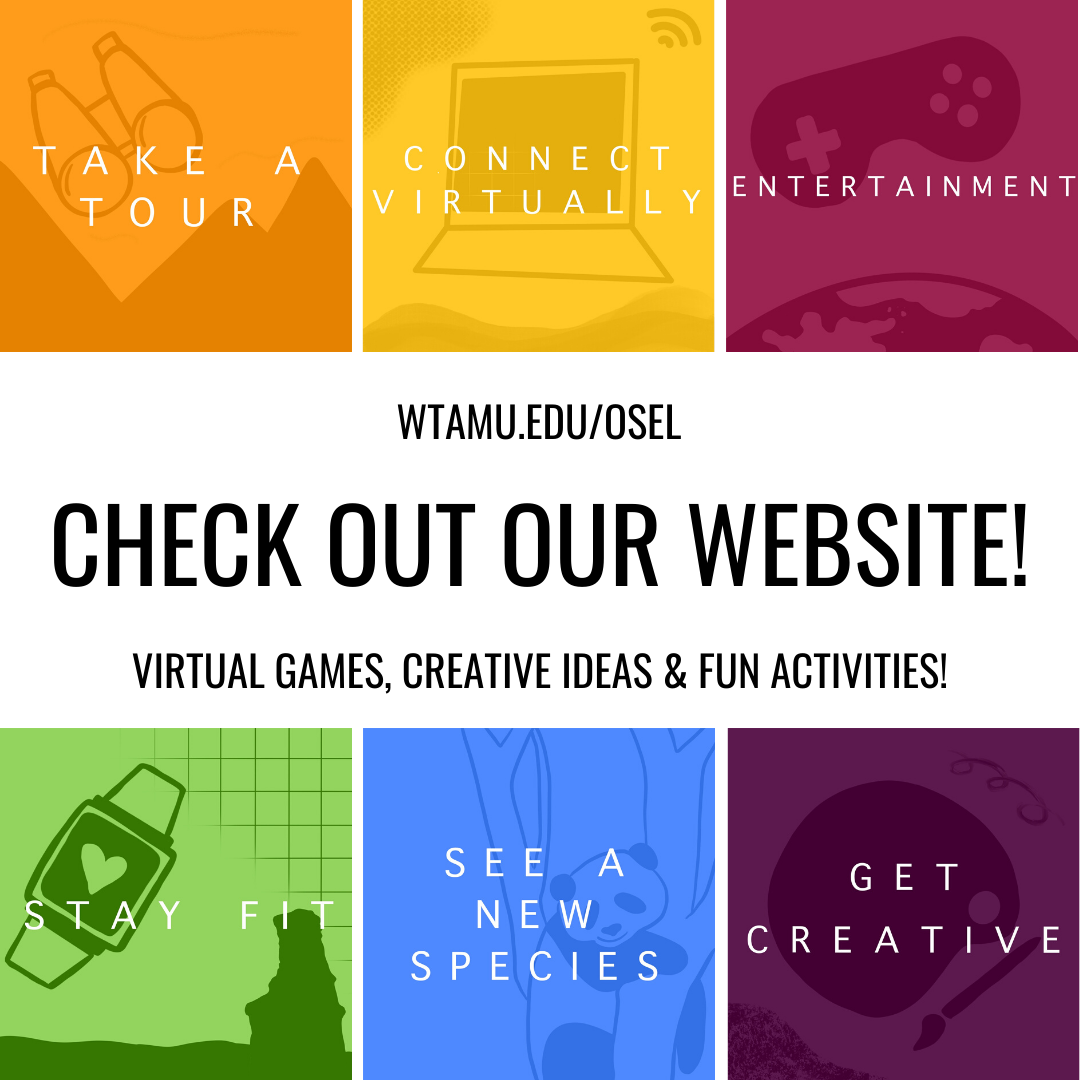 Org Rally 2021 Video
We host events for you that are always fun and free. Check out the calendar below to make sure you don't miss out!
Spring 2021 Events 
| | | | |
| --- | --- | --- | --- |
| Spring 2021 Events  | Date | Time | Location |
| Supplies BINGO | Tuesday, January 12th | 7-9 PM | JBK Commons |
| Campus Spa | Wednesday, January 13th | 11AM-1PM | OSEL |
| National Granola Bar Day | Thursday, January 21st | 11AM-2PM | Patio/JBK Commons |
| Craft Night-Bracelets | Tuesday, January 26th | 7-9PM | Senate Chamber |
| Escape Room | Friday, February 5th | 1-5PM | Multiple Rooms |
| Leadership Summit | Friday, February 12th | 10AM-12PM | Virtual |
| Novelty - Key Chains | Tuesday, February 9th | 11AM-1PM | OSEL Patio |
| National Day-Random Acts of Kindess | Wednesday,February 17th | 11:00AM-1PM | OSEL Patio |
| Movie Night: Knives Out | Tuesday, February 23rd | 7-9PM | Legacy Hall |
| Org Rally | Friday, February 26th | 12-3PM | Legacy Hall |
| National Day-I Want You to be Happy Day | Wednesday, March 3rd | 10:00AM-12:30PM | OSEL Patio |
| Novelty-Glass Etching | Wednesday, March 10th | 10:30AM-12:00PM | OSEL Patio |
| Escape Room | Friday, March 12th | 1-5PM | Multiple Rooms |
| Root Beer Floats | Thursday, March 25th | TBD | TBD |
| Transfer Student Orientation | Friday, April 9th | Various Times | Various Locations |
| Escape Room | Friday, April 16th | 1-5PM | Multiple Rooms |
| National Day-Earth Day | Thursday, April 22nd  | 10:00AM-12:30PM | OSEL Patio  |
| Event with Rec Sports | TBD | TBD | TBD |
| All-University Honors Banquet | Friday, April 23rd | 6-9PM | TBD |
| Party on the Patio: Summer Kick-Off-Yard Games | Tuesday, April 27th | 6-9PM | TBD |
| Campus Spa | Wednesday, April 28th | 10:00AM-2:00PM | OSEL |
Contact us
806-651-2313
JBK 103