WT in the Heart of Amarillo
West Texas A&M University has changed the landscape of Amarillo with the creation of a permanent location in the heart of the city. Opened in 2019, the new Buff stomping grounds are located in the Commerce Building at 8th Avenue and South Tyler Street, a central locale that allows for future expansion.
WT's presence will further efforts to revitalize and energize downtown Amarillo, while helping provide a highly-qualified workforce for area employers.
Take Classes in Amarillo
WT offers select upper-level and graduate classes in downtown Amarillo at Harrington Academic Hall. This facility is a great asset to WT as it provides classroom experience and services for students and the community in Amarillo.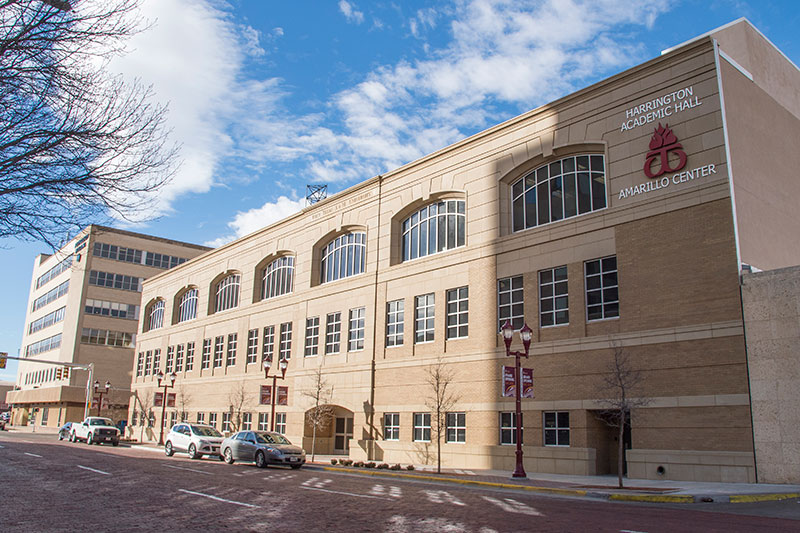 The Center is home to the following:
Administration - Suite 316; 806.651.8200
America's SBDC (Small Business Development Center) at WTAMU - Suite 105
Center for Learning Disabilities - Suite 332
Communication Disorders Undergraduate and Graduate Programs
Graduate Program in Educational Diagnostics and Graduate and Undergraduate Programs in Special Education - Suite 332
Graduate Program in School Psychology - Office 377
Graduate Program in Social Work - Suite 380
Instructional Technology Program -Office 360
Panhandle (AHEC) Area Health Education Center - Suite 370
School of Counseling and Licensed Professional Counseling - Suite 340
Speech and Hearing Clinic - Suite 120
TACHE (Texas Association of Chicanos in Higher Education) - Office 367
University Bookstore - Suite 102; 806.651.8222
University Police Department area - Office 192
Those who enjoy the face-to-face classroom experience will find Harrington Academic Hall to be the perfect option for building a résumé or completing a degree with less drive time. Search course offerings with this link, and choose the Term, then select "300 - Amarillo Center" as the Location.
Faculty offices are located on the 3rd floor. Classrooms are located in the basement.
Harrington Academic Hall WTAMU Amarillo Center
720 S. Tyler
Amarillo, TX 79101
Services offered by Harrington Hall:
Library Services (3rd floor, Room 316)
Gold Card (3rd floor, Room 312)
Bookstore (located on 1st floor on northeast side of building) 806.651.8222
Open Access Computer Lab (located in the basement, Room 41) 806.651.4357

To reserve a space, please email us at HAHReservations@wtamu.edu.
Parking
The large southwest parking lot along South Harrison and Southwest 8th Avenue at the Harrington Academic Hall WTAMU Amarillo Center will be closed starting Monday, March 1, 2021. The parking lot will be under construction March through August and will be closed during this time.
Temporary parking is available at the former Chase Bank ATM lot located at 700 South Harrison Street (area highlighted in green on the map). The parking lot directly west of the building has temporarily changed (area highlighted in yellow) to allow more parking spaces for students, faculty and staff. Both parking lots are available to all students, faculty and staff with a valid WTAMU Parking Permit. All spaces are based on a first-come, first-served basis.
The (M-F 8 am-5pm) 1-hour parking spaces along the street are still available. 
For non-University visitors, there are visitor spots located in the west lot attached ot the back of the building on Harrison Street. These spots will require a temporary parking pass. 
You MUST have a current parking permit or temporary parking pass to park in WTAMU lots. If you need a temporary parking pass, please visit the University Police Department office on the 1st floor in Suite 192.
See updated and approved parking area for Zone 33 and 34.