We are revamping our pages - keep checking back for new updates!
Welcome to the William H. and Joyce Attebury Honors Program at West Texas A&M University, a place where exceptional Freshman, Transfer & Current students participate in an enriched learning community. The experience shared by all honors students is highlighted by innovative discussion-based teaching, research, study abroad, mentoring, internships, leadership and a host of wider opportunities. The program however provides incoming Freshman with a welcoming and supportive environment as they start their higher education careers and begin an amazing journey at WTAMU. The program also takes into consideration the fact that Transfer students are each unique with their own previous academic backgrounds, so each student is advised and directed through the program based upon their own personal academic history. Of course Current students who have a year or two under their belts but who still have 4 long semesters are always welcome and encouraged to become a part of the program. On top of all that, Honors faculty exemplify the highest level of teaching excellence and provide honors students with a learning experience like no other.
So if you are a Freshman, Transfer or Current Student, I invite you to consider joining the faculty, students and alumni that share in the honors experience founded on the tenets of excellence, scholarship and leadership.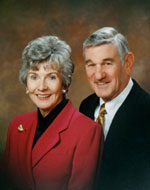 The Honors Program was founded in 2001 and has grown to include more than 170 students, 50 faculty, 20 courses and an Honors Residence Hall. An Honors space housing a smart classroom, offices and lounge space opened in summer 2008. In recognition of their continuous support, the program was renamed the William H. and Joyce Attebury Honors Program in 2007.
Image by Gray's Studio