University Spirit
The West Texas A&M University Spirit Program is a new and exciting initiative in the Student Affairs Division, housed within its Office of Student Engagement and Leadership. University Spirit will encompass WT's spirit organizations and initiatives, including the Spirit Squad, Maroon Platoon, Bucky the Mascot, and West Texas Wednesdays, just to name a few. The role of University Spirit is to increase spirit and student involvement at WT athletic events and other student activities throughout the year.
This initiative is supported by both athletics and Student Affairs in an effort to better serve our students through developing a sense of pride and belonging across campus while creating connections between student leaders, student organizations, and the Buff family. Although its main purpose is to support WT athletic teams, University Spirit also will be active in the community and will make appearances at special events such as New Student Orientation, Buff Branding, Welcome Week, and Family Weekend.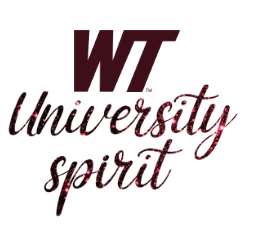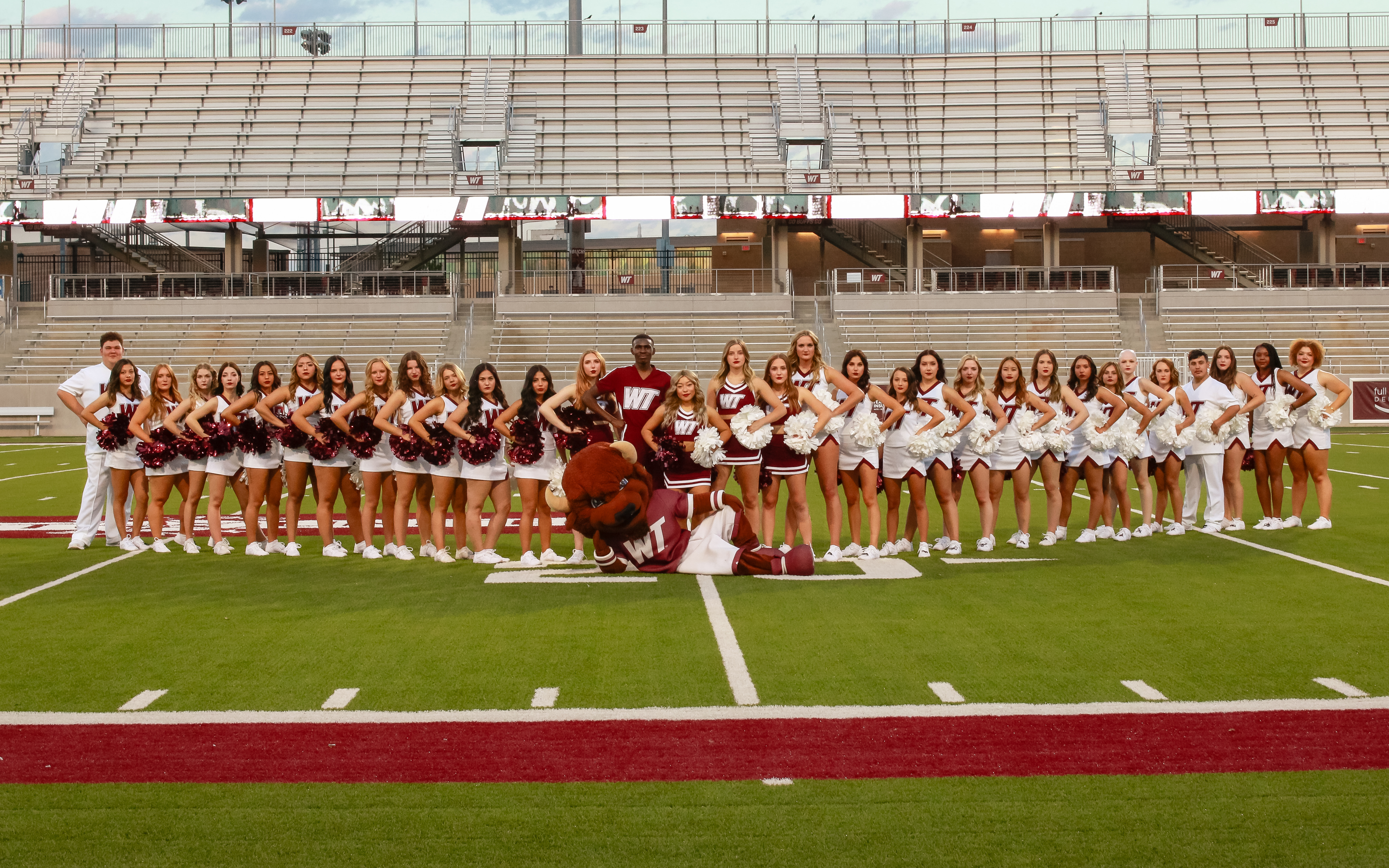 WT Spirit Squad
The West Texas A&M University Spirit Squad will aim to promote Buff spirit through engagement in various activities across campus. Squad members will support WT athletics and will serve as student leaders on and off campus. The Spirit Squad will lead the fans in supporting the teams at football, basketball, and volleyball games. They will serve as ambassadors not only at athletic events, but also at many different University and community functions.
A group of 24 student athletes representing both cheer and dance will serve on the squad. Spirit Squad members will go through an application and tryout process. Applications will be available in early May for those interested in trying out (check back here for more details). To maintain the highest level of standards, members must have prior experience in dance and/or cheer. Those with tumbling, dance, and cheer experience will be able to showcase their individual talents through the tryout process. The WT Spirit Squad will engage the crowd by leading cheers and chants, entertaining at halftime and breaks, and assisting with promotions and contests.
Beginning in the Fall of 2021, the Spirit Squad can perform at a variety of special events or celebrations. They will also be available to judge dance and/or cheer tryouts. Scheduling will be handled by the Office of Student Engagement and Leadership or online at the University Spirit website.
Spirit Squad 23-24 Roster
Maroon Platoon
The Maroon Platoon is a student-led spirit organization designed to support WT Athletics – often referred to as the heartbeat of the campus. Started by members of the Wesley Foundation, they are an official student organization with an on-campus advisor that is assigned within the Office of Student Engagement and Leadership.
Maroon Platoon brings a sense of family, fun and community, not only showing what it is like to cheer on the maroon and white, but what it means to be a part of something greater than the individual self. Maroon Platoon plays a vital role in WT Athletics making sure they are heard loud and clear. Whether that is doing chants or cheering from the stands, they make sure to be heard loud and proud with WT school spirit. These enthusiastic fans gain special privileges and access to WT Athletics that are not open to the general student body: charter bus traveling, free food, T-shirts and a family, to name a few.
Maroon Platoon is known for its ostentatious display of maroon and loud chants that echo around campus, as well as challenge dances inspired by the Haka. Known as the fastest-growing organization on campus, the Platoon's vision is to see the entire University take part of the celebrated traditions that have been put into action.