College of Engineering
Major in Engineering (Major Code: 5128)
Introduction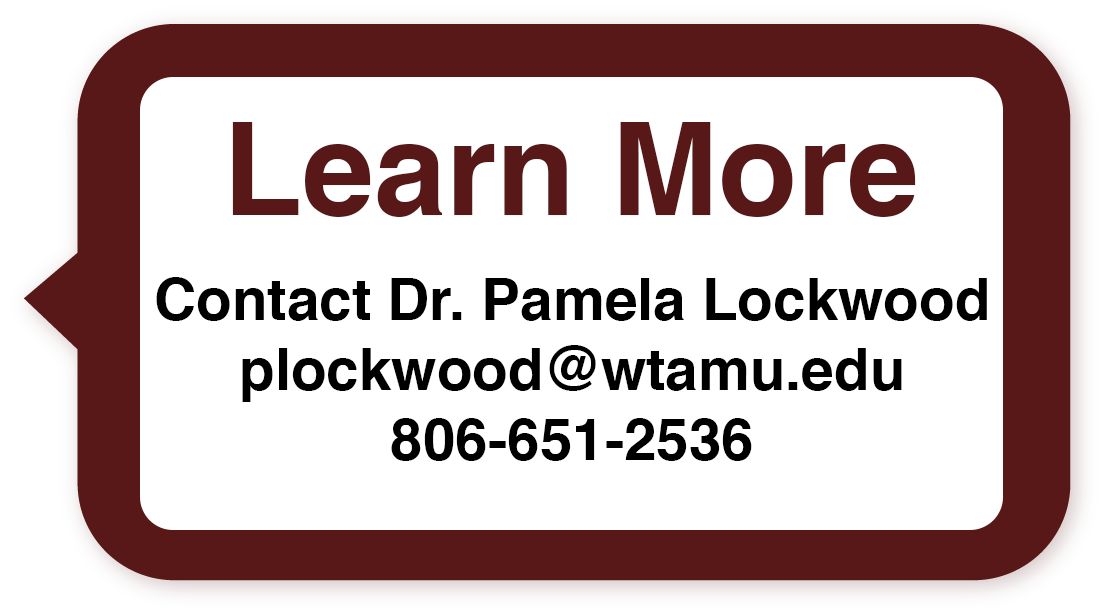 Increasingly, today's engineers are expected to have interdisciplinary knowledge of all facets of engineering. The Master's of Science in Engineering program is designed to prepare engineers for anything they'll see in their career — even if it's not the specialty they studied in undergraduate courses. In this program, students gain working knowledge of many engineering disciplines, from mechanical to civil, environmental to electrical, while also having the flexibility to concentrate in a specific area. This degree provides a rare opportunity to expand skills into all facets of engineering while augmenting skills in a chosen specialization.
  
The Master's of Science in Engineering program offers two options:
·      A 30-hour in-person thesis track designed for students who may be planning to continue to a doctoral program or considering a career in R&D. Students may benefit from WTAMU's institutional agreement with Texas A&M University for acceptance into its doctoral program and potential scholarship opportunities.
·      A 36-hour non-thesis program delivered mostly online and designed to meet workforce needs with flexible scheduling for working professionals.
Due to visa regulations, International Students in non-immigrant F1 visa status will not be admitted into the 36 credit hour on line track. 
 
Students who are well suited to this program are:
Driven by a need to discover

Intrigued by research and design

Pursuing research because of a passion to learn new things

Interested in developing and learning skills in new areas of engineering while enhancing skills in their own area
In addition to the benefits of strong industry ties and advanced labs, WTAMU has dedicated faculty and advisers involved in challenging, ground breaking research. This program is thus geared toward both students and industry professionals interested in everything from sustainable technologies and processes to promising research advancements. With a wide variety of class options from business-oriented classes to engineering courses, students will be able to bridge gaps that they could not before.

For more information about the Master's of Science in Engineering program, please download our brochure here.

Admission Requirements
To be accepted into the MS Engineering program a student must meet the following requirements:
Undergraduate GPA of 3.0
International  Applicants Only: TOEFL score 213 (computer based; 79 (iBT) or IELTS score of 6.0 or PTE 53
Minimum GRE score of 145 Verbal Reasoning & 150 in Quantitative Reasoning
Three letters of recommendation
Wavers of GRE are considered with 5 years of work experience in the field or if the student has completed another master's degree
Interview with Engineering Graduate Advisory Committee (Skype interviews will be used for international applicants if needed)
Admission Deadlines
All application materials must be received by August 1st to be considered for Fall admission and December 1st to be considered for Spring admission.
Application Process
 Apply through the Graduate School using their application page.
Submit payment of the $40 graduate admissions fee through the above page.
Submit all university transcripts.  All students must submit official copies of transcripts before admission.
Submit GRE test scores using the instructions on the Graduate School application page.
If you are requesting a waiver of GRE scores based on a previous Master's degree or industry experience, fill out the GRE Waiver Form and return it using the given instructions.  If you are claiming an exemption based on industry experience, please forward your resume to ECS@wtamu.edu along with the exemption form.
Submit a letter of intent describing your interest in engineering and what you hope to get out of this program.  There is no particular format for this letter.  The GSAC would like to get a feel for your interest in engineering, experience level, and expectations for this degree program.  Please email letters to ECS@wtamu.edu.
Submit Letters of Recommendation using the Letter of Recommendation Form.
Once all application materials have been received, you will be contacted by a member of the Engineering Graduate Advisory Council for an interview.
Options
Thesis Option
Non-Thesis Option
Suggested Plan of Study:
Thesis Option

Non Thesis Project Option

Category

Semester Credit Hours

Category

Semester Credit Hours

Area of Specialization

15

Area of Specialization

15

Sub-specialization

6

Sub-specialization(s)

12

Elective

3

Elective

6

Thesis

6

Project

3

TOTAL

30

TOTAL

36
Requirements
Thesis Option
Twenty-four(24) semester hours of approved courses and six (6) additional hours of thesis research credit, a successful defense of a research thesis, national or international presentation of work, and publication in proceedings are required to complete this option.
Non-Thesis Option
The non-thesis (project) option requires a minimum of thirty-six (36) semester hours of course work including a three-credit hour project course. The project course incorporates a written report and oral presentation to the EGAC. Additional course work may be necessary for students lacking the proper course prerequisites or as required by the EGAC and specified in an approved plan of study. The 36 hour program will facilitate students who want post graduate study as a requirement for professional certification.
Fall 2017 Course Offerings
Web-Based Courses
MENG*6321*70 - Combustion
MENG*6370*70 - Engineering Materials
MENG*6392*70 - Advanced Topics in Mechanical Engineering
CIDM*6300*70 - Statistical Methods/Business/Economics (2 Sections)
CIDM*6308*70 - Seminar in Data Analytics
CIDM*6310*70 - Information Technology Management (2 Sections)
CIDM*6350*70 - Data & Information Management (2 sections)
CIDM*6363*70 - Enterprise Proc. Management
MGT*6331*70 - International Human Resource Management
MGT*6334*70 - Seminar in Organizational Behavior (2 sections)
MGT*6338*70 - Cultural Intelligence
MGT*6345*70 - Seminar in Leadership (2 sections)
MGT*6380*70 - Seminar in Conflict Resolution and Negotiation
On-Campus Courses
MENG*6330*01 - Advanced Mechanical Vibrations
MENG*6392*02 - Advanced Topics in Mechanical Engineering (2 sections)
MGT*6334*01 - Seminar in Organizational Behavior

Frequently Asked Questions
When is my application due?

Application deadlines are August 1st to be considered for Fall admission and December 1st to be considered for Spring admission.  All application materials should be received on or before these dates.  Applicant interviews with the Engineering Graduate Advisory Council will be scheduled on a case by case basis.

Will there be online options available

Online courses will be offered in this program.  These courses will be offered according to student demand.  Students will be notified about potential course offerings, course locations, and formats before the registration period opens.  Registration opens for graduate students in November for Spring semesters and April for Fall semesters.

Are there specific GPA or GRE requirements for this program?

A minimum undergraduate GPA is not required for this program, but a 3.0 undergraduate GPA is preferred.  Minimum GRE scores for this program at 145 in Verbal Reasoning and 150 in Quantitative Reasoning.  Transcripts and test scores should be submitted to the Graduate School following the directions on the application page. 
Students who have no less than five (5) years of industry experience or have previously earned a Masters Degree can apply for a waiver of GRE score requirements.  Follow the instructions on the GRE Waiver Form.  If you claiming and exemption based on industry experience, please forward your resume to ECS@wtamu.edu along with your exemption form.

Where do I submit my recommendation letter?

Recommendation letters must follow the approved format.  The Letter of Recommendation form is available here.

Has a degree checklist been developed?

Degree plans will be developed on an individual student basis.  The courses that will be offered through the program are listed above.  

Who do I contact if I have questions?

Potential students can call the Dean's Office at 806-651-5257 or email ECS@wtamu.edu for questions, comments, or concerns.