Academic Honors Organizations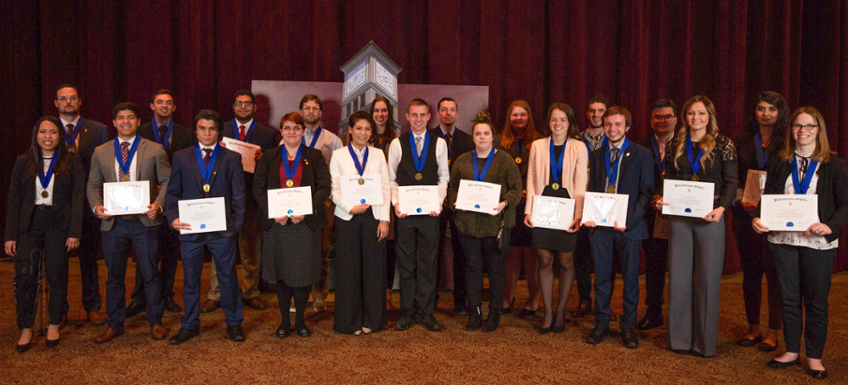 Alpha Chi
Blue/Green Medallion or Cord
Alpha Chi National College Honor Society is an American collegiate honor society recognizing achievements in general scholarship. It is an open society that invites university juniors, seniors, and graduate students in the top 10 percent of their class.
Alpha Mu Alpha
Blue Cord
Alpha Mu Alpha is the national marketing honorary for qualified undergraduate, graduate, and doctoral marketing students as well as marketing faculty. Under the backing of the American Marketing Association, a selected advisory committee of marketing educators designed Alpha Mu Alpha to acknowledge outstanding scholastic achievement on a highly competitive basis.
Alpha Phi Sigma
Royal Blue/Gold Cord
Alpha Phi Sigma recognizes the academic excellence of undergraduate and graduate students of Criminal Justice, as well as Juris Doctor students. The goals of Alpha Phi Sigma are to honor and promote academic excellence, community service, educational leadership, and unity.
Alpha Psi Omega
Blue/Amber Cord
Alpha Psi Omega is the National Theatre Honor Society. Alpha Psi Omega aims to encourage dramatic production at every step of a person's academic career.
Alpha Zeta
Gold/Light Blue Cord
Alpha Zeta is an honorary, professional society for students and industry professionals in the agriculture and natural resources fields.
Beta Beta Beta
Green/Red Cord
Beta Beta Beta (TriBeta) is an honor society for students, particularly undergraduates, dedicated to improving the understanding and appreciation of biological study and extending boundaries of human knowledge through scientific research.
Beta Gamma Sigma
Gold/Blue Medallion
Beta Gamma Sigma is the international business honor society for AACSB-accredited schools, which are the top 5% of business school programs around the world.
Distinguished President's List
Maroon/White Cord
Distinguished President's List recognizes West Texas A&M University students achieving President's List honors (4.0 GPA) twice within the last 60 hours of an undergraduate degree.
Gamma Beta Phi
Gold/Black Cord
The Gamma Beta Phi Society is a national honors and service society. Gamma Beta Phi watchwords are service, scholarship, and character with the aim to broaden our members' academic and philanthropic lives so that they may graduate ready to make a difference in the world.
Kappa Delta Pi
Green/Purple Cord
Kappa Delta Pi International Honor Society, is an honor society for education. Membership is limited to the top 20 percent of those entering the field of education.
Lambda Pi Eta
Red/White Cord
Lambda Pi Eta is the National Communication Association's official honor society at four-year colleges and universities. Lambda Pi Eta represents what Aristotle described in Rhetoric as three ingredients of persuasion: logos (Lambda), meaning logic; pathos (Pi), relating to emotion; and ethos (Eta), defined as character credibility and ethics.
Mortar Board
Gold/Silver Medallion or Cord
Mortar Board is a national honor society recognizing college seniors for their exemplary scholarship, leadership, and service. Mortar Board helps leaders flourish by developing skills and creating a space where students and faculty come together to learn, grow and help each other.
Omicron Delta Epsilon
Blue/Gold Cord
Omicron Delta Epsilon is an international honor society in the field of economics, formed from the merger of Omicron Delta Gamma and Omicron Chi Epsilon.
Order of Omega
Gold/Ivory Cord
Order of Omega is a leadership honor society for members of Fraternity & Sorority organizations. Order of Omega recognizes upper-level students who have exemplified high standards in the areas of scholarship, leadership, involvement within their respective organization, and within the Fraternity/Sorority, campus, and local community.
Phi Alpha
Gold Cord
The purpose of Phi Alpha is to provide a closer bond among students and promote humanitarian goals and ideals. Phi Alpha is dedicated to honoring diversity, equality, inclusivity, justice and fostering a community where individuals from all walks of life can flourish.
Phi Alpha Theta
Gold Cord
Phi Alpha Theta is a professional society whose mission is to promote the study of history through the encouragement of research, good teaching, publication, and the exchange of learning and ideas among historians. Phi Alpha Theta seeks to bring students and teachers together for intellectual and social exchanges, which promote and assist historical research and publication in various ways.
Pi Kappa Lambda
Gold/White Cord
The mission of Pi Kappa Lambda is to provide an organization dedicated to the furtherance of music in education and education in music in colleges, universities, and other institutions of higher learning. The primary objective of Pi Kappa Lambda is the recognition and encouragement of the highest level of musical achievement and academic scholarship.
Pi Sigma Alpha
Red/White/Blue Cord
Pi Sigma Alpha, the National Political Science Honor Society, is the only honor society for college and university political and social sciences students in the United States. Its purpose is to recognize and promote high academic achievement in the field of political science.
Sigma Gamma Epsilon
Blue/Silver/Gold Cord
The Society of Sigma Gamma Epsilon is a national honor society recognizing scholarship in the earth sciences.
Sigma Tau Delta
Red/Black Cord
Sigma Tau Delta is an international honor society for students of English at four-year colleges and universities who are within the top 30% of their class.
Sigma Theta Tau
Orchid/White Cord
Sigma Theta Tau is an international community of nurses, dedicated to advancing knowledge, teaching, learning, and service through the cultivation of communities of practice, education, and research.
Upsilon Pi Epsilon
Maroon/White Medallion
The purpose of Upsilon Pi Epsilon is to promote the computing and information disciplines and to encourage their contribution to the enhancement of knowledge. The mission of UPE is to recognize academic excellence at both the undergraduate and graduate levels in the Computing and Information Disciplines.