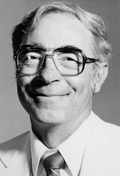 Duane Francis Guy was born in Atwood, Kansas, on December 26, 1928, to Ellen and Earl Guy and welcomed by two brothers, Willard E. and Ralph R. When Duane was nine, the family moved to Hays, Kansas, where he graduated from high school. He served in the U. S. Army from 1951 to 1953 and was stationed in Korea for 14 months of that time.
Duane received bachelor's and master's degrees from Fort Hays State University and a Ph. D. from the University of Kansas. He came to WT in 1958 as a history professor; he became head of the history department in 1967, a position he held until his retirement in 1994. He was recipient of the Faculty Excellence Award in 1985 and was awarded the title of Professor Emeritus in 1995. He served as sponsor for the Interfraternity Council at WT for many years; he was an avid basketball fan. He was editor of the Panhandle-Plains Historical Review for 13 years.
Dr. Guy worked as house manager at the "Texas" musical drama for 14 summers. He served on Canyon's planning and zoning board, served on the Canyon Area Library Building Committee, and was a member of Canyon's First United Methodist Church. He was chair of the Canyon/Randall County Bicentennial Committee in the l970s; he coached Little League and Babe Ruth baseball, and served as president of Babe Ruth.
Duane and his wife, Lynn, were married in 1955. They had two children: Marc Guy, now of Carrollton, and Patti Reeves, now of Plano, and four grandchildren.
Duane left this life on September 18, 2006, after a long battle with emphysema.