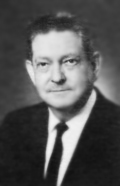 Emerson Haraden was devoted to music, and to his beloved French horn, from boyhood until the end of his life. As a youth growing up in Los Angeles he played in his high school band, and the Glendale Symphony. He was principle horn in (possibly the first) Los Angeles honor band for high school students. By 1938 he was a professional free-lance musician, working for "The Standard Symphony Hour", motion picture studio recordings, theatres, and the Long Beach Municipal Band, conducted by Hebert L. Clark. He had a 'bit part' in the movie "100 Men and a Girl" as principal horn in Leopold Stokowski's orchestra.
Emerson volunteered for duty in the armed forces immediately after Pearl Harbor. He served in the 570th Army Air Force Band, stationed in Iwo Jima; his commanding officer was Kent Kennan.
Following discharge, Emerson took advantage of the GI Bill to earn college degrees at Juilliard School of Music (where he studied horn with James Chambers), and Columbia University Teachers College. His first wife, Bernice Frazier died during his college years. Upon graduating, Emerson's first position was at Del Mar College. During his tenure there, Emerson was principal horn in the Corpus Christi Symphony, conducted by Jacques Singer. Emerson's second wife, Lygia Dias died of cancer in 1061. Lygia was a member of the piano faculty at Del Mar.
In 1962 Emerson married Mary Capps, a member of the Corpus Christi Symphony horn section. Emerson with his young third wife and baby son moved to Portland, Oregon in the summer of 1965, at the urging of the new Portland Symphony conductor, Jacques Singer. Emerson assumed the position of principal horn, and taught at Oregon College of Education and Willamette University.
In 1967 Emerson joined the music faculty at WTSU. During his tenure at WT, Emerson gave private lessons on horn, trumpet, trombone and tuba; taught brass methods; played in the Amarillo Symphony; and organized WT's first horn club, modeled on the famous Los Angeles Horn Club. Emerson was assisted and encouraged in organizing a horn club for WT by former colleagues Anton Horner and Wendall Hoss.
Following retirement, Emerson became active in the local VFW Post, serving twice as VFW District 13 Commander. Emerson was a life-long Democrat, and a life member of both the NY and LA Musicians Unions.
By Mary C. Haraden
January 14, 2007