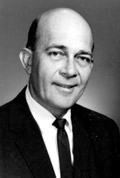 WT Faculty Member, 1953-1987
Following service to his country in World War II as a B-24 pilot in the 5th Air Force, Royal L. Brantley began his educational career and received his undergraduate degree in music from Southwest Texas State University in San Marcos, Texas. He was the first master's vocal performance graduate of the University of Texas in Austin and doctoral studies in Bloomington, Indiana led to an ABD in music from Indiana University.
Mr. Brantley was founder of the WT Opera/Musical Theatre Workshop, the original musical director and arranger for the musical TEXAS, head of the voice program in the WT Department of Music, and director of over fifty musicals and operas for the WT Branding Iron Theatre. Author and composer of the opera Samuel, which had its world-premiere at WT in 1978, Mr. Brantley was a talented performer, and is best remembered for his legendary performances on the BIT stage: The King in The King and I, Tony in The Most Happy Fella, Tevye in A Fiddler on the Roof and Cervantes in Man of LaMancha.
His amazing work as an educator and artist garnered the Phoenix Club Distinguished Faculty Award, two WT Teaching Excellence Awards, special honors from Phi Mu Alpha Sinfonia, and the honor of Professor Emeritus. Mr. Brantley passed away in 2003, but he left a legacy of talented students who now perform, create and teach throughout the United States.