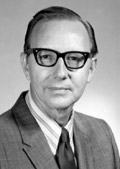 I was born on September 18, 1921 in Dallas, Texas. In 1939, I graduated from Grand Prairie High School in Grand Prairie, Texas as Salutatorian. I attended college at North Texas State University in Denton, Texas, where I received my first two degrees: Bachelor of Science in Business Administration, May 1947; Master of Business Administration, January, 1948.
I was married on August 24, 1946 to Wilma Virginia Barton of Grand Prairie, Texas. After my college graduation, we moved to Russellville, Arkansas where I was hired as an instructor in Business Administration and Summer Director of Counseling and Guidance at Arkansas Polytechnic College. In 1949, we moved back to Denton where I was hired as Instructor in Junior High and High School business courses at the North Texas State University Laboratory School--a position I held for eight years. I then became an Instructor in Business Education at the University. I held this position until 1963.
Our three daughters were all born in Denton, Texas while I was teaching and also working on my Doctor of Education degree at the University. I completed all requirements, with the help of my family, and earned my Doctorate during the summer, 1963.
I was then hired by the University of Denver as Assistant Professor of Business. So, we packed our belongings and headed north. The family was excited about this change and I think the girls viewed it as an adventure. This "adventure" lasted only one year as I was hired by West Texas State University as Associate Professor of Business. So, back to Texas we came. While at WTSU, I served as Professor of Business and Department Head of Business Education which later became the Department of Business Education and Office Administration. As Head of the Department, I was privileged to participate in the planning of a new building, the University Complex South (UCS), which housed an office suite and eight rooms devoted to the Business Education/Office Administration Department. During my tenure, we added 22 new courses, established specializations in legal and medical secretarial areas, established Records Management and Legal Assistant programs and developed the curriculum to establish degrees in Business Education at the Bachelor's and Master's levels. During my teaching career, I have been honored to receive the Texas State Business Teacher of the Year, University level, 1978-79; Professor Emeritus, WTAMU, 1992; and induction into the Hall of Honor, Texas Business Technical Education Association, 2002.
My wonderful wife, Wilma, has also been affiliated with WTSU as secretary in the Departments of Secondary/Higher Education and Sociology/Social Work. We both retired in 1983. All three of our daughters graduated from WTSU:
                     Karyn Johnson Wooten, 1972, BBA
                     Janna Johnson Wartes, 1975, BA; Master of Education, 1978
                     Roma Johnson Starkey, 1980, Bachelor of General Studies
Canyon, WT and First Baptist Church have been such a blessing in our lives as we planted our family here in 1964 and became involved in this wonderful community!