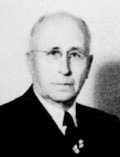 Dr. Johnson was born in Coryell County, Texas, near Gatesville in 1892. About ten years later, he moved with his family to Terry County, near Brownfield, where they were open-range cattle ranchers and cotton farmers. He Graduated from Gomez High School in 1911, received a teaching certificate in 1912, taught in a one-room school, and did tax work before earning his Bachelor's degree from West Texas State Teachers College in 1928, his Master's from the University of Texas in Austin in 1931, and his Ph.D. (first doctorate awarded in Accounting) from the University of Missouri in 1941. During his 32 years of affiliation with West Texas State he:
         • Started and ran the bookstore for many years;
         • Served on the Athletics Council;
         • Organized and was the director of the Ex-Students Association;
         • Taught science and business courses, and eventually became Head of the School of Business.
Dr. Johnson married Clementine Smith (B.A., WT, '26) in 1924; they had four children. He was active in civic and community affairs in Canyon and Amarillo [including Canyon City Council, Rotary Club, Masons, Boy Scouts, First Baptist Church of Canyon (deacon and trustee), and Canyon Country Club]. They were ardent supporters of theatre (especially WT's Branding Iron Theatre), symphony, and the Panhandle Plains Historical Museum.
After early retirement from WT, he served twelve years on the faculties of the University of Mississippi in Oxford and then at East Texas Baptist College in Marshall, with true retirement occurring in 1973 at age 80. He loved teaching.
His corner-stone beliefs included:
     • The mission of WT is to prepare students for active lives in the Panhandle, both as individuals and as connected members of  
       an interwoven society;
     • Life is meant to be lived in harmony;
     • Kindness is the best policy;
     • Each individual is obligated to contribute something back to his community;
     • Life in the Panhandle is a privilege and a wonderful opportunity;
     • Sharing knowledge is the only justification for having it.
He loved to watch the sun rise and set each day and to see his students leading successful and enriching lives.