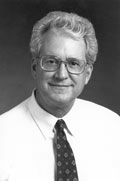 WT Faculty Member, 1970 - 2001
I was born March 5, 1939, at the gateway city to the American West, St. Louis, Missouri. My mother, Pearl Liesmann Sparling, read to me as a child daily, and my father, Harry Sparling, believed fervently in the dream of education - influences that shaped my life. My childhood hero was my only brother, Harry Sparling III, seventeen years my senior, who served in the USAAF during WWII as a B-17 tail gunner, was shot down on his last mission, held POW by the Germans in Stalag Luft IV, and survived the harrowing 500 mile "Black March" from February to April, 1945, near the Baltic Sea. He influenced my interests in books, music, art, the shooting sports, and sports cars.
I attended Mallinckrodt Elementary School, skipping the 8th grade to begin study at a preparatory school with a classical curriculum. My father passed on in 1956, the year I graduated from Southwest High School in St. Louis.
After working for the City of St. Louis surveyors in all weathers and as an advertising account executive, I graduated in 1962 with High Honors from the University of Texas at Arlington.
My wife, Sandra Anderson Sparling of Webster Groves, and I were married June 13, 1959, and all achievements would have been impossible without her. Our three sons are Kirk Darren, Craig Lee and Keith Tanner.
After a strenuous competition culminating in interviews at Rice University, I was named recipient of a Woodrow Wilson National Fellowship in 1962 to attend the graduate school of my choice. I elected to study under the great Hawthorne scholar, Dr. Arlin Turner, at Duke University, where I was awarded my Master's degree in English in 1963.
I taught advanced courses in American literature at The College of William and Mary at Williamsburg, Va. from 1964-68. Returning to Duke with an NDEA Title IV Fellowship for 1968-69 and as a Duke University Fellow for 1969-70, I received my Ph.D. in English from Duke in 1972. I was named Phi Beta Kappa (Beta Chapter of North Carolina at Duke University) May 11, 1972.
In 1970 I joined the faculty of West Texas A&M University and taught courses in Literary Masterpieces of the Western World, Survey of American Literature (all periods), Modern Drama, Eighteenth Century English Literature, The Development of American Short Fiction, and The Literature of the American Dream.
Honors received at WTAMU include: Voted "Outstanding Professor" by Honor Students, 1984; Distinguished Graduate Professor 1991-92; Best Thesis Adviser, 2000-01; Professor Emeritus, 2007.
My wife and I established the "Arlin Turner Memorial Scholarship" for English majors at WTAMU in memory of Dr. Turner who graduated from WT Normal College in 1927. Major contributors to the Arlin Turner Scholarship include: his widow Thelma Turner; his brother Lee Gaston Turner; his niece Lanelle Willig.
As author of numerous professional papers and articles, as author and narrator of "The Literature of the American Dream" - a 12-part scripted television series for PBS Total Television and Amarillo College, 1981- and especially in my teaching interaction with students, I strove to help my students see the drama inherent in ideas.