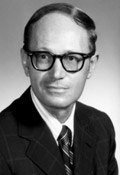 Sunday, Oct. 10, 1943 - On this day I arrived in Amarillo, Texas. The drive, in a 1939 Ford sedan, took about two hours from the Wellington, Texas area. My older brother drove; our mother was with us.
We came to Amarillo so that I could finish my senior year in high school while staying with my sister and her family. Because of the polio outbreak, Amarillo High was starting late. My parents would move here at a later time.
I brought all of my possessions, a few clothes and some papers. I was 16 years of age and I had about $10. My parents and my brother had no money to give me, so I planned to work part-time.
I don't know how to describe my early years. My mother gave birth to eight children. The second and eighth died before adulthood, making me, the seventh, to be the youngest. My father was a tenant cotton farmer, so I worked long hours with him.
I liked school, but my mother refused to let my brother and me participate in school athletics. Consequently, I felt much discrimination from my male classmates. Maybe Amarillo would be better.
Sunday, Oct. 10, 2010 - Yesterday, I attended Homecoming at WTAMU in Canyon. I rode in the second car—open convertible with driver—in the homecoming parade. My name was printed in large letters on the side.
After high school, I worked at the airport (old English Field) for TWA until I joined the merchant marine in March, 1945. I served mostly in the Pacific, but some in the Atlantic, for 30 months. Returning to Amarillo in September, 1947, I enrolled in Amarillo College, worked here and there, married, then joined the U.S. Air Force in 1951.
Back to Amarillo in 1955, I enrolled at West Texas State College. I completed a B.S. in government/history in 1957 and an M.A. in government/economics/history in 1958. I was employed as a temporary full-time instructor of government for 1957-58.
I began my doctoral work at the University of Texas at Austin in 1958 and transferred to the University of Oklahoma in Norman in 1963, where I earned a Ph.D. in political science/economics in 1967. In the meantime, I was a full-time instructor/professor at WT.
My tenure at WT was 34 years. I chaired the Department of Political Science 1970-1986; taught in Malaysia 1987-88; and retired in 1991. I became Emeritus Professor of Political Science in 1992; member of the Old Main Society in 2003; and Distinguished Alumnus by the WT Alumni Association in 2010 (hence the ride of honor in the parade).
I've had a marvelous relationship with WT for 55 (student; professor; supporter) of its 100 years. I feel truly blessed to have been a part of it.