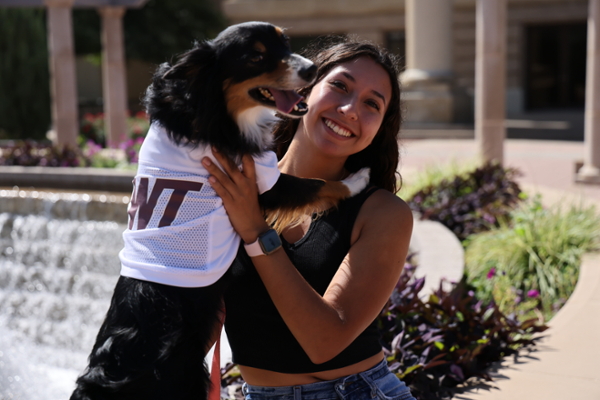 Pre-Veterinary Medicine Specialization
Overview
Whether they're pets, livestock or working animals, animals matter to individuals and society. Every community needs veterinary professionals to provide animal health care, but veterinarians also do many other kinds of jobs. They make sure the nation's food supply is safe. They work to control the spread of diseases. They conduct research that helps both animals and humans. Veterinarians are at the forefront of protecting the public's health and welfare.
Besides medical skills, veterinarians often take a holistic approach to human well-being and animal welfare that, combined with communications and problem-solving skills, makes veterinarians uniquely qualified to fulfill a variety of roles. Many veterinarians, of course, provide care for companion animals through private medical practices, but veterinarians are also involved in promoting the health and welfare of farm animals, exotic animals, working animals (like those in the equine industry), and those that need a healthy environment in which to thrive, whether that environment is a rain forest, a desert or even the ocean.
Advising
Most students at WTAMU with a Pre-Veterinary Medicine specialization are generally pursuing a BS in Animal Science or Biology while completing the pre-professional requirements, but veterinary students complete a variety of undergraduate degrees. Once students have completed the required coursework, they may apply. However, only 30% of students who are admitted to veterinary schools are those without a bachelor's degree.
Admission requirements of the 32 schools and colleges of veterinary medicine in the United States vary. Students should work closely with an adviser for proper course selection.
Note: Regardless of your academic major, if you plan to become a physician, be sure to designate Pre-Professional Specialization "PVET" on your Degree Information Form to ensure your Degree Plan includes the recommended courses for veterinary school application.
WTAMU Pre-Veterinary Medicine Specialization Advisers:
Dr. Dan Posey
Department of Agricultural Sciences and VERO
Office: Happy State Bank Academic and Research Building 233
Phone: (806) 651-4262
Email: dposey@cvm.tamu.edu
Dr. David Sissom
Department of Life, Earth and Environment Science and Department of Chemistry and Physics
Office: NSB 348A
Phone: (806) 651-2573
Email: dsissom@wtamu.edu