Cost of Attendance
Estimate of Annual Cost
Based on 2023-2024 rates
Texas Residents
Out-of-State Residents
Tuition and Fees
Fall and spring, 30 hours, guaranteed rate
$9,664
$11,376
Housing Double Room
Excludes Conner
$5,272
$5,272
Meal Plan Average
Qualifying resident plans
$4,077
$4,077
TOTAL
$19,013
$20,725
NOTE: Cost estimates are based on Fall and Spring (30 hours) using 2023-2024 rates and estimated budgets. Variations will occur. Financial aid and scholarship funding will save you money. Apply early.
Tuition Rates
Tuition Comparison: In-State
Fall and Spring Semesters
West Texas A&M University
Texas Tech University
University of Texas
University of Texas at Arlington
Abilene Christian University
Baylor University
Average cost for tuition and fees
for 30 undergraduate hours
$9,664
Source
$11,852
Source
$11,406
Source
$11,314
Source
$41,500
Source
$52,108
Source
We Offer a Low Tuition Rate
Students from states outside of Texas who enroll at West Texas A&M University pay the same tuition rate as Texas residents plus $30 per credit hour.
For students from any of the other 49 states it means a tuition rate of $11,337 per year. For years we've offered this great rate to students from Colorado, Kansas, New Mexico, and Oklahoma. But now, it doesn't matter what state you call home, this lower tuition rate applies to you.  Get a cost breakdown with our Tuition Estimator! 
Hundreds of students come to West Texas A&M from across the nation. Why? Because we have academic programs they're interested in and offer a great college experience. And word is spreading: We've been recognized as one of  U.S. News and World Report's  "America's Best Colleges" and our online programs consistently garner accolades.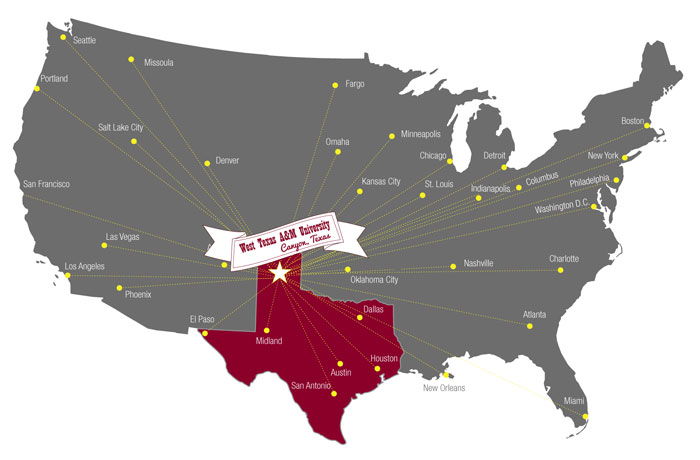 Take advantage of this low tuition rate for out-of-state students
For incoming freshmen here's a comparison in annual tuition rates according to The College Board's "Annual Survey of Colleges":
$11,376 - Tuition for U.S. students attending West Texas A&M University (30 hours)
$27,020 - Average tuition for students attending a public university outside their home state
$37,650 - Average tuition for students attending a private university anywhere
There's no special application or criteria for this tuition rate. If you are a U.S. resident coming from any of the 49 states outside of Texas you'll receive it. So what are you waiting for? Apply now and we'll help you find your place in THE University in the Texas Panhandle!
Tuition Comparison: Out-of-State
Fall and Spring Semesters
West Texas A&M University
(out of state rate)
University of Oklahoma
(OK resident rate)
Colorado State University
(CO resident rate)
Kansas State University
(Kansas resident rate)
Average cost for tuition and fees
for 30 undergraduate hours
$11,376
Source
$13,400
Source
$12,874
Source
$11,633
Source