Facilities
Advanced Wind Turbine Test Facility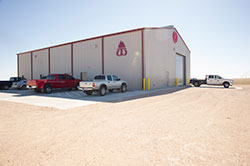 The
UL Advanced Wind Turbine Test Facility
is a unique collaboration between WTAMU and UL. It is one of the largest testing facilities in the world and provides services for both large wind and small and micro wind manufacturers as well research and design testing capabilities. Wind turbine manufacturers are able to erect turbines for extended periods of time, and the facility provides new testing capacity for turbine manufacturers seeking certification to international standards, helping reduce time-to-market and lower costs, as downtime can essentially be eliminated.
Agricultural Sciences Complex
The Agricultural Sciences Complex is home to the Department of Agricultural Sciences and was completed in September 2018 with state-of-the-art facilities valuing a total $48 million. Located at the corner of Russell Long Boulevard and West Texas A&M Drive, the complex is more than 150,000 square feet of learning space including the Caviness Meat Science and Innovation Center, the three-story Happy State Bank Academic and Research Building, the Piehl-Schaeffer Pavilion, the Bain Event Center and a multi-purpose area with spectator seating for up to 500 people.
Alumni Banquet Facility
The Alumni Banquet Facility, formerly the South Dining Hall, was expanded and renovated by the Alumni Association to gain a more permanent presence on campus. The facility houses the Dr. Hazel Kelley Wilson Banquet Hall, the Buffalo Room and Isley Terrace for dinners, dances and formal occasions.
Room Reservation Information
Use of Alcohol Request Form
Bain Athletic Center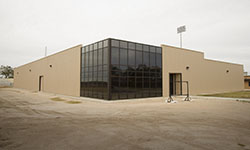 The newly completed football locker room is the first step in the completion of WTAMU's Bain Athletic Center, located on the west side of the Buffalo Sports Complex. The 6,700 square foot locker room provides 135 lockers, along with showers, laundry facilities, equipment storage space and a video screen for the team to utilize when studying game-film review. The next stage of the project is the completion of the athletic training and strength/condition areas of the nearly 24,000 square foot space. The training areas will be fully equipped with a hydrotherapy facility, taping tables, ice baths and much more. The state-of-the-art, 7,000-square foot weight room will serve 500 student-athletes at WTAMU. Future stages include the addition of a Championship Atrium to showcase the tradition and success of WT athletics, along with an Academic Success Center for the University's student-athletes. The study hall and meeting rooms will be equipped with the latest in multimedia equipment and wireless access, and the Championship Atrium will feature trophy displays and memorabilia in a comfortable reception/seating area.
Bivins Nursing Learning Center
The Bivins Nursing Learning Center is a nursing lab where students in the Department of Nursing utilize advanced, high-tech equipment in a hospital-like setting.
The 9,000-square-foot Bivins Nursing Learning Center is located in the central portion of the building and features an acute care simulation lab, a primary care lab, an audio visual lab and a testing lab.
Boiler Plant
The Boiler Plant north of Cornette Library keeps University buildings comfortably warm no matter what the weather is like outside. Five boilers generate steam that runs through tunnels to most campus buildings. The Power Plant is manned around the clock.
Buff Hall
Buff Hall, built in 2008, features a four bedroom/two bath super-suite available to all students, with preference given to upperclassmen. Each suite has a common living area, a mini-kitchen equipped with a full-size refrigerator and microwave, and four private bedrooms and two baths. Each bedroom offers high-speed wireless internet. The hall also has laundry facilities, group study room, multimedia room, and a full community kitchen. Residents have all the advantages that on-campus housing offers as well as all the freedom and privacy that upperclassmen desire.
Campus Map
Buffalo Courts Alumni Center
Buffalo Courts has been home to the WTAMU Alumni Association and Campus Tours for several years, but the rock and limestone structure first served as a dormitory for WT athletes.

In the early 1930's, WT Coach Al Baggett and Canyon Mayor C.H. Jarrett, pharmacist and president of the Canyon Athletics Clubs, came up with the idea for an athletic dormitory. Funds were raised and student athletes were hired to help build the facility. Construction began in 1934 and Buffalo Courts opened in 1935 as the state's first dormitory for athletes.

The 2-story recreational hall is the only part of the original structure still standing. A major renovation in the 1980s made it a beautiful, historic home for the Alumni Association. The Randall County Historical Commission dedicated an official state historical marker at the facility in October 2007.
Buffalo Sports Park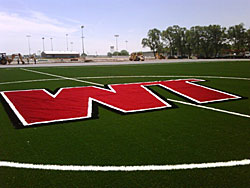 Buffalo Sports Park is the home to a variety of West Texas A&M University programs. The $21.8 million student funded-project not only provides valuable space for WT but also for the entire community. In addition to being the location of WT's Division II intercollegiate complex for competition in baseball, softball, soccer and track and field, Buffalo Sports Park also is the site for University intramural activities as well as community events and area high school sports.
The project involved a complete renovation of campus from east of Jarrett Hall and north to the former site of the University's Wind Test Center. The sprawling complex includes:
the competition Wilder Park baseball Field with seating;
the competition Schaeffer Park softball field with seating;
a competition combined soccer and track and field facility with seating;
two combination football and soccer practice fields;
a two-field intramural and recreational softball/flag football facility with lighting;
two intramural basketball courts with lighting;
two intramural tennis courts with lighting;
a practice field for the WTAMU marching band;
a grand lawn park activity area with lighting;
a jogging trail with lighting; and
rest room, concession and ticket facilities.
Adding to the athletics division, Buffalo Stadium is under construction and to be completed for the 2019 football season.
Centennial Hall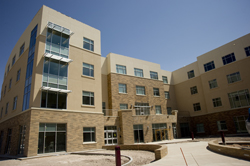 Centennial Hall opened its doors to 340 students in 2011. This four-story residence hall features double rooms with individual sinks. This co-ed facility is designed to provide residents with the privacy they desire, as well as a strong community environment. Residents enjoy a formal lobby, multiple study lounges, three gaming lounges, a full community kitchen, and high-speed wireless internet. Additionally, the Office of Residential Living is housed in the southwest corner of the facility and is the starting place for daily Residence Hall tours.
The Office of Residential Living maintains the University's ten residence halls which house approximately 2,200 undergraduate and graduate students each year. Each hall has its own unique appeal for a "home away from home" to meet each student's personality, living style and location preference. The Office of Residential Living strives to create an atmosphere that promotes academic success, personal growth and social awareness for each of its hall residents.
Charles K. and Barbara Kerr Vaughan Pedestrian Mall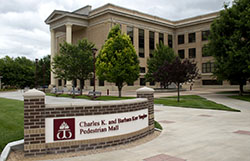 Completed and dedicated at Homecoming 2007, the pedestrian mall is located directly north of Old Main where Wisdom Road and University Drive would intersect. These cross streets between Old Main, Killgore Research Center and the Jack B. Kelly Student Center are gone. In its place is a beautifully landscaped green space with the Hayward Spirit Tower and the magnificent marble statue "The Original Texans."
Jack and Helene Hayward graciously donated the funds for the spirit tower, which is currently the tallest building on campus. Every day when the tower's clock strikes noon, the WT fight song echoes forth in a powerful display of school spirit.
The mall features copious landscaping and a marble sculpture of a buffalo and calf by artist Doug Scott of New Mexico. The "Original Texans" sculpture sits prominently along Buffalo Walk north of Old Main and is encased in a cascading water feature. It is the largest piece of single marble ever carved in the United States.
The beautiful pedestrian mall is a great place for student gatherings, outdoor functions and activities. It also features wireless Internet access.
Classroom Center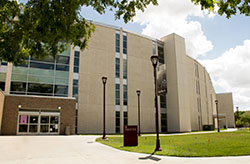 The Classroom Center has undergone a complete transformation, giving WTAMU students access to the most up-to-date educational possibilities. Each of the more than 40 classrooms is equipped with smart-classroom technology.

On the first floor of the Classroom Center is the core of student support, the Student Success Center (SSC). As a central "hub" of services, the SSC makes it easy for students to access many services in one convenient location. Offices located in the SSC include Advising Services, Student Employment Services, Career Services, Counseling Services, Educational Services, First-Year Experience, Nationally Competitive Scholarships, Student Disability Services, Study Abroad, Transfer Services, Veterans Services and the Writing Center.
The remaining three stories of the CC house numerous classrooms and labs as well as the Departments of Accounting, Economics and Finance, Computer Information and Decision Management and Management, Marketing and General Business.
Computer Center
The computer center is the central hub for information technology staff, their offices and daily operations. The computer center does not facilitate computers for the use of students. Students can find open access computer use in the Hastings Electronic Learning Center in the basement of the Cornette Library.
Conner Hall
Conner Hall is home to University honors students. It is a co-ed hall and offers 44 private rooms available only to students participating in the Attebury Honors Program. Each private room offers high-spped wireless internet, carpeting, built-in furniture, and a game room. Being a smaller residence hall contributes to Conner's strong sense of community. Students congregate in the air-conditioned lobby to visit or watch the big screen television. Laundry facilities are also available.
Cornette Library and Hastings Electronic Learning Center (HELC)
Spacious 88,900-square-foot Cornette Library is located in the center of campus and serves as a cultural and intellectual resource for both the University community and surrounding region. The Hastings Electronic Learning Center (HELC) is in the library's basement and contains more than 375 computers loaded with the latest software.
The library proper has 314,759 books, 1,911 periodicals, 7,564 e-journals, 166,638 e-books and 4,505 audio/visual titles. It is a depository for both the U.S. and Texas documents. A well-stocked coffee shop was installed on the library's first floor in 2007.
The HELC is open 24 hours a day and contains an open-access computer lab, five computer classrooms, two compressed video classrooms, a compressed video conference room, instructional support areas, offices and lounges. Several courses are taught in the HELC like CIS, art, music, science and physics. It also hosts media services and training opportunities.
Cousins Hall
Cousins Hall, named after the University's first president, is considered the most historical residence hall at West Texas A&M University. It is the first dormitory built by the state of Texas on the campus of a teacher's college. It retains its early charm as the only hall with its own ballroom. It also features a grand piano, private wings, ping pong and pool tables, big screen television, carpeted rooms and laundry facilities. It also offers cable and high-speed wireless internet access for its 200 female residents.
Cross Hall
Cross Hall is an air-conditioned, high-rise residence hall that is home to over 200 female students. The hall offers residents the convenience of elevators, carpeted rooms, and high-speed wireless internet. The hall features individual floor lobbies, floor balconies, and a main lobby with ping pong and pool tables. Laundry facilities and a community kitchen also are available.
Engineering and Computer Sciences Building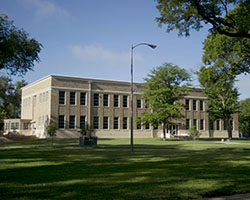 The first floor of the Engineering and Computer Sciences Building was updated and renovated in 2011. It is home to Computer Science, Civil Engineering, Environmental Engineering, Engineering Technology and Mechanical Engineering. State-of-the-art laboratories and smart classrooms allow for the optimum learning experience for WT students.
The recently renovated second floor estimated at $6,000,000 is a reconfiguration of the first floor combination classroom labs and an addition to the north end of the facility. The additions included an elevator, stairs as well as a lounge and foyer in a north entry vestibule. Other renovations included separating labs for electronics and thermal systems and a separate computer lab.
Fieldhouse "The Box"
Affectionately known as "The Box," the WTAMU Fieldhouse is home to the Lady Buffs volleyball program, and three Division II national championship banners attest that it has been a very good home, indeed. The Fieldhouse is renowned for the close proximity of the fans to both the playing surface and the player benches.
Over the years (prior to construction of the First United Bank Center) the box was a venue for numerous performances by entertainers with household names—Steve Martin, John Denver, Willie Nelson, George Strait, Crystal Gale and Tina Turner, just to name a few.
First United Bank Center
President Bill Clinton, Karl Rove, Maya Angelou, Blake McKowski, Big & Rich, Elie Wiesel, Martina McBride, Willie Nelson, Pat Green, Cross Canadian Ragweed and superstars of World Wrestling Entertainment are just some of the headliners who have performed at the First United Bank Center.
Home to Buff and Lady Buff basketball, the facility has seating for 5,000 and a scoreboard with a large video screen.
Used for WTAMU commencement exercises and a host of other public events—high school playoff games, conventions, freshmen convocation. The FUBC parking lot is the primary place to park and ride on the Shuttle Bus to the WTAMU campus.
Founders Hall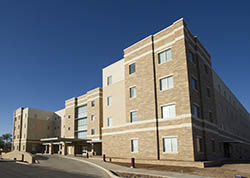 Founders Hall opened its doors to 400 new residents in the Fall of 2013. It is one of WTAMU's largest and most state-of-the-art residence hall to-date. A place to grow, learn, and make friends. Home away from home. A community designed to enhance your campus living experience, Founders Hall features multiple floor lobbies, designated study lounges, and a full community kitchen.
Greenhouse
The WTAMU greenhouse complex, located on the north side of campus, provides research opportunities and hands-on experience for students of plant science.
Guenther Hall
Guenther Hall is an air-conditioned, 12-unit residence hall for WTAMU's male students. The hall, built around a shady courtyard, offers its residents extra-long twin mattresses, built-in furniture, and carpeted floors. It features high-speed wireless internet, laundry facilities, and a main lobby with foosball, a dart board, a pool table, and a big screen television with a gaming station. The close proximity of this hall to the Classroom Center and the JBK Student Center allows for a quick walk to class.
Harrington Academic Hall
West Texas A&M University offers select upper-level and graduate classes in downtown Amarillo at the Harrington Academic Hall WTAMU Amarillo Center beginning Spring 2019. This facility is a great asset to WT as it provides classroom experience and services for students and the community in Amarillo. Degree programs housed at Harrington Hall include communication disorders, special education, licensed professional counseling, graduate social work, school psychology and instructional technology.
The center will also be home to the Speech and Hearing Clinic, the Center for Learning Disabilities, the Small Business Development Center and the Panhandle Area Health Education Center. Services for students include a WTAMU Bookstore, Buff Gold Card Office and a computer lab.
Horse Center
Students can stable their horses at the WTAMU Horse Center, home to the highly competitive women's equestrian team. The Horse Center is situated on an 80-acre spread just north of campus and features a 200' x 105' indoor arena, two lighted outdoor arenas, a round pen and a Hitchcock pen. Horses graze in adjacent pastures laced with shade trees and the historic Tierra Blanca Creek.

Location provides easy access to I-27, and parking is plentiful.

Those without their own horses have access to the West Texas A&M University herd featuring about 50 horses stabled at the Horse Center.
Jack B. Kelley Student Center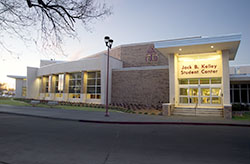 The Jack B. Kelley Student Center is the center of campus activity and the gathering place for the entire West Texas A&M University community. The JBK plays home to Legacy Hall, a cutting-edge venue for programs and activities. Legacy Hall can seat 750 people theater style, has its own stage, built-in sound system, programmable lighting and two 21-foot projection screens with laser projectors. The building also features several smaller meeting rooms to accommodate groups of a variety of sizes. The commons is a newly renovated space with wide-open feeling, comfortable furniture, smart device charging stations and features a large video wall used for promotion of campus activity.
While in the JBK, students spend their time collaborating on class projects, relaxing, or grabbing a meal or snack at Starbucks Coffee, the P.O.D. Convenience Store, Chick-Fil-A, Which Wich Superior Sandwiches, or Sharky's Burritos. We encourage educational growth, diversity, social engagement and intellectual development in our students and strive to enhance student life on campus.
The JBK Student Center offers many different options for hosting events on campus. Whether it's a small meeting for your organization or a large-scale event in Legacy Hall, we are here to help. We are ready to help you plan every detail of your event. Use of the JBK is free to registered student organizations and departments. A small group rate will be applied to individual students faculty, and staff wanting to reserve space. The JBK is also available to community members and outside entities that are looking to host an event. For information on services and prices visit wtamu.edu/JBK. We look forward to working with you on your next event.
Jarrett Hall
Built in 1964 and fully renovated in 2019, Jarrett Hall is the largest residence hall on campus; it features 12 individual units which promote small communities within the larger residence hall community. Jarrett Hall is a co-ed facility and is designed to provide residents with the comforts of the 21st century, as well as a strong community environment. This is the only residence hall that features pod-style community bathrooms, which promote additional privacy. The hall also provides accommodations for students with disabilities. Jarrett Hall is also close in proximity to the Dining Hall, the Virgil Henson Activities Center, and the Buff Sports Park.
Jones Hall
Jones Hall is the high-rise, air-conditioned residence hall for over 275 students. The hall offers its residents easy access to the Virgil Henson Activities Center. Jones features elevators, a television room, individual floor lobbies, floor balconies, and accommodations for students with disabilities. Rooms are carpeted and offer high-speed wireless internet.
Joseph A. Hill Memorial Chapel
The Joseph A. Hill Memorial Chapel is named after the University's second president and stands as a testament to Dr. Hill's determination to provide a place for student mediation and reflection. "Its very presence on the campus would be a message of faith in Deity, and would suggest comradeship between education and spiritual values," he said.
The chapel's first cornerstone was laid June 9, 1950, and dedicated in a special ceremony on Oct. 21, 1950. The red sandstone building with stained glass windows and country steeple changed the landscape of the campus and provided a place for student prayer, Bible studies, meetings and inductions, memorials, worship services and weddings. Carillon bells ring daily from the refurbished building. It remains Texas' only privately funded chapel located on state university property.
For reservation information call 806-651-2394 or checkout the Room Reservation Information.
Killgore Research Center
The site for the WTAMU Graduate School, Killgore Research Center is the focal point for ever-expanding student and faculty research at West Texas A&M University. Right in the center of campus, Kilgore is where you can find the Attebury Honors and McNair Scholars Programs along with Sponsored Research Services. It is also home to essential offices such as the WTAMU Academic and Research Environmental Health and Safety offices and the Title IX office.
McCaslin Hall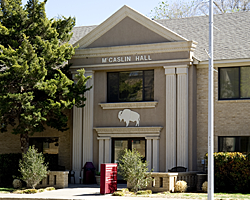 McCaslin Hall was built in 1946 and became the privatized McCaslin Hall Apartments in 1997. Residents of the apartment complex are primarily WTAMU graduate students, married students, and students with more than 60 post-high school credit hours, along with WT professors and staff members. Call 806-651-5800 for more information.
Mary Moody Northen Hall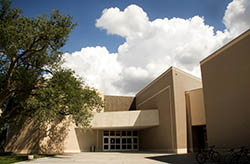 Mary Moody Northen Hall was built in the 1970s to accommodate the University's increasing number of fine arts students, and today the facility boasts even more space with its Northen Hall Addition.

The new addition for the School of Music, completed in 2006, offers fine arts students a new band/orchestra rehearsal hall, percussion studio, music studios, practice rooms, offices and easy access ramps to the Northen Recital Hall stage.

The original building houses music studios, two dance studios, a public art gallery, the 572-seat Northen Recital Hall and more than 50 art and art-related studios, computer labs, classrooms, offices along with an atrium for receptions and special events.
Meat Lab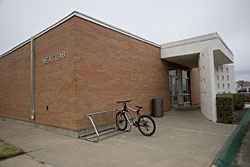 Students of agriculture use the Meat Lab to study and produce fine cuts of meat produced at the University's Nance Ranch. Much of it is for sale.
Nance Ranch
The Nance Ranch maintains approximately 475 acres of cultivated land which is in two roughly equal fields. All farming is strictly dryland, as there is no irrigation water available at the Ranch. The farming operation acts as a working laboratory for the Dryland Agriculture Institute and the Integrated Pest Management program, and provides numerous research and teaching opportunities for faculty and students.
Natural Sciences Building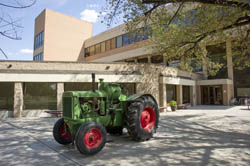 The Natural Sciences Building was completely renovated in 2007, with the inclusion of smart classrooms and updated laboratories. Home to the Department of Life Earth and Environmental Sciences, the three-story building is situated on the corner of Fourth Avenue and 26th Street. The building's most attractive interior feature is the center atrium lobby, a favorite between-classes stop. The atrium is surrounded by 13 classrooms, 41 labs and 47 faculty offices.
Old Main
Old Main, the oldest building at West Texas A&M University, remains as much as an integral part of the campus scene as it did when it first opened in 1916. The four-level structure houses numerous administrative offices including the University president as well as classrooms, laboratories and learning resource centers. Offices for enrollment management and human resources also are located in Old Main along with the College of Education and Social Sciences and the College of Nursing and Health Sciences.

Even though the building is more than 100 years old, it retains the same early-century charm that prompted onlookers in 1916 to declare Old Main "the greatest building in Texas, the Capitol only excepted."
Old Student Union Building "Old SUB"
Once a haven for student activities, the "Old Student Union Building" is a name that better describes the building's historic use. Today, though the name Old SUB stuck, this facility is home to the University Police Department and its Parking Services, the International Student Office and Extended Studies.
The north portion of the building is home to a weight room used by West Texas A&M University student athletes.
The West side of the building houses Panhandle AHEC, a USDA office, a Texas Parks and Wildlife Office, English as a Second Language office and the Texas Forestry Commission
Panhandle-Plains Historical Museum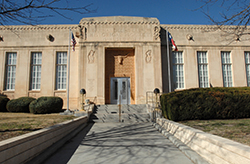 Visitors are amazed at all the things that can be seen under one roof at the Panhandle-Plains Historical Museum. This is the largest history museum in Texas with a collection of more than three million artifacts. Twenty-two different galleries take visitors back in time through art, history, archeology, paleontology, petroleum, transportation and textiles. The museum's collection of Texas art is considered one of the best in the state.
Physical Plant Complex
The Physical Plant employs approximately 140 people for building maintenance, custodial service and grounds keeping. The Physical Plant services 2,300,000 square feet of building space and 114 acres of landscape.
President's Home
The President's Home, built in 1986, is located just north of the Virgil Henson Activities Center. The house is much more than just a home for the first family—it's also a place for meeting and entertaining. The home's tri-level design features a designated area on the first floor for public entertaining. The Wendlers graciously open their home to students and others for dinners and social activities throughout the year.
Print Shop, Central Supply and Purchasing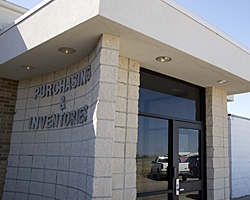 The Print Shop is where many of the University's printing needs are taken care of. Print Shop Online Order Form

Central Supply takes care of incoming and outgoing deliveries for the campus and set up and supplies for University events.

Purchasing and Inventories facilitates the purchase of goods and services for the University.
Residential Living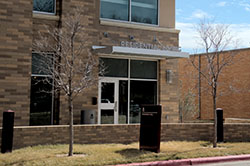 The Office of Residential Living maintains the University's ten residence halls which house approximately 2,200 undergraduate and graduate students each year. Each hall has its own unique appeal for a "home away from home" to meet each student's personality, living style and location preference. The Office of Residential Living strives to create an atmosphere that promotes academic success, personal growth, and social awareness for each of its hall residents.
Rodeo Arena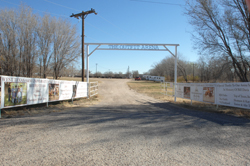 The West Texas A&M University rodeo arena is just south of Kimbrough Memorial Stadium. It is home to the men's and women's rodeo teams, which compete in the highly competitive Southwest Region of the National Intercollegiate Rodeo Association. The men's team captured a national championship in 2005.
Shirley Hall
Students living in Shirley Hall have easy access to the University's Dining Hall, Cornette Library, Terrill Lawn, and Virgil Henson Activities Center. This female residence hall features a family atmosphere consisting of 12 air-conditioned units arranged around an attractive courtyard. Four additional units house the Greek Social Sororities. Shirley features spacious study areas, a big screen television, a community kitchen, and laundry facilities. Residents also enjoy high-speed wireless internet in each room.
Small Business Development Center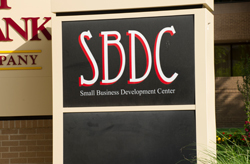 The Small Business Development Center, administered through the WTAMU Paul and Virginia Engler College of Business, is focused on new job creation and works with small businesses across the Texas Panhandle by offering training in all areas of business management.
Small business owners and aspiring entrepreneurs can go to the SBDC for free face-to-face business consulting and at-cost training, on topics including business planning, accessing capital, marketing, regulatory compliance, technology development, international trade and much more.
The Center is located in downtown Amarillo at 600 S. Tyler, 7th Floor.
Stanley Schaeffer Agriculture Education Learning Lab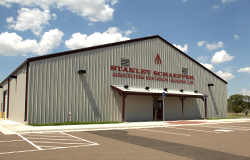 Built and christened in 2007, the Stanley Schaeffer Agriculture Learning Laboratory is tooled for ag mechanics and home to the University's Agriculture Education Program. This pre-engineered metal building, northeast of campus, has approximately 10,000 square feet of mechanical laboratory space and plenty of equipment that students use in preparation for teaching careers in agriculture.
Sybil B. Harrington Fine Arts Complex
The Sybil B. Harrington Fine Arts Complex opened in August 2006 as WTAMU's first new academic building in 30 years. The building features smart classroom technology to actively engage students in the learning process. Other special features include state-of-the-art radio and television studios, a 304-seat Branding Iron Theatre, the Happy State Bank Studio black box theatre, an acting studio, recital hall, music studios and choir rehearsal rooms. The Sybil B. Harrington Fine Arts Complex is home to the Department of Music, the Department of Art, Theatre and Dance and the Department of Communication.
University Dining Hall "The Caf"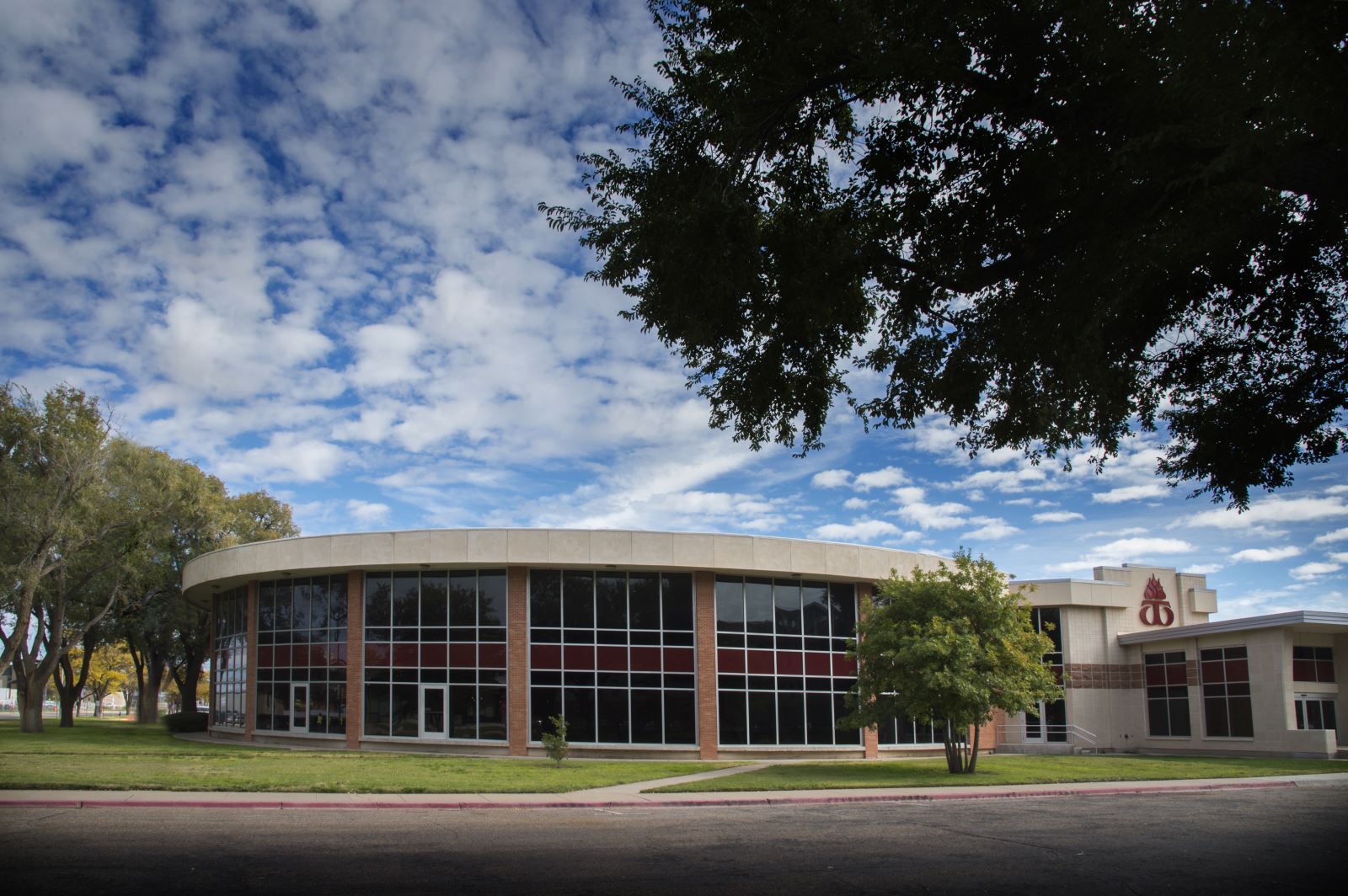 The University Dining Hall, more commonly known as The Caf, might possibly be the most popular building on campus. The 800-seat circular facility is the place for everything from pancakes and cultural favorites to fat-free, sodium-free entrees and hamburgers. There are many stations including the main line called Mama Buffs, the deli called Cuts, the salad bar is The Pasture, yogurt, fruit, hummus and veggies are served at Get Buff, desserts are at Buff Bakery, pizza is at West Texas Pies, and The Passport serves seasonal menu items. Meals are prepared and served by Dining Services by ARAMARK. The Dining Hall also houses smaller, more intimate rooms for meetings and banquets.
Veterans Memorial
The Veterans Memorial features five benches dedicated to the five military branches--Army, Navy, Air Force, Marines and Coast Guard. There are flag poles and granite tablets engraved with the names of the University's fallen veterans from World War I, World War II, Korea, Vietnam and the Gulf War.
The University has a rich tradition of supporting the men and women in each branch of the military. Many from the WTAMU community have died while serving their country, and the memorial will honor their sacrifice. The Veterans Memorial was dedicated in a November 2018 ceremony.
Victory Circle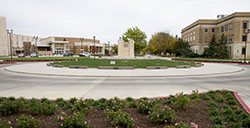 Victory Circle is where you can find the west entrance to WTAMU along with a roundabout at the intersection of University and Victory streets, and The Eternal Flame. The Eternal Flame, a common symbol for the University, was constructed in 1966 by the WTAMU Alumni Association to represent the burning desire and quest for knowledge. It's often seen depicted on the University logo and seal, and entrance to campus location is a fitting home for this time-honored symbol.
Virgil Henson Activities Center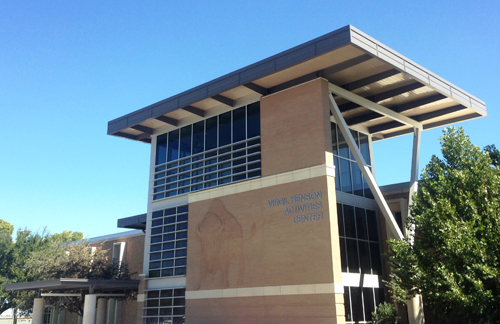 Although the Department of Sports and Exercise Science and a number of student service operations (medical and wellness services) are housed in the Activities Center, the facility is, for the most part, a recreational haven. Originally built in 1970, the Activities Center accommodates an indoor swimming pool, an eight-lane bowling alley, weight room, racquetball/handball courts, game room, TV lounges and a couple of all-purpose rooms, including one large enough to attract eight pick-up teams to its four regulation-size basketball courts. The Activities Center is also home to Kids Kollege, the University's child-care center, the main office of WT Athletics.
The VHAC was renovated in 2011 with an exciting overhaul of the main west entrance, including first-floor office renovations as well as new aesthetics to the center's lobby and main staircase. Additionally a nearly 40-foot tall rock-climbing wall now greets visitors coming in to the VHAC.
WT Enterprise Center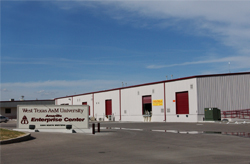 Recently expanded, the WT Enterprise Center operates under the auspices of the WTAMU Paul and Virginia Engler College of Business to foster economic growth and entrepreneurial development through business incubation for Amarillo and the Texas Panhandle.
Located at 2300 N. Western in Amarillo, the Enterprise Center included three major components - the administrative suite, the Don Taylor training room, and a working space that houses offices, production space, conference rooms and even commercial kitchen facilities to help businesses succeed.