Buffalo Gold Card Office is open for business.

The Buffalo Gold Card office does not accept cash at this time.
Hours of Operation
Monday – Friday
8:00am-5:00pm
Thank you.
Buffalo Gold Card Office
Get your parking permit online at parking permit.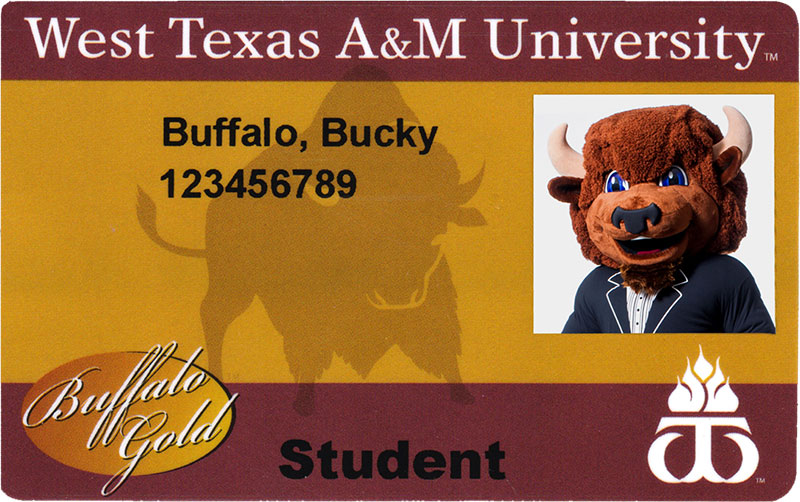 About the Card
It's your official ID. It's your access to the Virgil Henson Activities Center, Cornette Library Service and Hastings Electronic Learning Center. It's your dining card for your meal plan. It's The Way to Pay for everything you need, on campus and off. It's the Buffalo Gold Card, and when you've got it...you've got Your Key to Campus Life at West Texas A&M University.
BuffCASH is the convenient, cashless way to pay on and off campus. A prepaid, stored-value account that's part of your Buffalo Gold Card. You will use it for whatever you need, whenever you need it. BuffCASH has you covered 24 hours a day, 365 days a year.
BuffCASH actually makes your dollar worth more! Imagine discounts, just for using your BuffCASH. So forget about carrying cash, checks, ATM or other cards. You've got BuffCASH. You've got the way to pay.
As a form of payment you'll use your Buffalo Gold Card to pay for meals, goods, services, and much more. The Buffalo Gold Card, through its BuffCASH account, is also accepted at the area's most popular off-campus businesses.