Bachelor of Arts or Science in Social Work at WTAMU
"When a flower doesn't bloom, you fix the environment in which it grows, not the flower." – Alexander Den Heijer
Student Feature: Ashley Heatherly
Meet social work major and outdoor enthusiastic, Ashley Heatherly. She showed us her favorite spot to unwind and practice self-care, important pieces of her time as a student in the program.
About the Program
Major in Social Work (Major Code:­152)
Pre-Major in Social Work (Major Code: 151)
Bachelor of Arts (B.A.) or Bachelor of Science (B.S.)
The principal educational objective of the Bachelor of Social Work program at West Texas is to prepare students for employment as beginning, entry-level generalist practitioners. Preparation of students for graduate education is a secondary objective. With a bachelor's degree in social work, you can begin work upon graduation or enter a Master of Social Work (MSW) or Master of Science of Social Work (MSSW) program as an "advanced standing" student and save a year of time and investment achieving your MSW or MSSW.
Upon successful completion of the program, you will be eligible for licensure by the State of Texas as a Licensed Baccalaureate Social Worker (LBSW). Requirements for licensure/certification vary from state-to-state. Our programs prepare students for certification and/or licensure in the State of Texas. We do not represent that our programs prepare students for licensure or certifications in other states.
Please note that this degree cannot be completed online, nor are all classes offered at night.
This degree also consists of a 450-hour internship component which is completed either in a block placement in the student's final semester.  This block placement will require students to complete 32 hours per week internship during the day (8 - 5). This internship can also be completed part-time over two semesters, which would require the student to complete 16 hours per week.
Accreditation
The Social Work Program is fully accredited by the Council on Social Work Education. The program was fully accredited in 1975, which makes it one of the oldest accredited social work programs in Texas. The program successfully reaffirmed accreditation in 2021.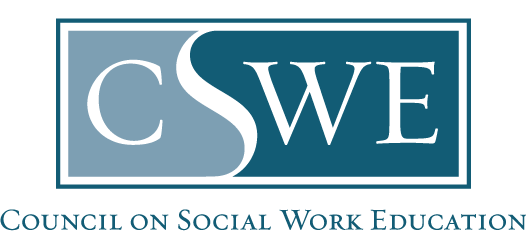 Why choose WT for a degree in social work?
Our students and faculty are what make our program dynamic.  Our faculty work to get to know their students and their needs.  We care about your success in learning and work diligently to prepare you for professional social work.  This profession is of high integrity, and we want to ensure our students meet that standard of integrity.
WTAMU is a beautiful campus with friendly students, staff, and faculty that students find approachable.  WTAMU continues to grow with attention to student learning outcomes, student involvement, and accountability on the part of the university.
Our program is distinct in the unique learning approaches we offer:
A semi-annual Field Fair, organized by our graduating students - this event offers a chance for students to learn about services in our community, build relationships with agency representatives, and seek internships with those agencies represented.
Study abroad - our program is committed to offering students the opportunity to study social work in other areas of the world.  Trips are offered during the May intercession and Summer sessions have taken our students to New Zealand, Costa Rica, the Dominican Republic, and Hong Kong!
Other collaborative and experiential learning opportunities, such as health fair coordination, voter registration drives, human behavior observations, diversity immersion - to name a few.
Two Degree Options
WTAMU offers both a Bachelor of Arts degree and a Bachelor of Science degree in Social Work. The primary difference between the two degrees is that the Bachelors of Art (BA) has a foreign language component, while the Bachelors of Science (BS) requires an additional science class in lieu of a foreign language.
Always consult with your academic advisor to ensure you are taking the appropriate core classes for your degree plan.
Social Work Program Admission
All students interested in a major in social work will be considered pre-majors prior to official admittance into the social work program through a formal application process. This process typically occurs during the Junior year. Those seeking to be Social Work majors are urged to consult closely with program advisers to assure proper sequencing of courses and in the selection of appropriate electives.
Requirements for the Social Work Program include:
Completion of the University core curriculum courses, including two classes in Biology or Anatomy

­Completion of SOCW 2315, SOCW 2361, SOCW 3301, and SOCW 3302

An overall cumulative WTAMU GPA of 2.50 or higher­

An application for admission accompanied by 1) two letters of reference from people who can attest to the student's desire and commitment to helping others, and 2) the student's latest program evaluation (available through the Buff Advisor)
*Exceptions to these requirements will be considered on an individual basis. A letter must be attached to the application explaining the request for the exception, along with a plan regarding the completion of the requirements.
Undergraduate Social Work Resources