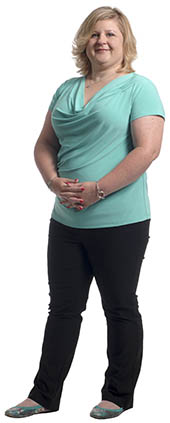 Meg DeJong-Shier, LMSW
Instructor of Social Work
Office: Old Main, Room 432 C
Email: mdejong-shier@wtamu.edu
Phone: 806-651-2624
Home Page: www.wtamu.edu/~mdejong-shier/
Office Hours: Mondays 11:00AM - 1:00PM and 3:00PM - 5:00PM, Tuesdays 12:30PM - 3:30PM, Thursdays 5:00PM - 6:00PM (Amarillo Center)
Professional Profile
Meg Shier joined the College of Education and Social Sciences in January of 2018. She graduated Princeton University in 1999 and obtained her Master of Social Work from Monmouth University in 2004.
Teaching and Related Service
Meg Shier is Field Supervisor/Liaison for the Social Work Program. She also teaches Diversity and other classes within the BSW curriculum.
Meg Shier is a Certified Dementia Practitioner.
Personal Sketch
Meg Shier was born in Red Bank, NJ. Except for a few short months in Latvia for a study abroad program in 2004, Meg lived in New Jersey until 2011 when she relocated to Amarillo, Texas. She married Emery Shier in 2013, and they have happily broken the three pet rule since. Meg is also very pleased that she convinced her mother to move here in 2015.
Meg has worked in many social work fields since her MSW graduation in 2004. She has experience in immigration, homelessness, transitional housing, mental health, and medical social work. For the past eight years, she has focused on geriatric social work, specifically dementia care. Since she has lived in Amarillo, Meg has worked at several long term care facilities, ensuring that her clients and their families are empowered with knowledge and understanding regarding available medical care options.
There may be an issue with art projects and video games at home. However, we remain in denial about this.