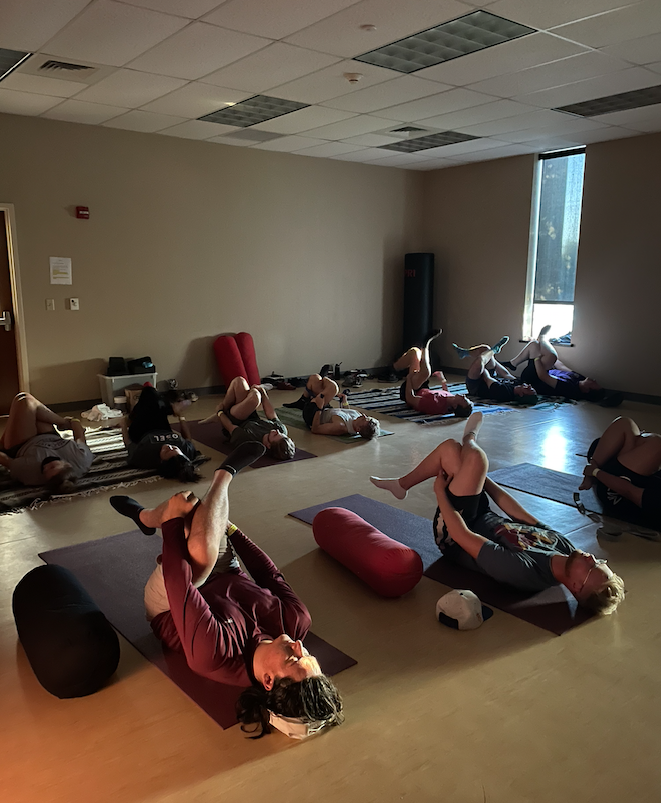 Group X 
Looking to get Buff? Just need to burn off a little stress? Our fitness program is designed to help everybody meet their goals. 
Find all the essentials you need to design your own workout and pace in our weight room, including free weights, treadmills, elliptical machines, strength training equipment and more.
We also offer a variety of Group X classes for students and members each semester. 
These classes are designed to challenge your mind and body, but don't worry - you'll have a certified instructor guiding you to ensure you get the most out of each class.
Plus, there's the bonus of extra encouragement and motivation by working out with others - you'll leave each class feeling like you accomplished something together!
Ready to join? Learn more about membership. Students receive free membership - just swipe your Buff Gold card to check in.
Classes vary from semester to semester, so check back often to see what's new!
You must be a member to participate in classes. Students receive a free membership as part of their tuition. 
Buff Spin - Indoor cycling with high energy! Your instructor will guide you through a series of intervals designed to increase your endurance and strength. Pro tip: Wear bike shorts or leggings for a more comfortable ride.
Buff Blaster Bodyweight - this is a HIIT workout/high intensity interval training. You'll give 100% percent effort for short increments of time with rest between each set. Pro tip: No equipment needed! Just bring yourself and some great tennis shoes.
Kick Buffs! - A combination of cardio, kickboxing and resistance training that helps you build muscle, improve coordination and burn calories. Pro tip: Come ready to burn off any frustration, stress or extra energy.
Dance Dance Workout - This class will get you moving and grooving with fun dance moves and an awesome beat. Pro tip: Beginners are welcome for a workout that doesnt event feel like a workout!
Pound Fit- Rock out workout with drumsticks, move with the beat and drop the sweat! Come in with a good attitude and leave with tons of confidence. Pro tip: You don't have to know how to drum and we have the ripstix for you!
Restorative and Flow Yoga - Improves flexibility, mobility, and increases circulation by using long held relaxed floor postures to stretch and stimulate the deep connective tissue of the body. Pro tip: Any experience level can attend, you can bring a mat or we will provide one for you.
Thunder Sunrise-Begin your morning with a high intensity kickboxing workout and transition into mindful yoga poses to start your day right. Pro Tip:Bring your own gloves and mat if you would like, but we have some for you if you need.
Bison Bootcamp- Come in with excitement with Abby Kate and her crossfit/hiit/bodyweight mix. You will definatly love this option, fun and engaging for all. Pro Tip: Expect every workout to be different! 
Schedule of Classes
Spring 2022 Group

X




January 18 -April 28 2022

 
Cycle Room (next to racquetball courts)

Spin Classes

                                 6pm
                TTH
                                 Gloria Torres
                                 7pm
                MW
                                 Hagen Young
                                 7pm
                Th
                                 Paige Withar
                              
               
                                 
Indoor Track/Mirror Room
 
                                  5pm
      Hip Hop Workout
                 TTh
                                  Victoria Vega
                                  6pm
          Kick Buffs
                 MW
                                  Darcy Webber
                                  6pm
         HIIT Cardio
                 TuW
                                    Abby Hays
                         
      
           
                         
AC 211
 
                               6:30pm
             Yoga
                 W
                                 Laura Bixler
Fees:
Faculty/Staff ($45/semester)

Community ($60/semester)
*Classes follow the academic calendar. Dates, times and locations of classes are subject to change. No refunds. If a class is cancelled due to low attendance, you will be able to join another class. 
Interested in being an instructor?
We are always looking for certified instructors for all types of classes and times. Call Darcy Webber at 806-651-2910 to learn more.  
Campus Well
Campus Well is a monthly health and wellness magazine that provides valuable information to help you make better decisions regarding your health. WT students, faculty and staff receive a free online subscription to Campus Well.

Read the latest issue at http:https://wtamu.campuswell.com/category/campus/