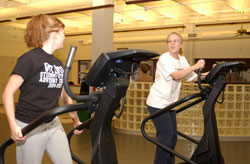 Group X 
Looking to get Buff? Just need to burn off a little stress? Our fitness program is designed to help everybody meet their goals. 
Find all the essentials you need to design your own workout and pace in our weight room, including free weights, treadmills, elliptical machines, strength training equipment and more.
We also offer a variety of Group X classes for students and members each semester. 
These classes are designed to challenge your mind and body, but don't worry - you'll have a certified instructor guiding you to ensure you get the most out of each class.
Plus, there's the bonus of extra encouragement and motivation by working out with others - you'll leave each class feeling like you accomplished something together!
Ready to join? Learn more about membership. Students receive free membership - just swipe your Buff Gold card to check in.
Classes vary from semester to semester, so check back often to see what's new!
You must be a member to participate in classes. Students receive a free membership as part of their tuition. 
Spin - Indoor cycling with high energy! Your instructor will guide you through a series of intervals designed to increase your endurance and strength. Pro tip: Wear bike shorts or leggings for a more comfortable ride.
HIIT It Cardio! - HIIT is high intensity interval training. You'll give 100% percent effort for short increments of time with rest between each set. Pro tip: HIIT fluctuates your heart rate so you can burn more calories during a shorter workout.  
Kick Buffs! - A combination of cardio, kickboxing and resistance training that helps you build muscle, improve coordination and burn calories. Pro tip: Come ready to burn off any frustration, stress or extra energy.
Thunder Mobility - This class will work on your flexibility, balance and core at a slower pace than traditional cardio workouts with foam rollers. Pro tip: Just because this class is lower intensity doesn't mean you won't get a serious workout.
Yin Yoga - Improves flexibility, mobility, and increases circulation by using long held relaxed floor postures to stretch and stimulate the deep connective tissue of the body. Pro tip: Any experience level can attend, you can bring a mat or we will provide one for you.
Schedule of Classes
Fall 2021 Group

X




August 30-December 2 , 2021

 
Cycle Room (next to racquetball courts)

Spin Classes

                          6 am
            MTu
                        Gloria Torres
                          6 am
            WTh
                       Darcy Webber
                 12:30-1:30pm
 
            MW
                        Trisha Brown
                        6:30pm
            Th
                         Paige Withar
           7:30pm(W) 5:30pm (Th)
            WTh
                     Emily MacPherson
Mirror Room
 
                         7pm
   Thunder Mobility
             W
                     Madison Thetford
                         6pm
        Kick Buffs
            MW
                       Darcy Webber
                         5pm
       HIIT Cardio
             M 
                      Sami Thompson
                         6pm
       HIIT Cardio
            TTh
                          Abby Hays
AC 211
 
             5:30pm(MW) 9am(F)
        Yin Yoga
           MWF
                       Jill St. Romain
                       6:30pm
           Yoga
             W
                         Laura Bixler
Fees:
Faculty/Staff ($45/semester)

Community ($60/semester)
*Classes follow the academic calendar. Dates, times and locations of classes are subject to change. No refunds. If a class is cancelled due to low attendance, you will be able to join another class. 
Interested in being an instructor?
We are always looking for certified instructors for all types of classes and times. Call Darcy Webber at 806-651-2910 to learn more.  
Campus Well
Campus Well is a monthly health and wellness magazine that provides valuable information to help you make better decisions regarding your health. WT students, faculty and staff receive a free online subscription to Campus Well.

Read the latest issue at http:https://wtamu.campuswell.com/category/campus/