About Canyon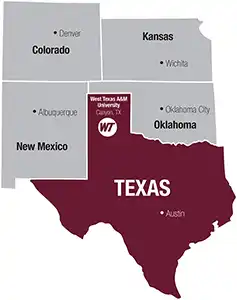 People outside of the Texas Panhandle often have never heard of Canyon, Texas, so let us tell you a little more about it:  
With a population of almost 13,000 permanent residents, Canyon is a college town 15 miles south of Amarillo- one of the 10 largest metro areas in Texas. 

 

Just 12 miles east of Canyon is the second largest naturally occurring canyon in the United States, the Palo Duro Canyon. 

 

Canyon boasts a picturesque downtown square completed with boutiques, restaurants, bakery, an award winning coffee shop and a funky soda shop.

 

Canyon sits right on Interstate 27, with easy 100-mile access south to Lubbock. 

 

Canyon is located 300 miles to the west of New Mexico. To the east is Oklahoma City, which is also three hours away.