The West Texas A&M University Graduate School hosts and participates in various college fairs and recruitment events to inform students about the highly competitive and accredited programs we offer. These events are free and give potential students the opportunity to interact with the Graduate School staff and gets answers to their questions regarding admissions and financial opportunities.
Paul and Virginia Engler College of Business Event
Discover the Paul and Virginia Engler College of Business virtual open house on June 10, 2022 at 6 pm.

During this event you will:
Explore our highly competitive graduate business programs
Learn about the admissions process and the applicant portal
Review funding opportunities, including scholarships and federal need-based aid
Application Fee Waiver: Register before June 7, 2022, to be entered to win an application fee waiver from the Graduate School.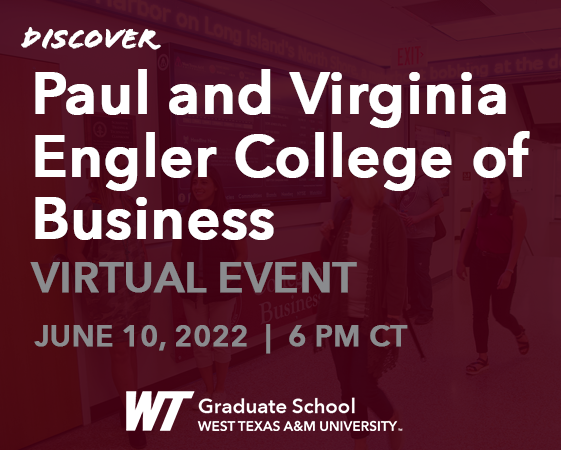 Workshops
Workshops that focus on professional skills development for current and former WT graduate students