Sports and Exercise Sciences Human Performance Degree
Student Spotlight: Leah Belfield
Meet international track student, Leah Belfield. The Sports & Exercise Science major sat down with us to share why she chose WT, and why she thought she had landed on a movie set when she first got off the plane from New Zealand. We're glad you're here Leah!
About the SES Human Performance Degree
WT's Human Performance degree program is a hands-on, people-focused program that prepares students for jobs in a wide variety of sports, physical activity, and wellness settings in community, corporate, health, and therapeutic organizations. Additionally, through appropriate use of electives, the program may prepare students for future career and additional education; opportunities include, but are not limited to, application to allied health graduate or alternative teacher certification programs.
This degree is for the student who wants:
an in-depth human performance curriculum that includes the scientific foundation for athletic performance and skill acquisition;
to focus on youth, collegiate, and private-sector coaching*, sport management, sport performance, and wellness;
preparation for national credentialing examinations in fitness, wellness, and strength training;
a human performance curriculum as a foundation to matriculating to allied health graduate programs.
*NOTE: if one later decides to pursue coaching in public schools, post-graduate courses may be taken that prepare you to meet the state teacher certification requirements.
Degree Requirements & Resources
Requirement Resources:
Program Resources:
Career Opportunities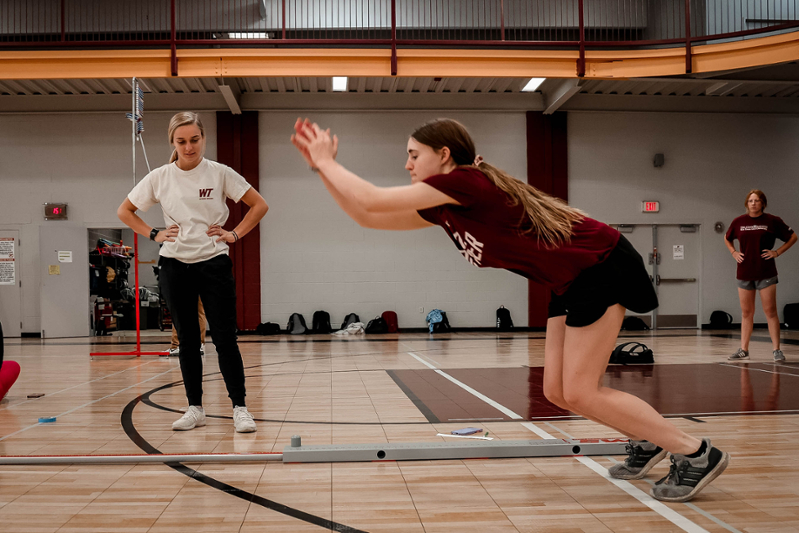 Career Opportunities
Students gain knowledge for career opportunities or preparation for additional education in career areas including, but not limited to:
Fitness
Wellness
Recreation
Sport Managment
Sport Performance
Strength Training
Youth, collegiate, and private-sector sports and coaching
Alternate teaching certification leading to a credential to teach in public schools
Allied Health Professions: Athletic Training, Cardiac Rehabilitation, Chiropratic, Occupational Therapy, Physical Therapy, Physician Assistant, Prosthetics, and many others.
See resources from the Bureau of Labor Statitics Occupational Handbook and O*Net Online for more industry and career information for:
Scholarships & Program Cost
There are numerous scholarships and financial aid programs available to Sports & Exercise Science students.