Bachelor of Science in Athletic Training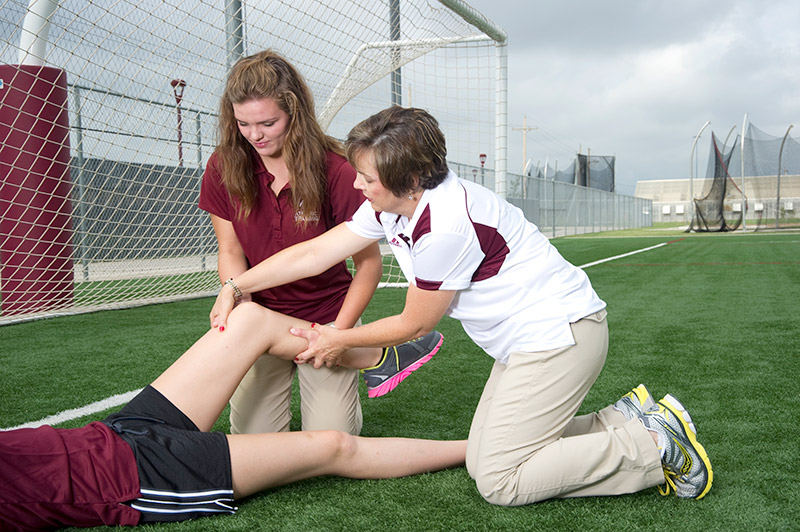 About the Athletic Training Degree
The Athletic Training degree provides students the opportunity to earn a Bachelor of Science degree in Athletic Training. With this degree, a student will have the course content for eligibility to take the Texas Athletic Training Licensing examination. Students may also use content in preparation to apply for an entry-level graduate Athletic Training or other allied health program. Program goals are developed with the expectation students will be able to demonstrate evidence of content knowledge, leadership, communication skills and critical thinking towards employment and engaged citizens.
The Athletic Training Licensing Program (ATLP) is a selective admissions allied-health program. Students successfully completing the 120-hour program, including both didactic and clinical education courses, will receive bachelor of science degrees in athletic training. The ATLP faculty members are dedicated to provide all students with academic and clinical experiences that meet requirements leading towards a career in athletic training in Texas.
The primary goal of the bachelor of science degree in athletic training program at WTAMU is to prepare the student in instructional and clinical settings to utilize current and emerging health-care skills for athletic training. The graduate of the B.S in Athletic Training will be able to:
Demonstrate specified health-care skills of risk management and injury prevention,
Demonstrate of specified health-care skills in knowledge of pathology of injury and illnesses, recognition and evaluation of athletic injuries/problems,
Demonstrate specified health-care skills through implementation of acute care, therapeutic modalities, therapeutic exercise,
Demonstrate specified health-care knowledge of pharmacology and nutrition as related to athletic performance,
Demonstrate knowledge of organizational and administrative skills for operation of athletic facilities,
Demonstrate knowledge of educational and counseling skills and knowledge of professional development for athletic trainers, and
Obtain credentialing through state licensing or matriculation into a graduate degree program.
The athletic training program at West Texas A&M University voluntarily withdrew from the Commission on Accreditation of Athletic Training in August 2019. Students graduating after this date, pending successful completion of requirements as identified by the Texas Department of Licensing and Regulation (TDLR), are eligible for Texas Athletic Training License.  Successful licensing affords the individual to practice only in Texas as an Athletic Trainer.
Requirements for licensing and/or certification vary from state to state. Our programs prepare students for licensing and/or certification in the State of Texas. We do not represent that our programs prepare students for licensing and/or certification in other states.
Program Requirements & Resources
Requirement Resources:
Program Resources:
Degree Information sheet (coming soon!)
Program Admission
Students interested in completing apprenticeship hours must apply to participate in the Athletic Training Licensing Program (ATLP). The ATLP may consider admissions requests prior to the start of the fall and spring semesters. Admission criteria include:
Admission to West Texas A&M University
Application to the Athletic Training Licensure Program

Request application materials from the director of the ATLP by email at lstrong@wtamu.edu or by calling 806-651-2370.
Application Deadlines

Fall semester start - July 15
Spring semester start - November 15
The ATLP encourages the application of transfer students. Transfer students are encouraged to visit the WTAMU campus and meet with the program director. The transfer student must meet all admissions criteria of the University.
Post-Admission Requirement for ATLP Students
The ATLP Admissions Committee will notify students of acceptance status within one month of the application deadline. Upon acceptance into the ATLP, students are to present:
A completed medical history and physical completed by a physician;
Evidence of a negative TB skin test that is valid through the academic year;
Documentation of the series of three hepatitis-B vaccinations; students not previously having the vaccination must show evidence of the first and second of the three shot series before starting clinical experience with the third being completed during the academic semester;
Signed Technical Standards Agreement.
Students are to annually present documentation of:

BLS CPR/AED certification from the American Heart Association or CPR/AED for professional rescuer certification from or American Red Cross valid throughout the school year,
Negative-TB skin test results valid through the academic year.
Updated health history
Students admitted to the ATLP may be annually responsible for the purchase of student liability insurance and required uniform items. Details available from the program director or clinical coordinator. Athletic training students involved in off-campus clinical experiences or clinical observations will have the responsibility to provide his or her own transportation to any placement and will be responsible for any costs incurred.
Newly admitted students will be required to participate in a mandatory in-service workshop prior to the start of the academic semester; the date of the in-service will be provided in the admission letter.  All returning ATLP students will be required to participate in the August in-service training workshop; the date will be determined and distributed to all students prior to July 1. Any student unable to attend must provide written documentation of absence prior to August 1 and must schedule a separate in-service workshop with the Program Director prior to the first day of University class instruction.
Career Opportunities
Coming soon!
Scholarships & Program Costs
There are numerous scholarships and financial aid programs available to SES Athletic Training degree students.