Diving Into Your Results
Exploring YouScience

Self-Guided Walk Through YouScience
YouScience is a great resource, with great insight into YOU; it can truly help you explore careers and further your career development. From learning your top talents and main interests, to how you contribute to a team, to providing top career matches and what majors can help you get there. Along with this online resource, Career and Professional Development also offers YouScience Exploration & Follow Up appointments where you can meet one-on-one with a staff member to dive into your results, explore what they mean and learn how you can effectively use the results in your career exploration and development as well as in your job search and even in a job interview. But if you have questions about your results and can't make time to meet with a career coach, we can still help!
We hope this guide, plus additional campus resources, will help in your major exploration, career decision making, or any part of the career development process – because learning about you, learning what is out there and how to get there, comparing options, and taking focused actions steps so you can make an informed decision can help you as you design your life.
Need your YouScience activation link? Let us know here.
YouScience offers a world of insight into your brain that will blow your mind. There are five sections, but we will only focus on three: Aptitudes, Careers and Describing You.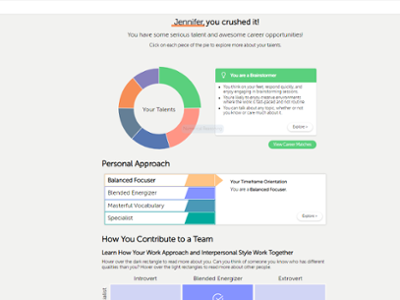 Aptitudes
Aptitude is a fancy word for your natural talent. It's how your brain instinctively works. 
YouScience helps you to unlock and better understand your talents. We all have areas we are strong in, and knowing what those are can help us to better know what areas we will excel in. Do you enjoy creative environments and thinking on your feet? Are you quick to spot patterns and complex trends among numbers? Knowing this can make you a better student, a more efficient employee, and can even help you in your social life.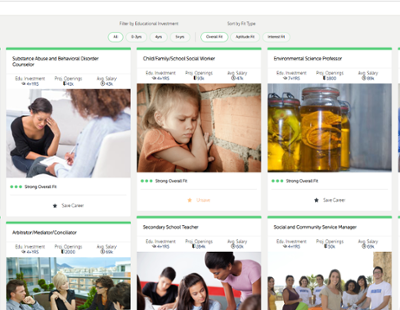 Career Matches
How can playing brain games give you career matches that make sense?
YouScience pulls your natural talent and your interests together, giving you a wonderful combination of insight into yourself. Your profile provides a deep dive into what makes you amazing and then matches you to more than 500 careers. Each career has helpful information such as a day in the life, core tasks, salary information, how to get there, common majors, and even what kind of training to expect once you land the job.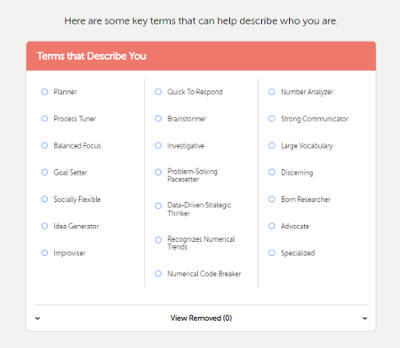 Describing You
While this section may seem simple, with the right mindset, you can truly use it to your advantage.
This section allows you to remove bullets that you believe do not align with you, but you can always add them back. Every month or so, go back to your removed section and build a to-do list for self-development. Find TedTalks, webinars, LinkedIn Learnings, and other development opportunities to grow in these areas. Have an upcoming job interview? Be sure to talk about how you've been using your down time to work on improving these areas!
Additional Exploration Resources
There are more resources you can utilize to further your exploration, whether for your major or career selection.