Remaining Paperwork
You will need to complete the last of your paperwork for the Office of Study Abroad. Please remember that your international transcript is your responsibility. If your program does not automatically send this, you will need to request it from the university you attended while abroad.
Affidavit of Participation (only for students who received the International Education Fee Scholarship. Please complete and return to our office.)
Interested in how to incorporate your study abroad experience into your resume and job search? 
Many studies show how study abroad and international experience contribute to career readiness. The Institute of International Education compiled eight studies' research revealing the positive impact study abroad has on a student's future and career. 
Did you know...?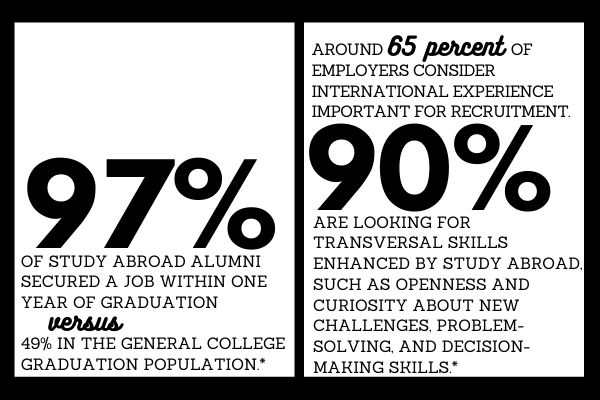 Our friendly experts at Career Services share how to re-structure your resume to leverage your international experience, language, and cross-cultural communication skills (to name a few)! 
You can find a resume outline, "Boost Your Resume with Study Abroad," prepared by Career Services, here:
Study Abroad Resume Outline 
Buffs Abroad Photo Contest
Got some awesome pictures from your study abroad program? Make sure to participate in the Buffs Abroad Photo Contest during International Education Week! Details to come. 
Dealing with reverse culture shock?
If you are experiencing difficulties re-adjusting to what used to be "normal" now that you are back, you are not alone. Many students deal with what is called reverse culture shock. The website studentsabroad.com contains a handbook explaining reverse culture shock and how to overcome it, along with some extra resources on reverse culture shock. 
We want to hear from you!
We would love to hear from you and see photos or videos from your time abroad. You can send us an email at studyabroad@wtamu.edu to get in touch.