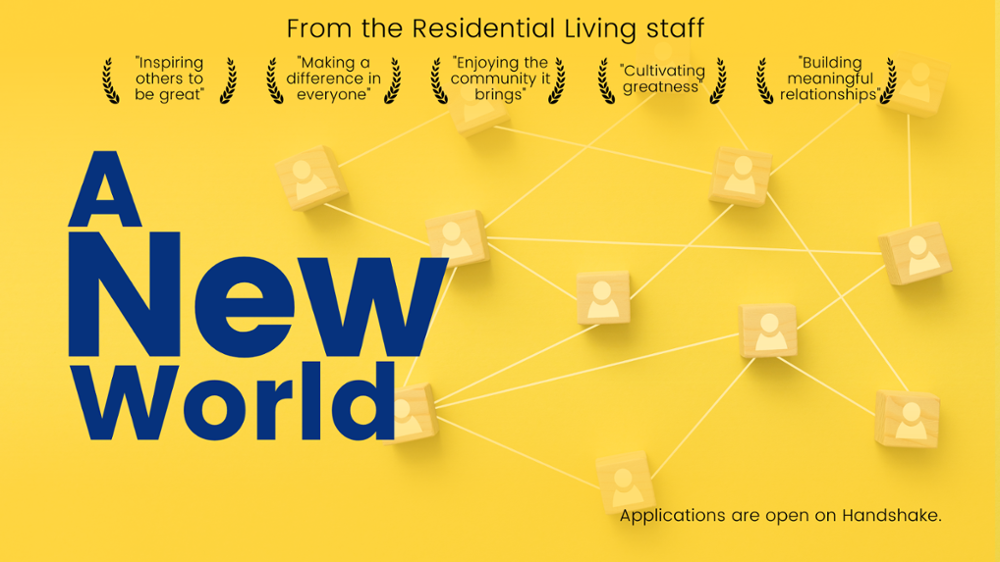 Community Advisor 2023-2024
Applications will be available beginning Monday, January 23rd and close Wednesday, February 8th  at 4:59 p.m.
Selection Process Timeline
Only qualified candidates will participate in the interview process. Candidates will be contacted via WTAMU email or telephone regarding interview times and locations.
*NOTE: Not all candidates will receive an interview.
January 23rd – Community Advisor (CA) Application open
January 25th- CA Information Session at 7:30pm Jarrett Hall

Residential Living Staff will explain the newly revamped Community Advisor (formerly Resident Assistant) position and how Residential Living changes will impact the new position

February 8th - CA Application due by 4:59pm in the Residential Living Office

This includes the Handshake application that should be printed and handed into our office and references. (A completed application includes the online Handshake application, printed Residential Living application, and references)

February 15th - CA Prep Session at 7:30pm Shirley Hall

Residential Living Staff will explain the interview process and give student information on what to expect during interview weekend

February 18th- 19th- CA Interviews- Qualified applicants will be scheduled for an interview. Applicants must participate in both group and individual interviews to be considered for a CA position

18th – Group interviews
19th – Individual interviews

March 8th - Decision letters will be sent to candidates' WT student email
March 31st- Selected candidates must submit their Accept/Decline paperwork by 4:59 p.m.
August 7th- 16th – Tentative: Community Advisor Training
Position Qualifications
Residential Living seeks candidates who enjoy working in a community setting and fostering a living/learning community. Applications will not be accepted, or interviews scheduled, for anyone not meeting the below criteria. Applicants must:
Must have one full semester of college experience (post high-school) in order to apply
Must be a student in good standing at WTAMU (no conduct issues or holds)
Must be able to commit to the position for a full academic year (August through May)
Must possess a 2.5 cumulative grade point average (GPA) prior to applying, as well as the semester prior to being employed; a 3.0 GPA is required for graduate students
Must attend mandatory CA Training each semester (typically 2 weeks prior to the start of each semester); missing any portion of training is not permitted, unless it conflicts with WTAMU academic courses (at which point, you are required to work with your supervisor to create an alternate training schedule)
Due to the sensitive nature of the position, you must successfully clear a criminal background check.
Position Descriptions
The Community Advisor (CA) is responsible for creating and maintaining a positive community within their residence halls, with robust educational, social, and cultural opportunities. Additionally, the CA is responsible for utilizing an intrusive and intentional approach to develop one-on-one relationships with residents assigned to their area. To achieve desired educational experiences, the CA should work toward the following goals:
To foster an academic environment favorable to a successful scholastic career
To aid the resident in their transition from family to the broader social and educational community through one on one meetings
To assist in the development of social values, moral development, courtesy, cultural appreciation, and interpersonal relationships
To promote proper habits for good mental and physical health
To promote participation in democratic group government and the appropriate methods of initiating change
Moreover, CAs will become acquainted with all assigned residents, immediately establishing relationships with each one; CAs will utilize a curriculum approach for structured "intentional meetings " with residents and make referrals to appropriate departments or agencies (i.e. Counseling Services, Financial Aid, Academic Advisor, Educational Services, etc.) for those residents in need of specialized help.
Application Materials & Instructions
Applicants must have all application materials submitted before February 8th, 2023 at 4:59pm to be considered. Please follow the steps below to ensure a successful submission.
Please Note: Applying for this position is a  THREE STEP process; carefully review the following:
Go to the Career and Professional Development website, login to Handshake, and locate the job listing you wish to apply for, Community Advisor (formerly Resident Assistant)- Job ID: 7427347. If you experience issues with the Handshake application, contact Career and Professional Development directly.

Step 1 : Click 'Apply' on Handshake, complete and print out the Community Advisor Residential Living Application. The application is also attached to the end of the posting.
Step 2: Bring the hard copy of the completing application to the Residential Living Office.
Step 3: Ensure your references submit their information to the Residential Living Office by the deadline.
Return all application materials to the Office of Residential Living no later than Wednesday, February 8th at 4:59pm.