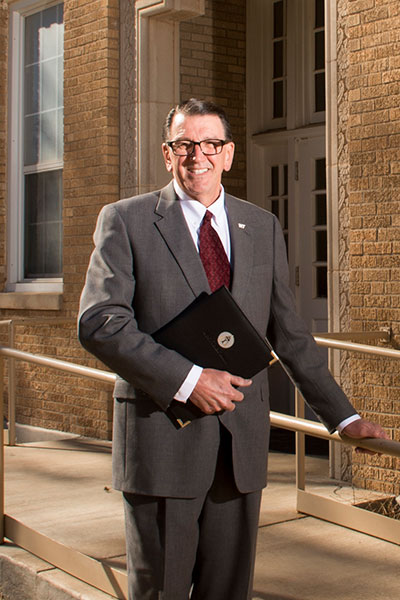 Three years ago, the president of West Texas A&M University (WT), Walter V. Wendler, hit the road on an ambitious tour to visit every high school in the Texas Panhandle. He began with the intention to build relationships with the surrounding communities, but over the course of visiting 66 schools, a new purpose developed to adopt and mirror West Texas values at WT.
The positive outcomes from the tour were both immediate and gradual. Residents of the counties in Region 16 were given time and advice from a University president, who came to their hometowns to shake their hands and advocate for affordable college options. Overtime, these connections led to several initiatives at WT including the WT Principal's Scholars (WTPS) program, which invites high school principals in Region 16 to recommend five deserving students for automatic admission to WT, a housing incentive plan, which offers up to a year of free housing for students who elect to live on campus, and automatic transfer scholarships, which guarantees thousands of dollars in scholarship to transfer students who meet the academic requirements.
Visiting every high school in Region 16 was a unique way for President Wendler to acquaint himself with the area as well as become aware of student's primary needs. The success of the tour has inspired another tour - this time, to schools in Region 17. This South Plains region centers on Lubbock and encompasses 62 school districts. President Wendler's tour will run through fall 2019 and kick-off at Lubbock High School on Sept. 3. Contact one of the Region 17 high schools for information about a scheduled visit or sign up with the Google Doc above to participate. President Wendler is eager to meet you on the second-leg of the Your Community, Your University Tour.
South Plains Community Tour | 70 High Schools