2022 Money Management Bootcamp
We will be giving away 14 $250 scholarships!
We are excited to host our 6th Money Management Bootcamp. We will be offering 4 sections, 2 in the beggining of the semester and 2 in the middle of the semester. Online only students will be able to attend virtually.
Topics covered over the six weeks:

Week 1 - Student Loans and Paying for College
Week 2 - The Dos and Don'ts of Credit
Week 3 - Overcoming Financial Obstacles
Week 4 - Creating a Plan for Your Money
Week 5 - Saving while in College
Week 6 - Graduation including a dinner, guest speaker and fun!

Click here to view the syllabus. 
4 sections offered. Come when your schedule allows. 
September 6 - October 4

Tuesdays 4 -5 p.m.
Tuesdays 5:30 - 6:30 p.m.

October 12 - November 9

Wednesdays 4 - 5 p.m.
Wednesdays 5:30 - 6:30 p.m.

Graduation

Tuesday, November 15, 6 p.m.
Money Management Bootcamp Statistics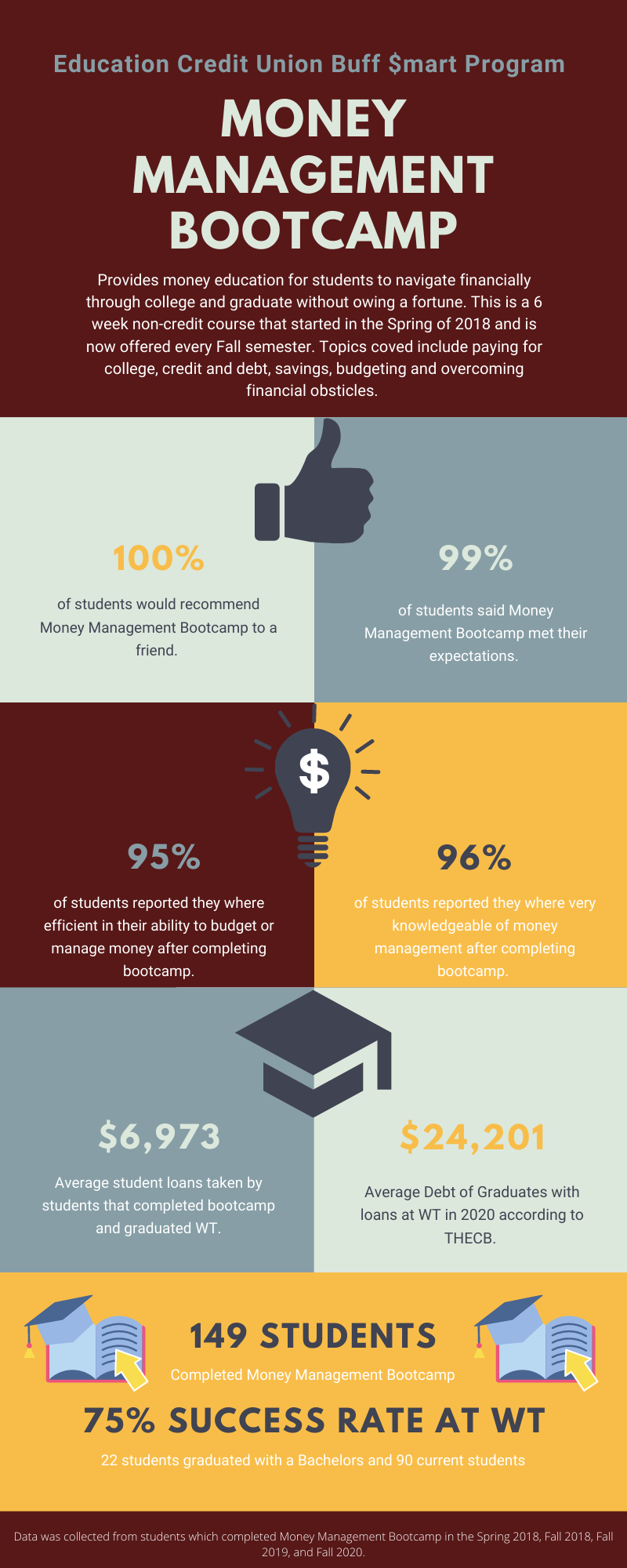 Past Bootcamps
Advanced Money Management Bootcamp
We are excited to host the 4th annual Advanced Money Management Bootcamp with the Alumni Association. This year we will host 6 workshops in April along with Financial Literacy Month. You can attend in-person in JBK West Texas Room or join us virtually. All workshops will begin at 5:30 pm. Check them out below.
Building Credit Responsibly 

Date: Monday, April 4, 2022

Speaker: Colten Hibbs, Financial Educator & Staff Writer, Education Credit Union

This session will help students understand what a credit score is comprised of and how they can go about safely and responsibly building their credit for future large life purchases.

Colten Hibbs is a 2008 WTAMU alumni who graduated with a Bachelor of Arts in Theatre Performance. After a brief stint as a vet technician, Colton now works as a Financial Educator and Staff Writer for Education Credit Union. He is passionate about educating young children, students, and adults on financial topics.
Car Buying and Large Purchases 

Date: Tuesday, April 5, 2022

Speaker: Kelsey Ward, Branch Manager, Education Credit Union

Thinking about buying a car once you land that job? Come learn the ins and outs of car buying and making other large purchases. 

Kelsey graduated from West Texas A&M in 2014 with a degree in Finance. Kelsey has worked for Happy State Bank, Amarillo National Bank and is currently the Canyon Branch Manager for Education Credit Union and has over 12 years banking experience. She has served as the President for Lions Club, is currently on the Canyon city council and serves on numerous other boards. Kelsey has a beautiful 13 year old daughter that keeps her very busy but in her free time Kelsey enjoys reading and running marathons!
Investing

Date: Wednesday, April 6, 2022

Speaker: Matthew Marrs, Llano Real Estate Group

Investing for your future is one thing many people do not think about until it is too late. Don't make that same mistake! Come hear Matthew Marrs share his wisdom on how to properly invest, save, and retire.

Matthew graduated from West Texas A&M with a double major in finance and economics in 2018. Matt earned a certificate of leadership from Rogers Lead WT during his time at WT. Matthew went on to join the Gary Moore team at Merrill Lynch as a licensed financial advisor that year. He then joined Llano Real Estate Group as the managing partner of the property management division of the company.

Matthew is happily married to his wife Lindsey Marrs. They got married on their 10-year anniversary in 2019 and gave birth to their beautiful baby girl Willow in 2021. One of Matt's greatest accomplishments is helping to create the Keith Brown commitment to leadership scholarship fund. The scholarship fund awards two scholarships annually to the recipients of the "Most Outstanding Junior and Senior LEAD Scholars of the Year" at WT. 
All About Insurance 

Date: Monday, April 11, 2022

Speakers: Jarrett Jackson, Financial Advisor, Mondern Woodman

Aaron Cappilla, Farmers Insurance

Have Jarrett Jackson and Aaron Cappilla guide you through insurance – what it is, what you need, how much, and what does it do? Get all your insurance questions answered during this session and prepare for your future!

Jarrett Jackson is a fourth generation Financial Advisor for Modern Woodman of America where he specializes in financial planning and life insurance. Jarrett is a WTAMU alumni who graduated with a BBA in Entrepreneurial Business in 2012. He enjoys snowboarding, golfing, and spending time with his wife, Brittany, and their two dogs.

Aaron Cappilla is a 2012 WTAMU graduate with a BBA in General Business. Today, Aaron works for Farmers Insurance in Borger where he enjoys helping people find the best insurance for their needs.
Home Buying

Date: Tuesday, April 12, 2022

Speaker: Natalia Molina, Real Estate Agent, Moreland Real Eastate Group

Home-buying is an intimidating topic – learn how to effectively prepare to purchase a home, the real estate process, and how to make the most of your investment.

Natalia is a Bilingual Real Estate Agent for Moreland Real Estate Group and specializes in assisting First Time Home Buyers. Natalia is a WTAMU alumni who graduated with a BFA in Graphic Design, and a BA in Advertising & Public Relations with an emphasis in Communication. She is passionate about educating and helping home buyers understand the process, and the difference between renting, buying and investing. 

 
Relationships and Finances Panel (Featuring Dr. and Mrs. Wendler)

Date: Wednesday, April 13, 2022

Panelist: Dr. and Mrs. Wendler, Kelly and Amber Black, Abby Betts

We will have a panel of relationship experts and WTAMU Alumni who can help shed some light on how important money is in lasting relationships. Money is one of the hardest topics to discuss in a relationship. Come interact with a panel of people who have been there and succeeding in navigating the money conversation. The panel will consist of WT's very own Dr. and Mrs. Wendler, Kelly and Amber Black, and Abby Betts.  

Dr. and Mrs. Wendler

Mary Wendler graduated from the State University of New York at Farmingdale in 1971 where she got her degree in Nursing . Currently she is the first lady of WTAMU.

Dr. Walter Wendler graduated from TAMU in 1972 with a degree in Pre Architecture (Environmental Design). He is currently the president of WTAMU and is starting his 5th year in that position. He is passionate about his students going to college without taking out a bunch of debt.

Kelly and Amber Black

Amber serves as the AVP for Student Enrollment, Engagement and Success on campus. She graduated from WTAMU with her degree in Marketing in 2002, and her MBA in 2014. Kelly is a Certified Registered Nurse Anesthetist (CRNA) at a surgical hospital in Amarillo. He graduated with his BSN from WTAMU in 2000, and earned his Master's degree in 2009 from TCU.

Kelly and Amber met at WT at Buff Branding in August of 1994. They've been married for 25 years, and have two sons, Austin and Ben.

Abby Betts

Abby currently works in Career Services as Senior Career Services Coordinator. She graduated in May 2017 in Broadcast Journalism and AD/PR with an English Minor and then obtained a Masters of Education in Instructional Design Technology in May 2019.

One thing she wished she would have done in college is be more mindful of double spending on things. For example, when I paid for a meal plan, I wish I'd utilized it rather than going out and buying fast food.  
For more information contact ECU Buff $mart at buffsmart@wtamu.edu.