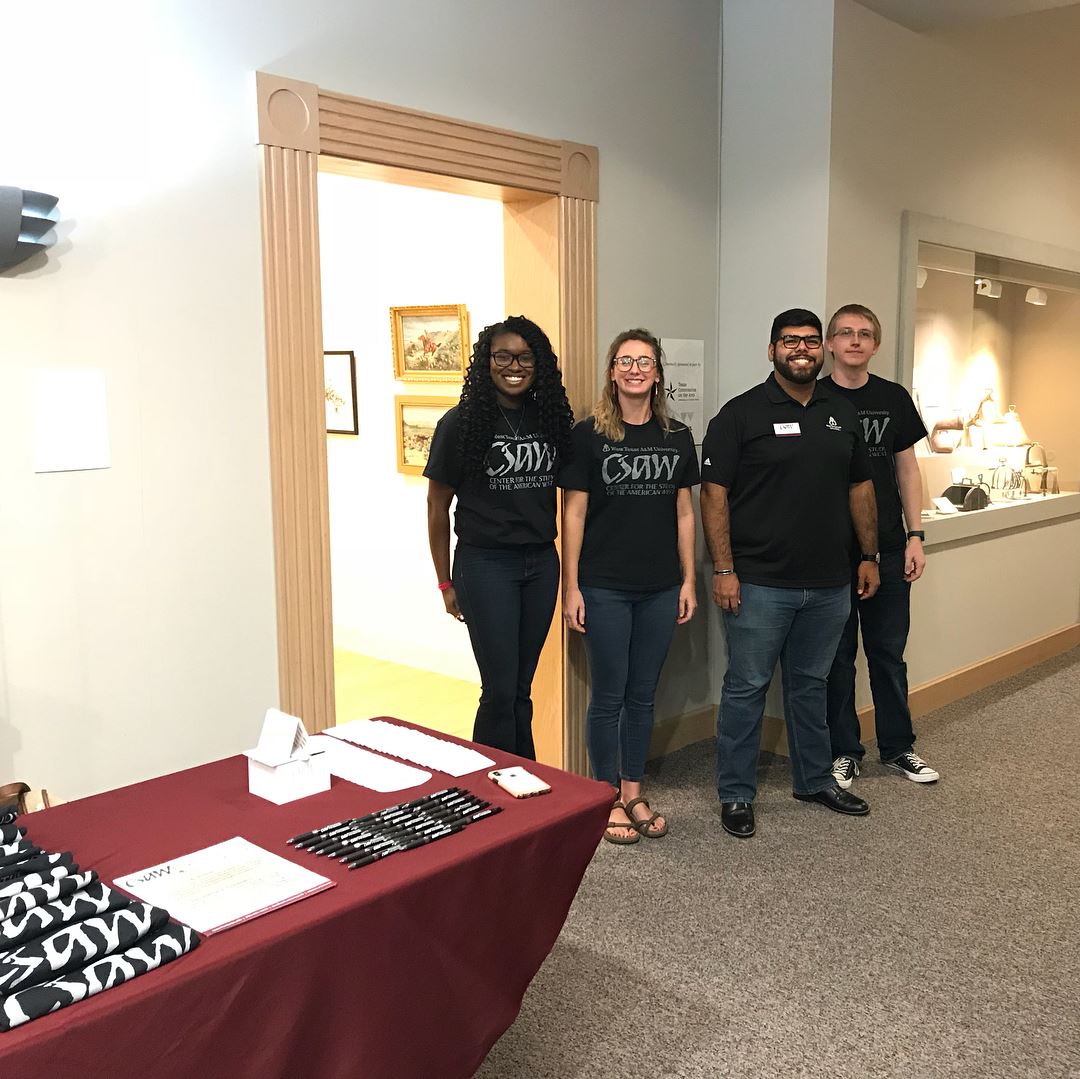 Internships, Fellowships, and Scholarships
CSAW Paid Internships
Now accepting applications for Spring 2024 Internships. Apply here.  
As CSAW grows, so does the interest in our student internships. With only a limited number of internships available each semester, these are competitive positions. Only the highest quality of application packets will be considered—please proofread and make sure you submit all required information.
When applying, have the following materials ready:
Your CV or Resume
Responses to: 

Why would you like to work for the Center for the Study of the American West (CSAW)? (500 characters max.)
How do you see your potential work at CSAW aligning with your future career/academic goals? (500 characters max.)

Contact info for three references (Include: your relationship to the references, their phone numbers, and email addresses.)
Optional: any additional materials you would like us to review when considering your application (e.g. portfolio, writing sample). 
About CSAW Internships
Interns play an important role in CSAW's initiatives by providing valuable work to the Center. CSAW interns gain on-the-job experience, are exposed to the American West and to interdisciplinary studies, and assist with research and public outreach. Students from all disciplines are welcome to apply.
In addition to receiving hourly wages, CSAW can also accommodate students who require course credit for an internship. Credit is available to students from multiple majors and disciplines.
Spring 2024 Internship Assignments
General CSAW (graduate or undergraduate):
These interns will assist with general CSAW duties, including media design, marketing, research, office duties, and event planning. Outgoing and organized students with an eye for detail and design thrive in this internship. 
Forgotten Frontera Internship (graduate student):
This intern will assist with CSAW's Forgotten Frontera project. Required qualifications:
Fluent in English and Spanish
Graduate student in good standing
Strong communication skills (written and spoken) and willingness to network
Interest in Mexican-American history, especially related to the Southern Plains
Various Research Projects (graduate or undergraduate):
CSAW has been fortunate in finding regional entities to collaborate with on CSAW internships. As such, a number of positions for which we hire will spend the semester dedicated to a specific research project (details still developing). Projects vary from digitizing files to researching and preparing material about local history.
Pay & Hours
CSAW interns work 10 hours a week for $10-12/hour (max. 160 hours per semester). Each week, these hours are worked in the CSAW office during normal business hours (M-F, 8-5) with the exception of special events. Shifts are flexible to accommodate class schedules. In-office hours include a weekly meeting all interns are required to attend.
Questions about these positions or the application process can be emailed to CSAW's assistant director Katelyn Denney at kdenney@wtamu.edu. You can also reach her at 209-329-4520 (please leave a message if no answer).
CSAW Graduate Fellowship
The CSAW Graduate Fellowships are available to excellent graduate students in English or History from Texas, New Mexico, or Oklahoma. The fellowship is well funded, covering the students' tuition, fees, and books. In addition, it also covers research expenses including travel and books. CSAW Fellows develop their own research projects on some aspect of the American West (which could coincide with a seminar they are taking or with their thesis topic) which they are required to present at a conference or other suitable event. CSAW Fellows also serve as research assistants. In past years, CSAW Fellows have traveled for research to Midland, Texas (home of the Haley Memorial Library and Research Center), the Southwest Collection at Texas Tech; the Library of Congress in Washington D.C.; the British Library in London; and other destinations in between.
Haley Undergraduate Scholarship
The Haley Undergraduate Scholarship is available to an excellent undergraduate English or History major from Texas, New Mexico, or Oklahoma. The scholarship is $5,000 over the academic year, credited toward tuition and fees. In addition, the Haley Scholar has opportunities to travel and research with the Haley Professor and Fellows.
Apply for CSAW Fellowship or Haley Scholarship
Applicants for the graduate CSAW Fellowships and undergraduate Haley Scholarship should apply through WT's scholarship website. In addition, they are required to submit a 2-page statement of purpose, explaining their background (if relevant) and scholarly interest in Western American Studies. Please direct questions to Alex Hunt (Haley Professor and Director of the Center for the Study of the American West) at ahunt@wtamu.edu.
Past Intern Projects
Wildcat Bluff Nature Center Special Project
Intern conducted research on the Gregg-Marcy trail, part of which runs through Wildcat Bluff Nature Center's property. Student also created materials for use at the Center, such as handouts, exhibit plaques, and trail guides, and had the opportunity to lead groups on the Gregg-Marcy trail while educating them about the trail's history. 
Panhandle-Plains Historical Museum Student Internship
Students researched historical downtown Amarillo in the process of creating an exhibit at the historic Federal Building in downtown Amarillo. This position was hosted by PPHM and facilitated by CSAW. 
Palo Duro Canyon Special Project
Interns worked with the Palo Duro Canyon State Park interpreter to learn about the Civilian Conservation Corp's role in many park buildings and construction projects. They then conducted research to create materials for use at the park, such as handouts, exhibit plaques and trail guides. The interns led a guided hike on the CCC trail while educating attendees about the history of the CCC's work at PDC.