Test Prep
College Prep                       Credit by Examination                    Nursing                 TExES Exams
TSI and ACT                        CLEP                                                      HESI A2                 PACT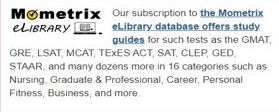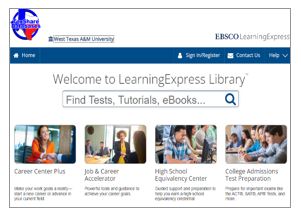 To access test prep for TSI, ACT, CLEP, NURSING and TExES exams, click on one or both of the images above.
Mometrix eLibrary has interactive flashcards, practice test questions and online test prep books for each exam. They also provide Mometrix Academy tutorial videos to give recorded instruction to help you prep for your exam.
EBSCO Learning Express also provides practice exams as well as study skills. You will need to register in the EBSCO Learning Express site by using your student email and a password of your choice. The site will save your progress after you log out of the site.
Career Center Plus- HESI A2 and TExES & PACT Exams
College Admissions- ACT EXAM
College Center Plus- CLEP EXAM, TSIA EXAM, Math, Science, Reading & Grammar Skills Review
Adult Core Skills- Basic Math Skills Review, ELAR Review
Both site are free to use and offer test prep material as well as study skills and much more. Please use this resource to your advantage and study for you upcoming exams!
For questions regarding these study resources:
Contact- Testing Services
Ginger Collins
806-651-2341