WT administrators are working nonstop to make decisions that affect every person at the University. Our goal is to make choices that are helpful, fair and judicious for everyone. We ask for patience and understanding as the information we receive changes quickly and can impact prior decisions and actions.
To report COVID-19 cases among WT students, faculty, and/or staff, potential exposure, or inquire about issues related to COVID-19 on WT's campus, please send an e-mail to: COVID19@wtamu.edu.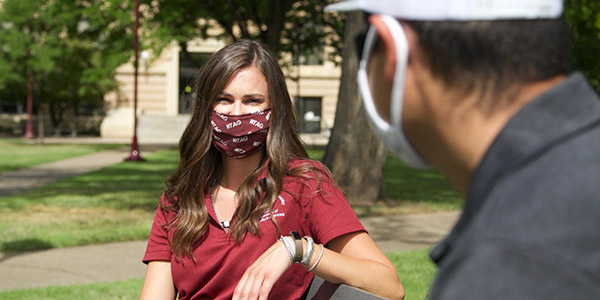 Fall 2020 Student & Parents FAQ
Have questions about attending WT in the fall? Check our FAQ for answers.
Learn More
Last updated on Tuesday, September 15, 2020 at 8:15 a.m. (CST)
Latest Updates
Quick Links
Faculty and Staff
Faculty and staff should direct questions to COVID19@wtamu.edu.
Students
Students should direct questions about rules and procedures related to COVID to COVID19@WTAMU.EDU. Students who have medical related questions or are not feeling well should contact Student Medical Services at 806-651-3287
How You Can Help
A few easy things we can all do include:
Wear a mask
Wash your hands for 20 seconds
Use hand sanitizer
Avoid shaking hands
Disinfect frequently touched objects using a regular household cleaning spray or wipe
Stay home when you are sick and avoid close contact with those who are sick
Avoid touching your eyes, nose and mouth
West Texas A&M will continue to work with federal, state and local officials to monitor potential risks. If conditions change, we will update our campus community. You can find updated information about COVID-19 disease activity and recommendations at these sites:
WTAMU COVID-19 Cases
Recent Trends
There were 15 confirmed cases for the week of 09/14/2020 – 09/20/2020
Below is breakdown of the cases reported for the week of 09/14/2020 – 09/20/2020
13 individuals are WTAMU students

1 student was attending courses online via remote access
12 students were attending courses on campus
2 individuals are WTAMU employees
There were 6 confirmed cases for the week of 09/07/2020 – 09/13/2020
Below is breakdown of the cases reported for the week of 09/07/2020 – 09/13/2020
5 individuals are WTAMU students

2 students were attending courses online via remote access
3 students were attending courses on campus
1 individual is a WTAMU employee
Long Term Data
There have been 86 total confirmed cases among WTAMU students and employees since March 1, 2020
Below is the breakdown of the cases reported beginning March 1, 2020 through September 6, 2020
70 individuals are WTAMU students

11 students were attending courses via remote access
15 students were not actively enrolled in courses but reported positive tests (Summer Semesters)
44 students were attending courses on campus
16 individuals are WTAMU employees