Emotional Support Animals (ESAs)
Emotional support animals that provide therapy, comfort, or companionship are not considered service animals under the ADA.  ESA's have not been trained to perform a specific task(s) or work and therefore do not qualify as a service animal under the ADA.  ESA's are not allowed in areas that are open to the general public or attending students.
Emotional Support Animals in University Housing
West Texas A&M University (WTAMU) will comply with all applicable federal/state laws regarding the provision of reasonable/appropriate accommodations for students who have a documented disability as well as members of the public with regard to the use of service/emotional support animals while on campus.
The following information establishes the procedural guidelines in allowing service/emotional support (ESA) animals on the campus at WTAMU.  These procedural guidelines have been established to provide general guidance and instructional support for individuals using service/emotional support animals on campus or in residential living.
The revised 2010 ADA regulations specify that "the provision of emotional support, well-being, comfort, or companionship do not constitute work or tasks," so these animals are not considered service animals. However, an Emotional Support Animal may be entirely passive with the sole purpose, being its presence.
Emotional Support Animals (ESA's) are also called:
Assistance Animals
Comfort Animals
Companion Animals
Therapy Animals
Animal Classification Guide
An (ESA approved through OSA) → not trained to respond to any stimuli, animal's presence is its value → this is an emotional support animal (ESA).  
Allowed in University Housing (FHA).
Provides emotional support to a person with a documented disability (ADA).
The use of an Emotional Support Animal in Residential Living must be approved through the Office of Student Accessibility and University Housing.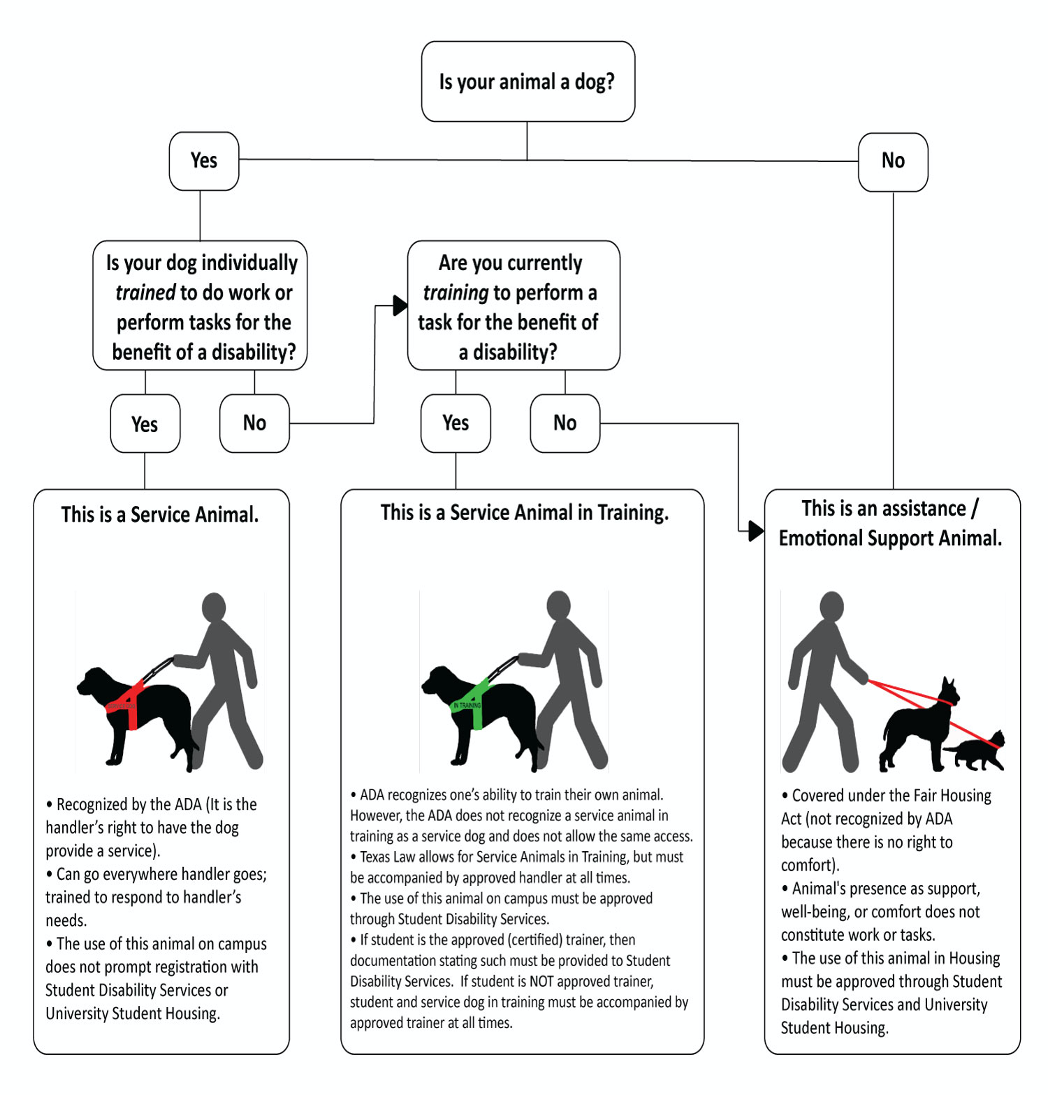 Procedures for Obtaining Approval for the use of an Emotional Support Animal (ESA)
FAQ's
Frequently Asked Questions: Emotional Support Animals (ESA's)