Student Government is one of the most active student organizations at West Texas A&M University. By evaluating issues that affect the student body, Student Government works closely with faculty and staff to ensure an academically challenging University while providing many opportunities for fun.
Three branches make up Student Government: executive, legislative, and judicial. Each branch represents the student body in a different way while providing checks and balances on the other branches.
Executive Branch
Legislative Branch
Judicial Branch
Senators
College of Agriculture and Natural Sciences 
College of Business
School of Engineering Computer Science and Mathematics
College of Education and Social Sciences
Sybil B. Harrington College of Fine Arts and Humanities
College of Nursing and Health Sciences
Freshman
Graduates
---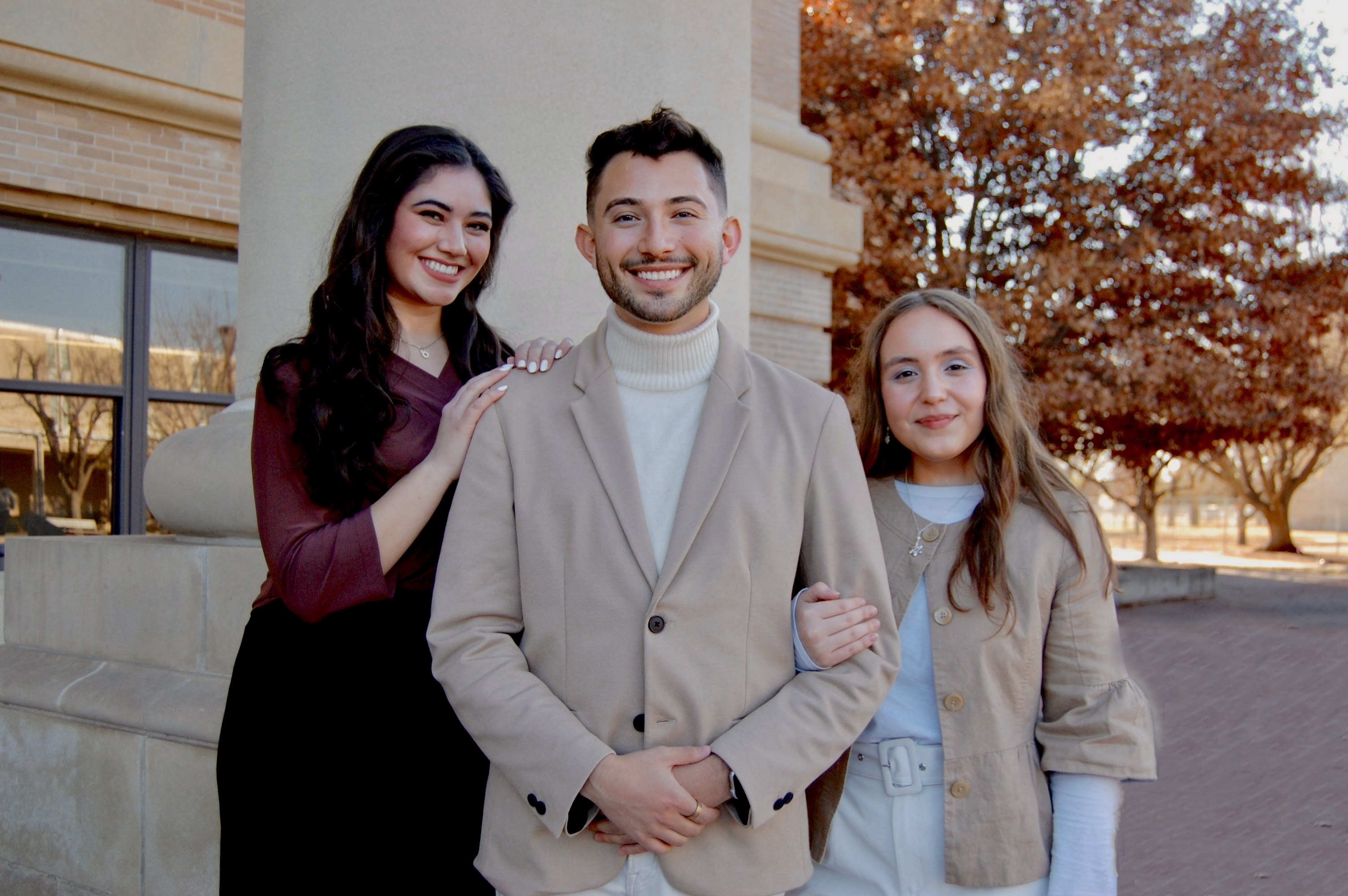 Pictured above: Victoria Reyes, Filiberto Avila, and Chloe Barham
Executive Branch
Filiberto Avila
Student Body President
Phone: 806-651-2386
Office: Jack B. Kelley Student Center, Room 104
Email:­  favila@wtamu.edu
The student body president presides over the executive branch of the Student Government. The president represents the student body and is the principal liaison between WTAMU students and the faculty, staff and administration. The president also acts as the chief executive officer of the Student Government. The president is the official student spokesperson for the University at the local, system, state and national levels. The student body president is responsible for appointing students to University standing committees and is accountable for seeing that all provisions of the WTAMU constitution are faithfully executed.
---
Legislative Branch
Victoria Reyes
Student Body Vice President and Student Senate President
Phone: 806-651-2387
Office: Jack B. Kelley Student Center, Room 104
Email:­  vreyes1@buffs.wtamu.edu
Ava Pluchino
Legislative Assistant

Phone: 806-651-2387
Office: Jack B. Kelley Student Center, Room 104
Email:­  apluchino@wtamu.edu
The student body vice president and student senate president is responsible for the legislative branch of Student Government. This branch consists of Student Senate with approximately 35 elected senators who represent WTAMU students in their designated college or freshmen and graduate students. The purpose of student senate is to represent the students' views to the University administration. Through bills, resolutions and committees, Student Senate takes action on various University issues and student concerns.
Student Government Committees
The four committees within Student Senate develop goals that benefit the entire student body, working to achieve these goals during the semester. The four committees are:
Internal Affairs

Academic Affairs 
Student Affairs 
Public Relations
If you would like to get involved with Student Government, consider ­joining Student Senate. Each college is designated a specific number of senators, based on the number of students in their college.
Fill out the Vacancy Application today on Buff Link!
---
Judicial Branch
Chloe Barham
Student Body Chief Justice
Phone: 806-651-2388
Office: Jack B. Kelley Student Center, Room 104
Email:­ cbarham@wtamu.edu
The chief justice is the presiding officer over the judicial branch of the Student Government and forms the Student Judicial Board (SJB) with four associate justices. The chief justice oversees general elections and referendums.