EENG Career Opportunities
A BS in electrical engineering opens up a plethora of exciting career opportunities in
Electric power generation, transmission and distribution
Navigational, measuring, biomedical, and control instruments manufacturing
Research and development in physical, engineering, and life sciences
Semiconductor and other electronic component manufacturing
Federal, State, and Local Government Agencies
Engineering services and consulting
Electrical Engineering Duties
Electrical engineers typically do the following:
Design new ways to use electrical power to develop or improve products
Perform detailed calculations to develop manufacturing, construction, and installation standards and specifications
Direct the manufacture, installation, and testing of electrical equipment to ensure that products meet specifications and codes
Investigate complaints from customers or the public, evaluate problems, and recommend solutions
Work with project managers on production efforts to ensure that projects are completed successfully, on time, and within budget
Job Outlook
Overall employment of electrical and electronics engineers is projected to grow 2% from 2018 to 2028. Job growth for electrical engineers is projected to occur largely in professional, scientific, and technical services firms, as more companies are expected to tap the expertise of engineers for projects involving electronic devices and systems. These engineers will also remain in demand to develop solar arrays, wind turbines, semiconductors, and energy storage. The need to upgrade the nation's electrical power grid will also create demand for electrical engineering services. Additionally, these engineers may play a role in assisting with the automation of various production processes.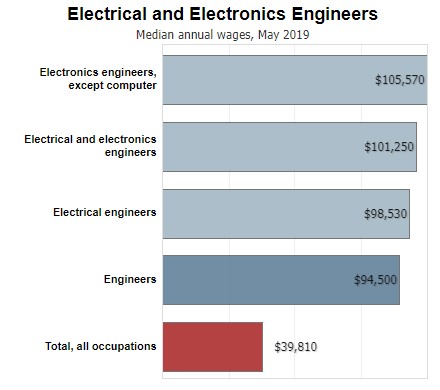 ---
Original image retrieved from (https://www.bls.gov/ooh/architecture-and-engineering/electrical-and-electronics-engineers.htm#tab-5)