by Dr. Peter Petersen, professor emeritus of history
System Membership and the University Under Thompson and Long, 1989-2005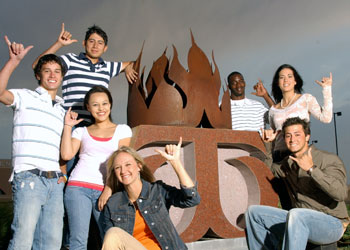 Early in 1989 changes in higher education within Texas had opened the question of whether WTSU should join either the University of Texas or The Texas A&M University System. After considerable study, the WTSU regents voted in October to join the A&M system. The Coordinating Board gave its approval in January 1990 and consequently on Sept. 1, 1990, WTSU became a member of The Texas A&M University System. The responsibility for selecting a successor to Roach thus fell to the Board of Regents of The Texas A&M University System. The regents moved quickly and named Barry B. Thompson, president of Tarleton State University, to head WTSU.
One of Thompson's first actions was to cancel the football program. (Football returned the following year on a non-scholarship basis.) Thompson brought a wealth of experience and enthusiasm to the campus. Under his leadership, health was restored to the University's finances, enrollment began to grow and several new programs were added to the curriculum. In addition there was a significant revision in the General Education Requirements effective with the 1993-1995 catalog. The number of hours was raised from 40 to 50 with new requirements in mathematics, computer science, communication and multiculturalism. The University's name also changed. On June 1, 1993, it officially became West Texas A&M University. In August 1994, Barry B.Thompson left to become chancellor of The Texas A&M University System and was replaced by president Russell C. Long.
Long, the University's ninth president, spearheaded implementation of a number of new academic programs, while others have been enhanced under his watch. The University's first doctoral program, a Ph.D. in agriculture, was established in 2003, while new programs in dryland agriculture, equine industries, environmental science, integrated pest management, emergency management systems, athletic training and communication disorders are among other highlights of Long's tenure. Also a proponent of distance learning, Long pushed for construction of the University's state-of-the-art Hastings Electronic Learning Center, an asset that has made WTAMU a leader in distance education in Texas. Other physical additions to the campus during Long's tenure include renovation of residence halls, the library, dining hall and Alumni Banquet Facility, the privatization of McCaslin Hall, the leasing of University land for the city's first franchise hotel, and construction of the Bivins Nursing Learning Center, the $13.9 million First United Bank Event Center and the $30 million Sybil B. Harrington Fine Arts Complex. Long stepped down from the presidency Dec. 31, 2005.
West Texas A&M Presidential Eras