by Dr. Peter Petersen, professor emeritus of history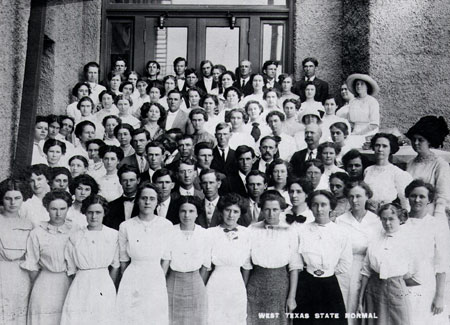 The passage of a bill in early 1909 by the Thirty-first Texas Legislature authorizing the establishment of a State normal school for the education of  teachers located somewhere "west of the ninety-eighth meridian" set off a spirited bidding war as some 25 west Texas cities and towns competed to secure the educational institution. On Sept. 9, 1909, the location committee, consisting of the speaker of the Texas House of Representatives, the lieutenant governor and the superintendent of public instruction, announced its decision. The location for the school, already named West Texas State Normal College, would be Canyon, a young community of 1,400 located near the center of the rapidly developing Texas Panhandle. Many factors were involved in the location decision, but a pledge of 40 acres of land and $100,100 in cash made Canyon's bid particularly attractive. Although not mentioned in the official report, the city's lack of saloons also strengthened its case.
If you would like to read more about the University's history, below are the different presidential eras, from its inception to the present.
West Texas A&M Presidential Eras