Jul 14, 2022
Community
Arts
Research
Featured
Role of Women Artists and Panhandle in Growth of American Art Movement Explored in New Book by WT Professors
Copy by Chip Chandler, 806-651-2124, cchandler@wtamu.edu
CANYON, Texas — A newly published book by two West Texas A&M University professors aims to recenter the narrative around a pivotal American art movement.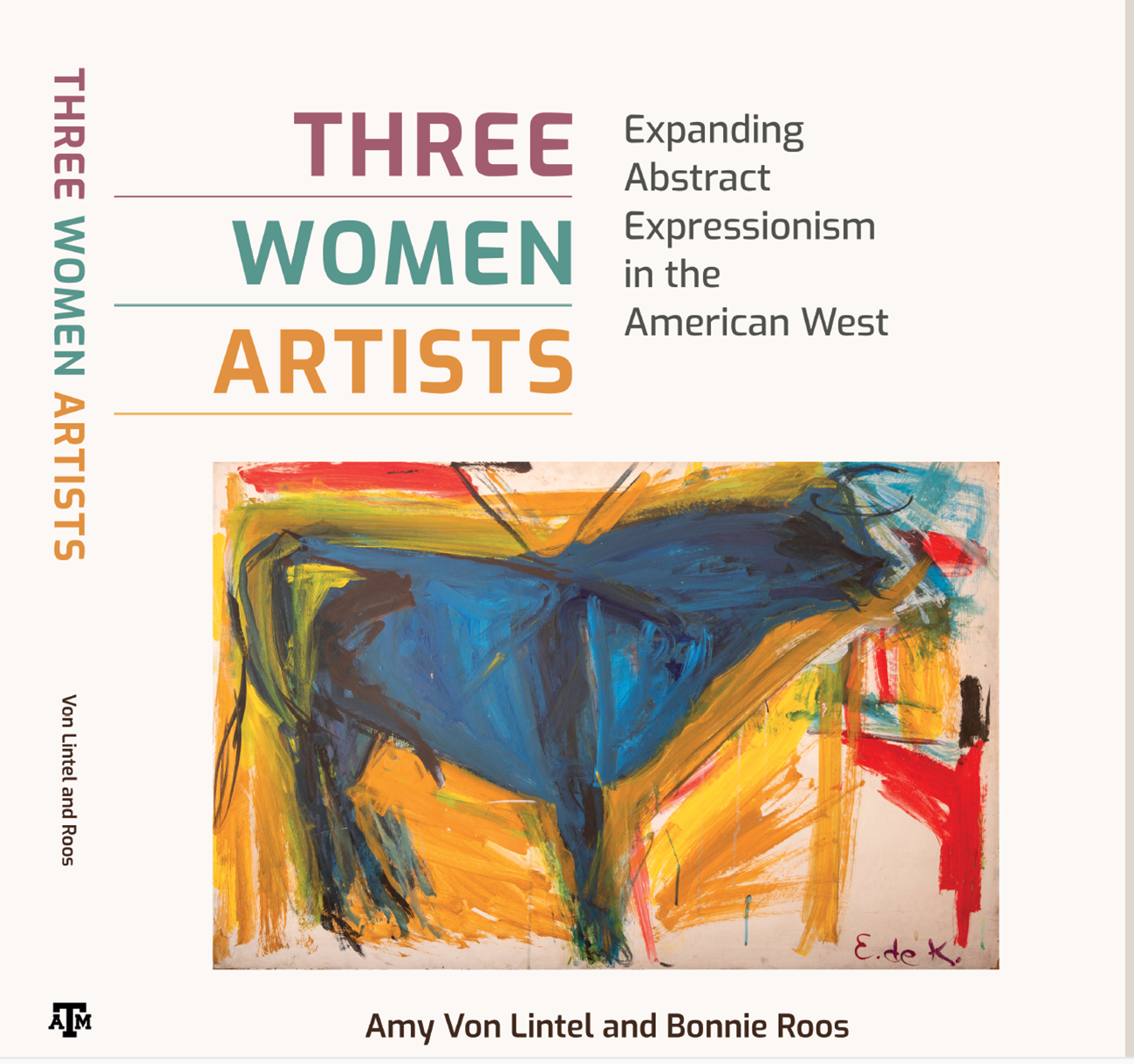 "Three Women Artists: Expanding Abstract Expressionism in the American West," published June 23, argues that not only did women play a significant role in the development of abstract expressionism, but so did collectors in the Texas Panhandle.
In the years since the movement first emerged in New York City in the 1940s, it has largely been defined in rather limited terms, according to Dr. Amy Von Lintel, a WT professor of art history and director of gender studies, and Dr. Bonnie Roos, professor of English and department head for English, Philosophy and Modern Languages.
The artists most associated with the movement include Jackson Pollock, Willem de Kooning and Mark Rothko, but women artists also were highly influential, Von Lintel and Roos said.
"We're rethinking some of the stringent thought of what abstract expressionism was — rethinking it in terms of gender, geography, medium, style and subject matter — by looking at the evidence," Von Lintel said.
Not only were women key players in the movement, but they also weren't strictly confined to the coasts.
"We're looking at how they moved from being central figures in their time to being marginalized, dismissed as tokens in academic writing until recently," Roos said.
The book focuses on Elaine de Kooning, Jeanne Reynal and Louise Nevelson, all of whom frequently traveled to Amarillo and the High Plains, innovating their abstract styles.
"These women ventured from New York to our region for the same reason artists often travel to new places: They found paid work, markets, patrons and friends," Von Lintel said.
In particular, they found Dord Fitz, the namesake of WT's formal art gallery, who invited them to show their work in "The Women: Tops in Art," a pivotal 1960 exhibition in Amarillo.
"These artists, along with Dord Fitz and his contagious enthusiasm for art, made an incredible impact on the Texas Panhandle and High Plains region," said Alex Gregory, curator of art at Amarillo Museum of Art. "Without these artists visiting the region, conducting workshops and selling their work to regional collectors, the story of the museum and art in the area would be completely different."
Abstract expressionists embraced a dynamic and gestural application of paint, as well as more contemplative, nonrepresentational fields of color.
Von Lintel and Roos' book "highlights the efforts of a long-forgotten pioneer who advanced popular acceptance of abstract expressionism. Amarillo art dealer Dord Fitz publicized and advocated for mid-century modernism, especially female abstract expressionists. This book represents the best of art history (and) belongs on the bookshelf of every person interested in the evolution of the visual arts in the United States during the mid-twentieth century," said Light Townsend Cummins, former State Historian of Texas and author of "Allie Victoria Tennant and the Visual Arts in Dallas."
Von Lintel is the author of "Georgia O'Keeffe's Wartime Texas Letters." Roos is the author of "Djuna Barnes' Nightwood: The World and the Politics of Peace" This is the first book they have coauthored.
Their research also inspired "Women of Abstract Expressionism in the American West," a 2021 exhibition at AMoA.
Von Lintel and Roos' book is a prime example of WT's role as a Regional Research University, as laid out in the University's long-range plan, WT 125: From the Panhandle to the World.
That plan is fueled by the historic, $125 million One West comprehensive fundraising campaign. To date, the five-year campaign — which publicly launched Sept. 23 — has raised about $110 million.
About West Texas A&M University
WT is located in Canyon, Texas, on a 342-acre residential campus. Established in 1910, the University has been part of The Texas A&M University System since 1990. WT, a Hispanic Serving Institution since 2016, boasts an enrollment of about 10,000 and offers 59 undergraduate degree programs and more than 40 graduate degrees, including two doctoral degrees. The University is also home to the Panhandle-Plains Historical Museum, the largest history museum in the state and the home of one of the Southwest's finest art collections. The Buffaloes are a member of the NCAA Division II Lone Star Conference and offers 14 men's and women's athletics programs.
—WT—