Aug 03, 2021
Featured
Community
Diversity and Inclusion
Arts
Research
WT Professors' Research into Women Artists Inspires Amarillo Museum of Art Exhibition
Copy by Chip Chandler, 806-651-2124, cchandler@wtamu.edu
CANYON, Texas — The neglected role of women in a pivotal American art movement — and the crucial role in their success played by Panhandle-area art lovers — will be explored in a new exhibition at Amarillo Museum of Art inspired by a pair of West Texas A&M University professors.
"Women of Abstract Expressionism in the American West" will open Aug. 7 at the museum, 2200 S. Van Buren St. It will be on view through Oct. 10.
"We are happy to be able to work alongside Amy and Bonnie to explore their recent research with an exhibition of artworks by these important American artists—who also happened to be women," said Alex Gregory, AMoA curator of art. "The museum is fortunate to have important artworks by these artists in the permanent collection, and I always appreciate an opportunity to have them seen and their significance better understood by museum visitors."
Abstract expressionists embraced a dynamic and gestural application of paint, as well as more contemplative, nonrepresentational fields of color, according to AMoA.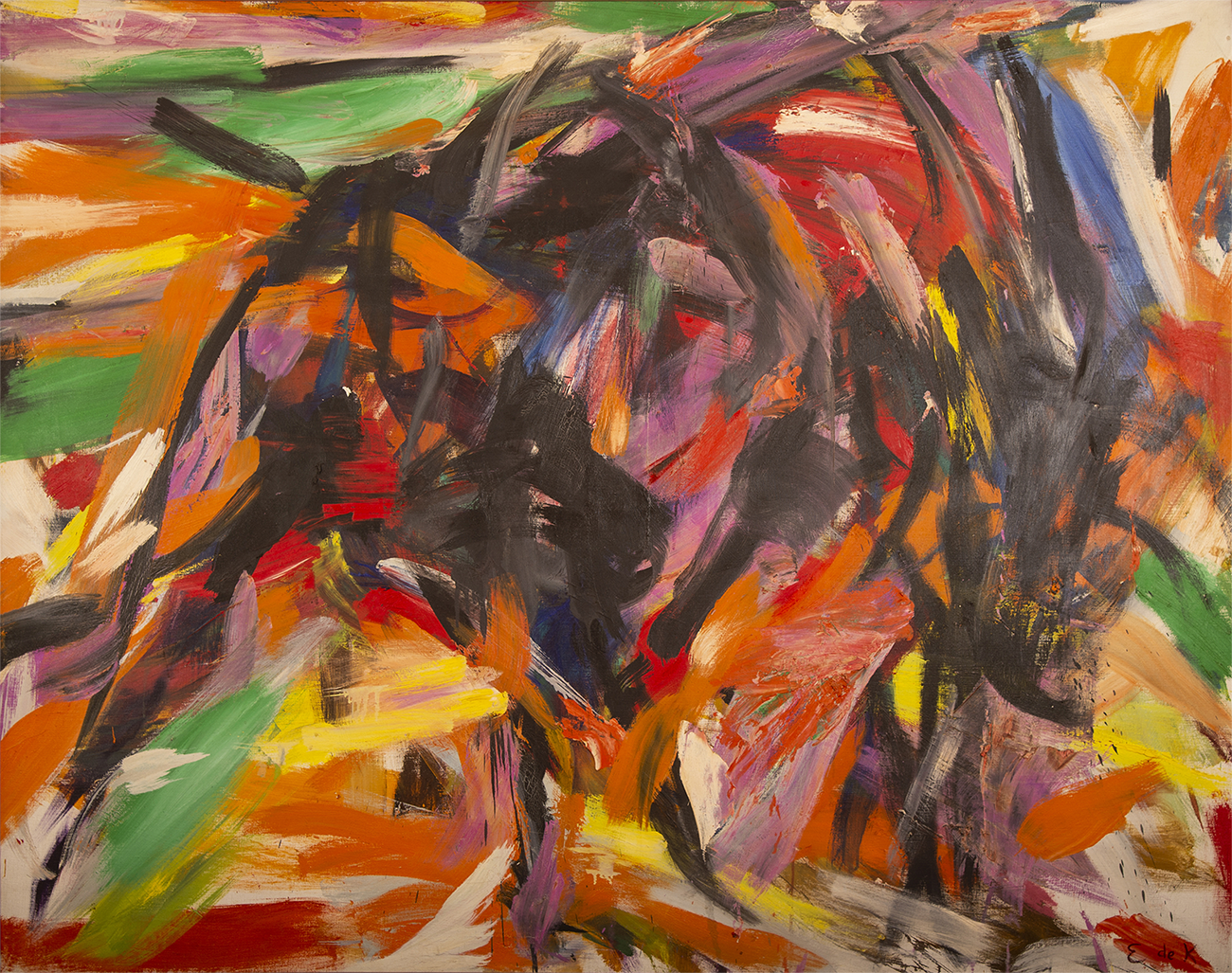 Photo: "Untitled [Bull]," c. 1959, is an oil on canvas by Elaine de Kooning on view in "Women of Abstract Expressionism in the American West" at Amarillo Museum of Art. © Elaine de Kooning Trust
In the years since the movement first emerged in New York City in the 1940s, it has largely been defined in rather limited terms, according to Dr. Amy Von Lintel, WT's Doris Alexander Endowed Distinguished Professor of Fine Arts and director of gender studies, and Dr. Bonnie Roos, professor of English and department head for English, Philosophy and Modern Languages.
The artists most associated with the movement include Jackson Pollock, Willem de Kooning and Mark Rothko, but women artists also were highly influential, Von Lintel and Roos said.
The professors are collaborating on "Three Women Artists: Expanding Abstract Expressionism in the American West," a book to be published by Texas A&M Press later this year. The result of several years' worth of research, "Three Women Artists" aims to "recenter the narrative," Von Lintel said.
"We're rethinking some of the stringent thought of what abstract expressionism was — rethinking it in terms of gender, geography, medium, style and subject matter — by looking at the evidence," Von Lintel said.
Not only were women key players in the movement, but they also weren't strictly confined to the coasts.
"We're looking at how they moved from being central figures in their time to being marginalized, dismissed as tokens in academic writing until recently," Roos said.
Artists Elaine de Kooning and Louise Nevelson, among 16 other women artists, found receptive audiences in Amarillo when brought here by Dord Fitz, the namesake of WT's formal art gallery, for "The Women: Tops in Art," a pivotal 1960 exhibition in Amarillo.
"They were undervalued in New York, but they came here, and were treated as rock stars," Von Lintel said. "The presumption that this area was always conservative and patriarchal gets turned over."
Collectors — both wealthy and not — clambered to purchase their works, and many paid the artists to teach lessons. Ultimately, that community of art lovers became influential in the founding of AMoA itself.
But the Panhandle area arts scene wasn't the only beneficiary of these women's frequent trips here.
"These women were really influenced by this place," Roos said. "Their art changed dramatically after being here."
The exhibition will include works by de Kooning, Nevelson, Jeanne Reynal, Jane Wilson, Jane Freilicher, Grace Hartigan, Helen Frankenthaler and others from AMoA's permanent collection and from private collections in the region.
"These artists, along with Dord Fitz and his contagious enthusiasm for art, made an incredible impact on the Texas Panhandle and High Plains region," Gregory said. "Without these artists visiting the region, conducting workshops and selling their work to regional collectors, the story of the museum and art in the area would be completely different.  I appreciate the opportunity to honor that lasting legacy."
AMoA's summer hours are 10 a.m. to 5 p.m. Wednesdays through Saturdays and 1 to 5 p.m. Sundays. Admission is free. For information, visit amoa.org or contact amoa@actx.edu or 806-371-5050.
Such impactful projects as Von Lintel and Roos' book and the accompanying exhibition are key to WT's quest to become a Regional Research University, as laid out in the University's long-term plan, WT 125: From the Panhandle to the World.
About West Texas A&M University
WT is located in Canyon, Texas, on a 342-acre residential campus. Established in 1910, the University has been part of The Texas A&M University System since 1990. With enrollment of more than 10,000, WT offers 60 undergraduate degree programs, 40 master's degrees and two doctoral degrees. The University is also home to the Panhandle-Plains Historical Museum, the largest history museum in the state and the home of one of the Southwest's finest art collections. The Buffaloes are a member of the NCAA Division II Lone Star Conference and offers 14 men's and women's athletics programs.
—WTAMU—