Spring 2021 Commencement Information
West Texas A&M University plans to host three outdoor, in-person commencement ceremonies on Saturday, May 8, offering Spring 2021 graduates — and anyone who graduated in 2020 — the opportunity to celebrate their accomplishments in a safe but more traditional manner. Commencement ceremonies will be held at Buffalo Stadium.
Download the Commencement Program
Each ceremony will be livestreamed. The link to each ceremony's livestream is below.
Saturday, May 8, 2021 Graduation Schedule
9:00 a.m.
Paul Engler College of Agriculture and Natural Sciences
Sybil B. Harrington College of Fine Arts and Humanities
Watch the Livestream
4:00 p.m.
College of Education and Social Sciences
College of Nursing and Health Sciences
Watch the Livestream
Additional Commencement Information for Guests and Students
To ensure the safety of all guests, and to allow time for cleaning and sanitizing between ceremonies, we ask that all guests exit through the south gates (entrances 1 & 2). Graduates will exit the field through the north. Guests and graduates may meet outside of the stadium, on the east and west sides, after each ceremony.
Students should arrive 45 minutes prior to their ceremony time. Please note, students will be seated for their ceremony after cleaning and sanitizing from the prior ceremony has been completed. Guests will be able to choose their seats after cleaning and sanitizing from the prior ceremony has been completed.
High heels CANNOT be worn on the turf in the stadium.  It is a health hazard as heels can stick in the turf and can cause a fall.  Heels will also harm the turf.  Do NOT wear spike or block heels.  Flats and wedges are acceptable.
All graduates please note: Since the commencement ceremony will be outside and it could be quite warm, consider using sunscreen and bringing water with you as you will be sitting on the field for approximately two hours. Additionally, there is no place to keep your purses or other personal items. Please make arrangements for those items before you check-in.
Master's graduates who would like to be hooded during the ceremony should drape their hood on their arm when they walk up the stage. At the designated spot, graduates will hand their hood to their respective College Dean and turn to face the seated graduates. Once hooded, the student should continue to cross the stage and return to their assigned seat.
If you do not wish to be hooded, you may place your hood over your gown before approaching the stage and walk across the stage without contact.
Graduation photographs can be scheduled here:  https://regis.viewyour.photos/1904/27114941
Contact information for graduation photographs is: 
Tiffany Thomas, Candid Color Photography
Web:   www.candid.com 
Phone:   1-405-947-8747 ext. 265
Email:   Tiffany.thomas@candid.com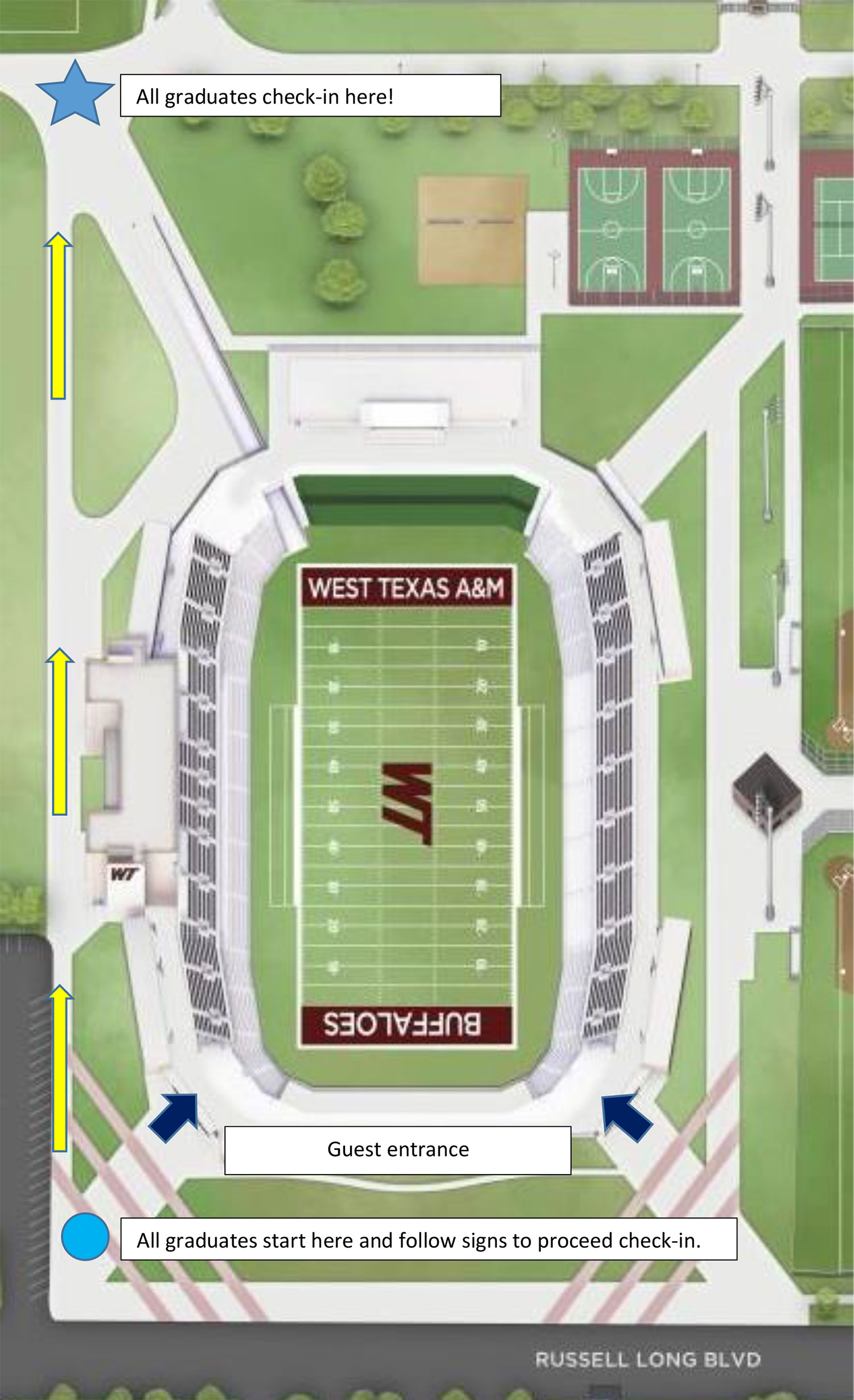 Click the map for full size.
Parking Information
Handicapped and VIP parking will be at Jarrett Hall on the west side of the stadium (no other parking allowed).
There will be a "drop-off and pick-up" zone at the northeast corner of the Jarrett Hall parking lot for  those who need assistance.

General parking around campus is shown below in orange

.

WT shuttles will run from the First United Bank Center to Buffalo Stadium for every ceremony (see shuttle drop off location on the map in yellow)

.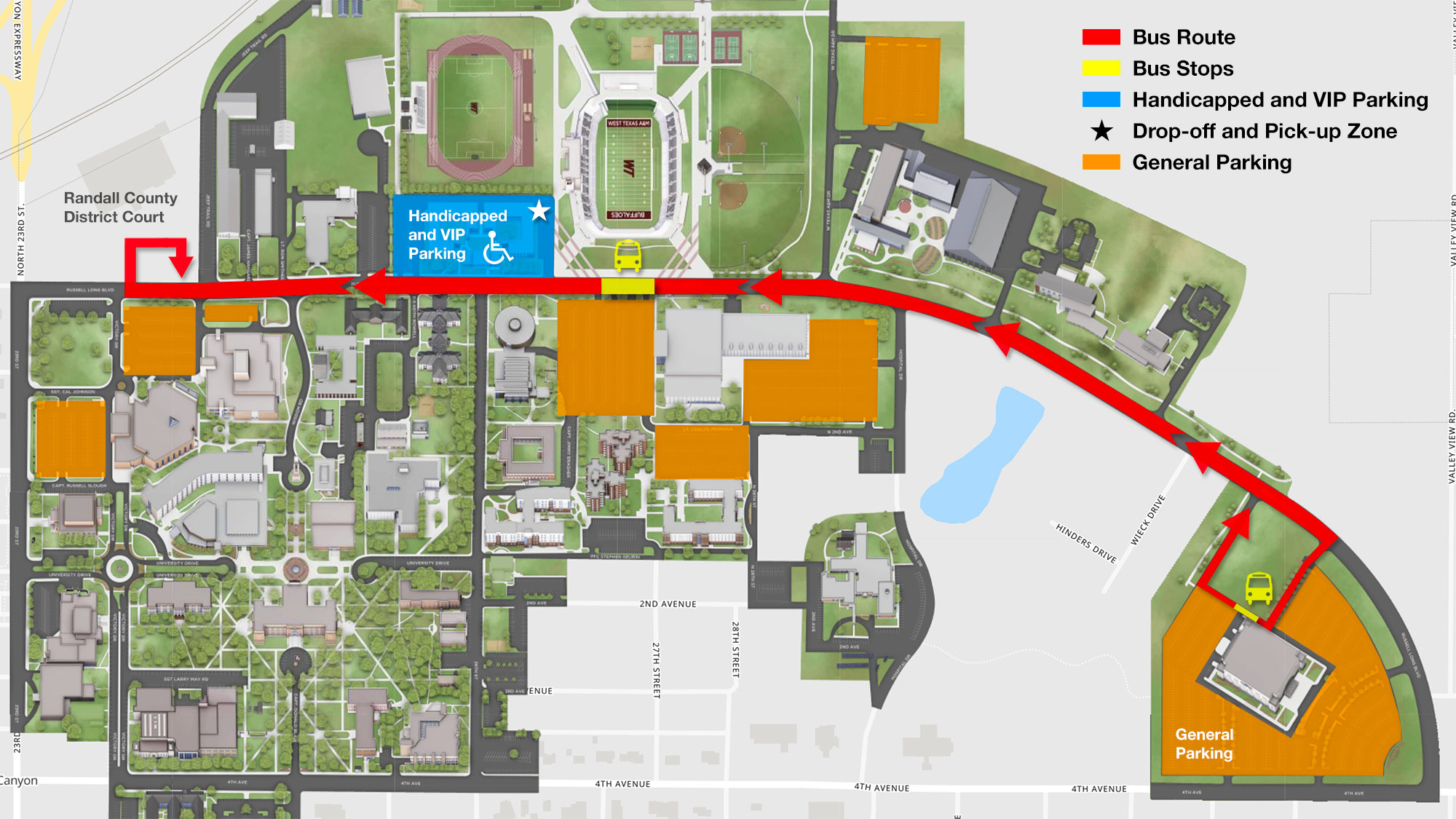 Click the map for full size.