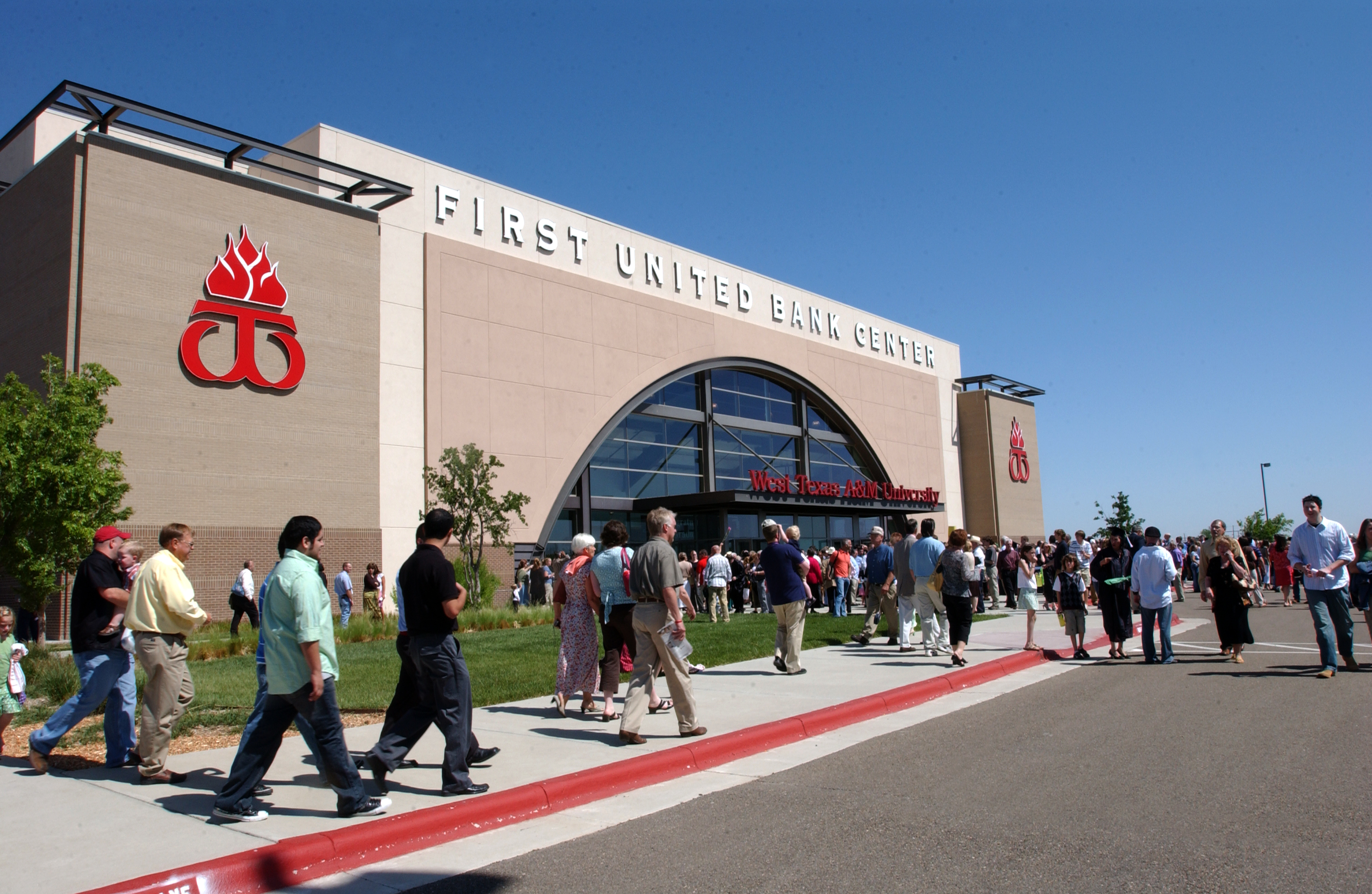 Officially opened to the public in January 2002, the First United Bank Center at West Texas A&M University replaced the fabled WT Fieldhouse, better known as The "Box," as the premier venue for WT Buffs and Lady Buffs NCAA Basketball after more than half a century.
Conceived in 1996, University officials began planning for the center to host not only graduation but also sporting events, trade shows and concerts. Construction began on Nov. 3, 2000, and opened its doors on Jan. 26, 2002, for the Buffs' and Lady Buffs' games against Abilene Christian University.
The 77,000 square foot facility was constructed at a total cost of $14 million. Designed for many uses, the center hosts area high school playoff basketball games, concert performances, gymnastics and twirling competitions, as well as craft and trade shows. The arena also played host to the NCAA Division II National Volleyball Tournament in 2002 and the 2008 and 2009 NCAA DII Women's Regional Basketball Championships. The First United Bank Center is also the permanent home for WTAMU commencement and freshman convocation ceremonies.
During its short lifetime, the center has been visited by such well known performers as Bill Cosby, Merle Haggard, Martina McBride, Phil Vassar, Eli Young Band, Kellie Pickler and Willie Nelson along with the superstars of World Wrestling Entertainment in 2004 and 2011. It has also been visited by world-renowned speakers Dr. Elie Wiesel, Valentino Achak Deng, Somaly Mam, Khaled Hosseini and Maya Angelou. Sitting on the outskirts of Canyon, the facility serves as the easternmost anchor for the WTAMU campus. The arena seats approximately 4,700 patrons for sporting events and can seat almost 5,800 for concerts and commencement.
The facility houses three home locker rooms, two visitor locker rooms, officials' dressing rooms, two concession areas, a training room, a hospitality suite and a hospitality dining room.