April 12, 2019
CONTACT: Dr. Neil Terry, 806-651-2530, nterry@wtamu.edu
WT Instructor Educates High School Students in Personal Finance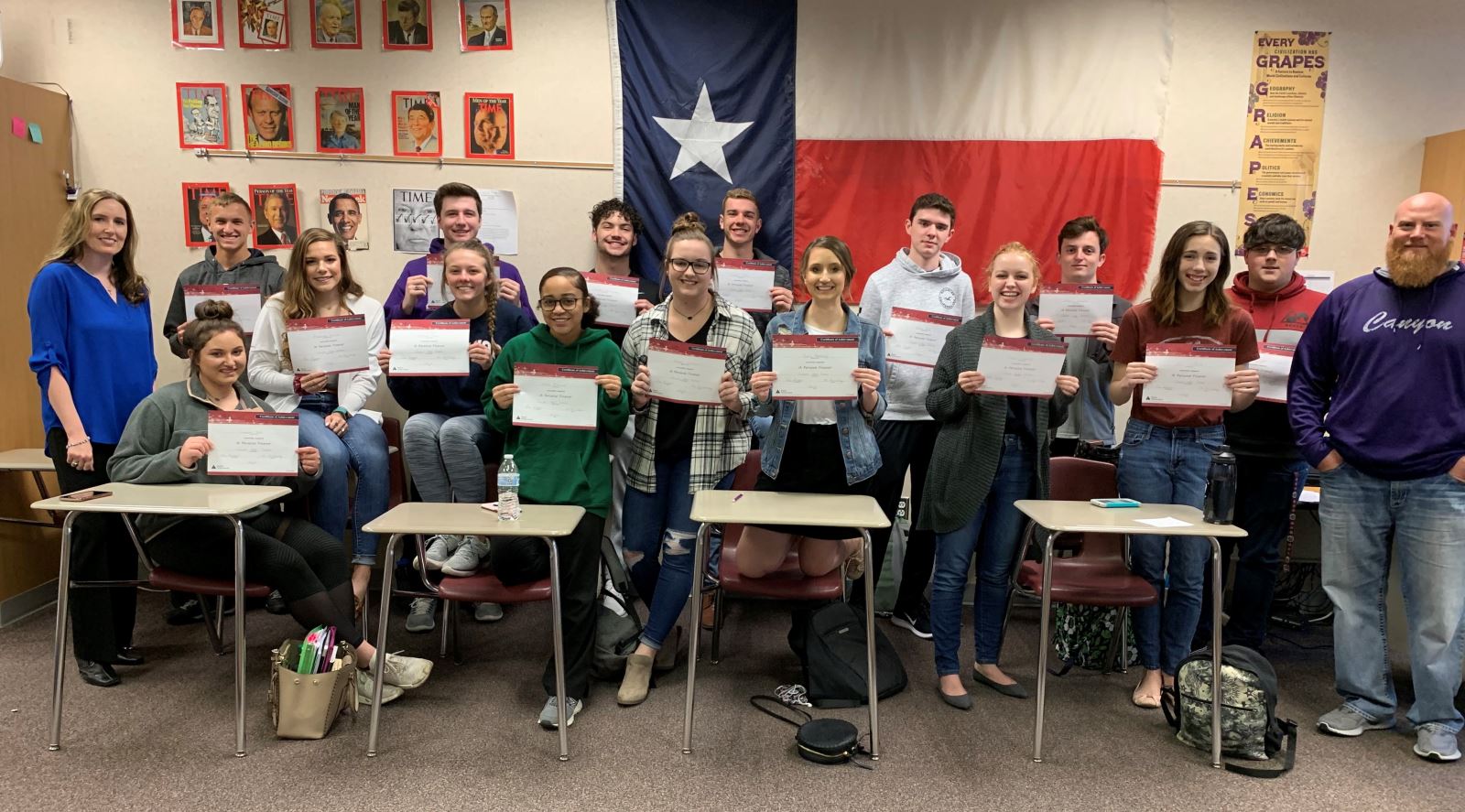 CANYON, Texas—Budgets, credit cards, car loans and retirement were just a few of the topics Lisa Lightfoot, instructor of accounting in the Engler College of Business at West Texas A&M University, taught Canyon High School (CHS) seniors during the spring semester.
Over the course of five weeks, Lightfoot visited teacher Matt McCloskey's dual credit economics class at CHS to train the students based on curriculum of the Junior Achievement Personal Finance program. Students were impacted by lessons that will help shape their future lifestyle choices.
"I learned how to proactively manage my money and not be scared of the process," CHS student Sydney Gadberr said. "I know for a fact that when I turn 20 years old, I will open up a retirement account and try to put in $4,000 a year."
The course also gave student Lawton Rikel a new financial planning goal. "The most useful thing I learned was the 80-10-10 rule we talked about during budgeting. Eighty percent for your budget, 10 percent for giving and 10 percent for savings. I'm going to apply this when I get older."
The students examined five units on financial planning including working sample budgets and learning about investment advice. McCloskey appreciates the real-world applications Lightfoot teaches from the program, and similarly, Lightfoot relishes in the opportunity.
"We discuss how creating healthy personal finances takes a lot of time, attention and effort but payoff is a more stable and secure quality of life. Topics in this session included identity theft, insurance, passwords, help wanted, credit card fraud, tricks of the trade, common frauds and being a savvy shopper. I have a passion for the 'be a savvy consumer' activities," Lightfoot said.
"The students ask great questions. I love showing them how decisions they implement today change what they can accomplish 10 to 30 years from now."
For more information on the Junior Achievement program, contact Lisa Lightfoot at 806-651-4029 or llightfoot@wtamu.edu. To learn more about the Engler College of Business, contact Melissa White at 806-651-2525 or mwhite@wtamu.edu. 
—WTAMU—