April 18, 2019
CONTACT: Dr. De'Arno De'Armond, 806-651-2490, ddearmond@wtamu.edu
WT Business Students to Compete in Regional Competition in New York City
The CFA team from WT will be among 56 out of 427 advancing in the Americas region
CANYON, Texas—Students from the Paul and Virginia Engler College of Business at West Texas A&M University are already making their mark in the investment management profession.
Having won their bracket at the local round of the CFA Institute Research Challenge, an annual global competition that provides graduate and undergraduate students with hands-on mentoring and intensive training in financial analysis, they will progress to the Americas Regional finals on April 23 and 24 in New York City. There the team will go head-to-head with 55 other winning teams from universities across North and South America for a chance to advance to the Global Final taking place the next day.
The CFA Research Challenge Team at WT includes Alexis Hext, Bryan Modisette and Corey Orthengren. Dr. Barbara Wang, Edwards Professor of Finance, and Dr. Anne Macy, Edwards Professor of Finance, serve as co-advisors. They will be accompanied by their industry mentor, Tyler Young, and faculty advisor, Dr. Anne Macy.
"The CFA Institute Research Challenge is a rigorous global competition that tests students' knowledge and application of investment management principles, ethics and professional standards," Macy said. "To be among the 56 teams moving on to the Regional Championships is an incredible honor for our students and a testament to their hard work and commitment to the competition and the pursuit of careers in the investment management profession."
"CFA has forced me to push through uncertainty and self-doubt. I have mentally and physically navigated unchartered waters," Hext, a finance and management major from La Junta, Colo., said. "Without my team, and support from the COB faculty and my friends, I would not have been able to find success in competition and determine a potential career path."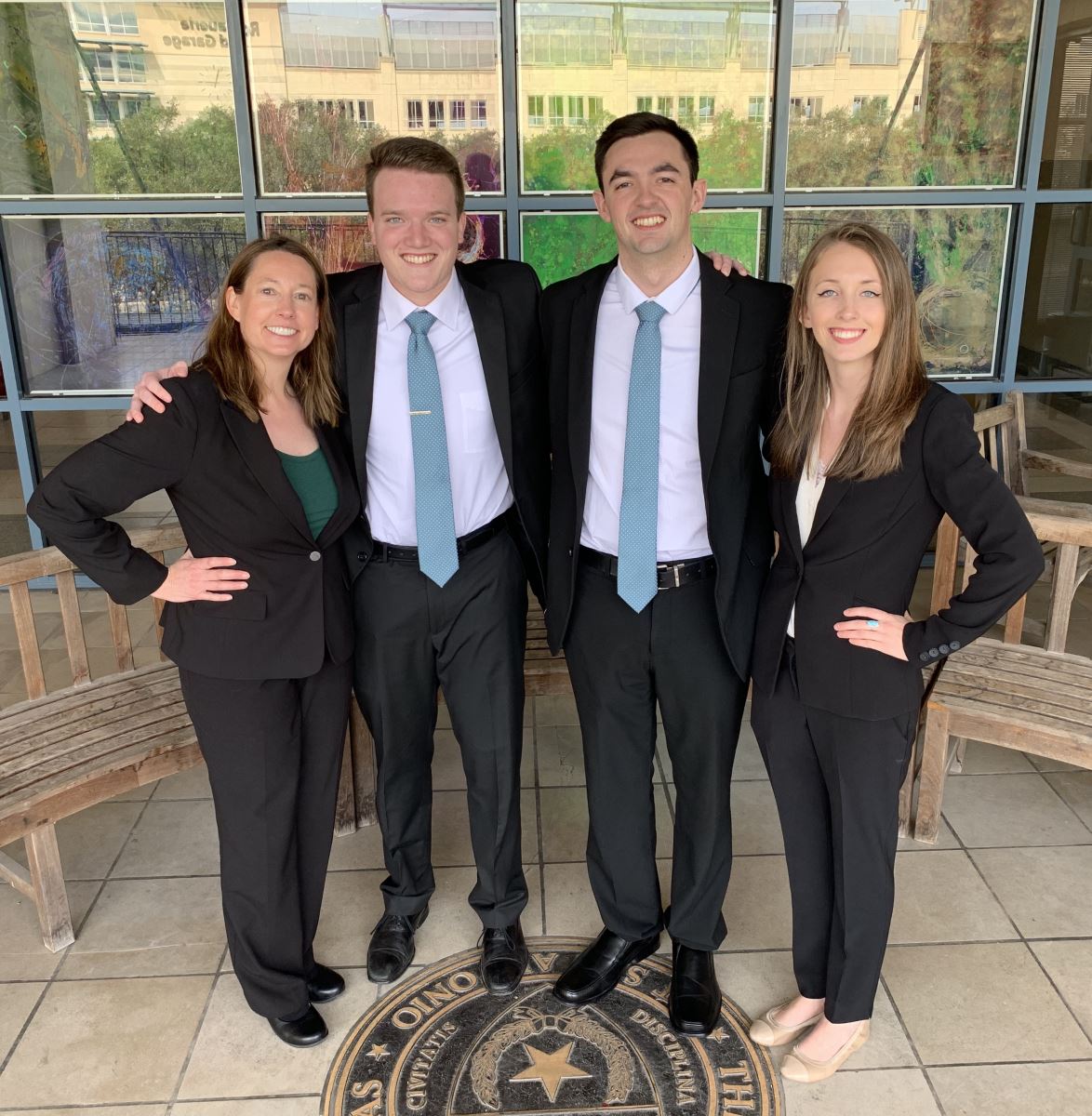 The top two teams from the Americas Final will advance to the Global Final. There they will compete against finalists from Europe and the Middle East as well as Africa and the Asia Pacific region. The CFA Institute will livestream the Americas Final* and Global Finals so friends and family can watch live.
The CFA Institute Research Challenge started in 2002 and has grown to involve more than 6,100 students from 1,150 universities in more than 95 countries this year. Recent winners of the Research Challenge include: University of Lausanne, Switzerland 2018; Barna Management School, Dominican Republic 2017; University of Waterloo, Ontario, Canada 2016; and Canisius College, Buffalo, New York 2015. 
*The Americas Regional Final is split into two parts, A and B. Click the word "Americas" for the link to the A stream and the word "Final" for link to the B stream.
** Pictured left to right: Dr. Anne Macy, Corey Orthengren, Bryan Modisette and Alexis Hext.
About the CFA Institute Research Challenge
The CFA Institute Research Challenge is a global competition that tests the equity research and valuation, investment report writing, and presentation skills of university students. This annual educational initiative promotes best practices in equity research among the next generation of analysts through hands-on mentoring and intensive training in company analysis and presentation skills. Through the course of the competition, which requires hundreds of hours of preparation, participants receive mentoring from a professional research analyst as they analyze a publicly traded company, write a professional research report, and present their research results and recommendations to a high-profile panel of experts.
Points are awarded to teams based on their investment case, their poise, and their ability to answer the judges' questions. The teams are sponsored by local CFA Institute member societies or groups of volunteers, each of which previously hosted country heats of the Challenge. Learn how students, universities and alumni in the industry can get involved here.
About the CFA Institute
The CFA Institute is the global association of investment professionals that sets the standard for professional excellence and credentials. The organization is a champion of ethical behavior in investment markets and a respected source of knowledge in the global financial community. Our aim is to create an environment where investors' interests come first, markets function at their best and economies grow. There are more than 162,000 CFA charter holders worldwide in 163 countries and regions. The CFA Institute has nine offices worldwide and there are 154 local member societies. For more information, visit cfainstitute.org or follow on Twitter at @CFAInstitute and on Facebook.com/CFAInstitute.
—WTAMU—